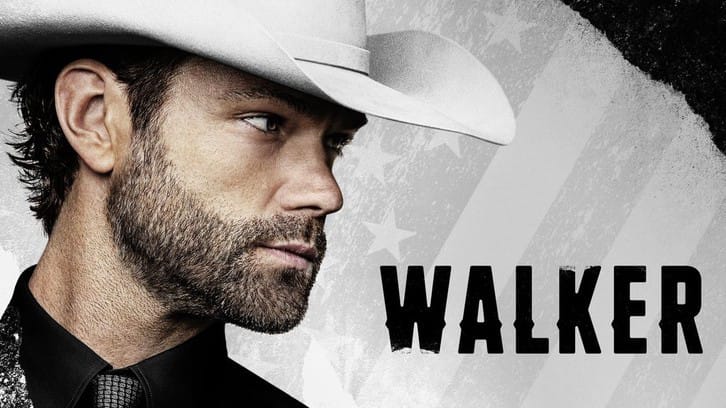 I am fickle. I am also consistent. Those two things are contradictory. For instance, last week, I thought Captain James was a good friend and that Geri was suspicious. I still think Geri is suspicious, but Captain James is, at best, unpleasant.
So, we start with the case of the week, but how much attention it will get? Security cameras near a stable start turning off, and I'm immediately tense because I despise animal cruelty. It's fire, but the ranch hands come together to save the horses. No! One horse is still in the stable, but Matt Harmon goes to his rescue only to be crushed by a flaming beam from the ceiling. That's awful. Did the horse make it?
Walker is reminiscing, remembering when Emily gifted him the saddle or part of the saddle. It's unclear, and I stopped riding when I was a kid, so there will be no technical terms here. I like learning about Walker's past, but I wonder how much each episode will devote to these flashbacks? My thought, they should take up fewer minutes each episode. The move could be symbolic of Walker's healing.
Walker has rejected the farmhouse on his parents' property in favor of the family home in town. There are empty beer bottles scattered around outside. We all know this is Stella, right? I thought we were supposed to believe Abeline, Bonham, and Liam have been doing a great job with the kids? Are we supposed to think that this behavior began with Walker's arrival? Having been a teenager who attended a house party or two, that is highly unlikely. Walker texts Stella, and she says no. Stella is a liar.
It's another flashback. This one of Stella and Augie placing their hands in the cement. Prediction: those stones will break before this episode ends because . . . symbolism.
Ma and Pa Ingalls are arguing a bit. The conversation inside revolves around Walker not wanting to live in the farmhouse. Augie will go wherever because he's the kind of kid that just wants everything to be okay, but you know he's a twisted ball of knots on the inside. I'm rooting for him. Stella's pissed (what's new) that Walker doesn't care where they want to live. She's not wrong; he does need to talk to them.
Walker leaves for Manchester Fields, the site of the stable fire. The Texas Rangers are investigating the arson and death of Matt Harmon (Justin Hall). Of course, a horse died; I hate that. Texas Nightshade, billionaire Ed Manchester's (Deke Anderson) prize-winning racehorse, was killed in the same fire that killed Harmon. I've always been conflicted about horse racing because a horse in motion is a thing of beauty, but I'm not a fan of some of the sport's practices and methods.
Something died down Captain James' throat. Everything about Walker is bothering him. The fact that he didn't shave. The fact that his hat isn't white. And the fact that his recertification is overdue, so James tells Walker he's not on the case. Question. Was the recertification overdue during the last episode? It doesn't seem like much time has passed between episodes one and two. His reaction is disproportionate. And once again, I'm confused.
Their pleasant conversation continues in the office. James wants to be called Captain, not James. And he's confused and unhappy about why Walker is still looking into Emily's death. Is James serious?! Hey James, his wife was murdered, you insensitive idiot. He's working through his grief. I'm having a hard time believing they were actual friends.
I am not a fan of the white hat. Someone start a petition to bring back the black hat.
Recertification involves shooting, driving, and riding. Captain James is out making big changes by watching Walker take his riding test. Walker saddles the horse, but the memories of Emily get to him, and he walks away. If Captain James wants to be on the right side of history, he should recognize mental health struggles. Grief is a process. Being a hardass micromanager doesn't make you a good leader; it makes you unfriendly.
We meet Liam's fiancé, Bret, after Walker fails to show up for lunch. Bret is judging Walker. No, seriously, why is everyone judging Walker? Is anyone on his side? Plot twist, Bret wants Liam to leave the family behind and move to New York. Interesting. They talk queso. I could go for some really good queso.
This case is a bit more memorable but still doesn't take up too much of the episode. It turns out the horse that died in the fire wasn't Texas Nightshade but a standard workhorse. Are we all thinking the fire was about the insurance money and the horse swap was about sentimentality? Micki learns that Walker grabbed the autopsy earlier, so much for not being on the case and recertification. Walker opens up to Micki, and I think I see something human blossom on her face. And just like that, they are on the case. They won't have to look too hard for Texas Nightshade because he's taking a stroll through downtown Austin. Walker goes after the horse while Micki goes after Manchester, who is trying to leave the country. Get him. He looked guilty the first time we saw him.
Walker's a cowboy, so he follows the poop then the shoe tracks. Was the original Walker a horse whisperer? Walker rides Texas Nightshade onto the runway. The chase is on. He scoops Micki and catches up to the car. Micki slithers inside, beats up both of the people in the car, and brings it to a safe stop. Was that cheesy? Yes? Did I mind? I did not.
Stella goes off on Walker and reveals that she wishes Liam had gotten custody of them. Walker sees red. Stella is coming close to being annoying as hell. Anyway, Walker is off to beat up his brother.
Liam tells Walker that losing Emily was rough for everybody. It's not the same, Liam. Liam wants Walker to stop asking questions and chasing ghosts. Okay, he's suspicious, and something doesn't add up. Everyone is suspicious now. All of them. Well, not Micki or Trey. Friends, we have a writing problem.
Augie is sitting alone. He has a Father's Day gift for Walker. One Emily never had a chance to give him. It's poker chips. Turns out she was carrying samples in her pocket the night she died. We've now solved the mystery of the poker chip. Anyone else shaking their head over this revelation, which is too too convenient. I'm not pleased.
Micki talks to Trey about her earlier overreaction. She's happy and sacred about their relationship. Feelings are scary. She wants to get it right—her job and the relationship. Respect.
Walker and Stella have an unbalanced reconciliation. I know he's the adult, but come on, she's a lot. Did I or did I not tell you the handprints would break? They try to dig up the handprints, but Stella cracks it and freaks out. Walker says something wise and symbolic. And just like that, we're moving to the homestead.
Give him the black hat back.
What did you think? Will you keep watching? Am I unfairly judging everyone?