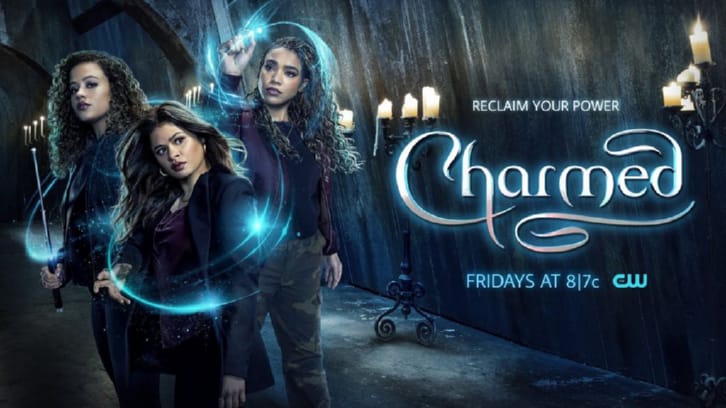 After an almost 9 month-long hiatus, Charmed returned to our lives with the season three premiere, An Inconvenient Truth. The episode was written by Nathalie Fernandes and directed by Stuart Guillard.
The episode was definitely a beacon of hope, well-paced, with strong tight dialogue and great character dynamics and character moments. After Macy's ominous recap, we witness Julian drawing the first war lines as he puts out a video message searching for Macy and her sisters indirectly. This move split our core characters into two groups, Mel and Maggie were trying to find out Julian's location from Jimmy and Macy and Harry looking for a very nasty ingredient for a very nasty potion.
Mel and Maggie's interactions with Jimmy were just priceless, especially Mel going all out on it. It was good seeing Mel also feeling the repercussions of the witch and witchness protection life. Seeing that the constant fighting and hiding is getting to her. Mel loves being a witch and the best witch possible for that matter but feeling like she might lose someone she likes/loves cause of magic again left her hurt and a bit reckless. As a fan of Mel-Harry interactions, getting this new take with Mel-Jimmy scenes was purely delightful. Their opposing energies and motives just pushed each other more and more creating some feisty scenes. It is a bit sad that we did get more scenes with Jimmy as he is a really interesting scene partner for all the Charmed ones.
A special kudos to Melonie Diaz here, as her performance throughout the episode was just breathtaking. Mel went through so many emotional states in this episode and Melonie just had a blast performing all of them. Another thing I really appreciate is how much growth they show with Maggie's character. She went a long long way from the Kappa alumni to the one who doesn't back away from a fight and keeps control of everything. Her powers were expanding in such an unexpected way and she just kept her calm and worked through the problem and not against it. The evolution of Maggie is just a beacon of hope, that makes me trust the writers to keep us on the right path.
Jimmy's story seemingly came to an end as well, as the sisters gave him the Clarion potion for a fresh start. I am equally underwhelmed and overwhelmed by this current resolution. It felt a bit underwhelming to end the story on this note, after all the build-up. But it also felt like a natural resolution to Jimmy's story as he just wanted to be free and live his life, as a good man. Yet, I don't think this will be the last we've seen of Jimmy as he was seen sword fighting with Harry in the season 3 promo. So what's the jist writers?
Credit @ Amandine Renaut
Meanwhile, Macy and Harry had issues on their own. The mission to find a Syren's tongue for a Clarion potion was much more challenging than expected, cause of a severe amount of #Hangst. The episode resolved the cliffhanger from the season 2 finale when Harry asked Maggie to erase his feelings for Macy. I found that plot to be a coup out from the beginning and an attempt from the writers to talk about the Hacy feelings/situation. It was a bit annoying the writers once again made Macy do all the work in the relationship. Just like with Galvin, Macy had to chase a bit after the guy, fight to be loved. She is a damn goddess, people. Yet, I am a sucker for great romantic speeches, and the script and Macy's performance was just that good. Madeleine's performance was just so beautiful, the spark in her eyes that she brings as she performs and the tone of her voice when she goes deep into Macy's emotions just brightened every scene she was in, even the ones with Julian.
Yes, the sisters eventually captured Julian and after a close call with Viv's army convinced him they are the good guys. I have to give another shot out and this time to Eric Balfour. The moment Macy gave Julian evidence of Viv's betrayal he completely shifted his energy and it was just so palpable. You can say a lot about Julian and Macy but they never lacked chemistry.
The B-Story of the episode involved Jordan and Abigail. Jordan was never the one to bite his tongue, but this whole I might die the next day situation had him swinging hard. After he got a time stamp on his mission to balance the scale of justice and with no Charmed reinforcement he sought out the only other witch he knew, Abigail. I fairly enjoyed their snappy interactions and Jordan calling Abigail out on her lackluster moves from the previous season. Jordan's words at times like a razor blade cut Abigail deep and fast, leaving even the snarkiest of them all speechless. Eventually, the two of them saved a Tulipe Institute descendent out of a burning painting, nice OG nod btw, but Abigail's help doesn't come without a price. The writers somehow surprised us with another Abigail sibling. I presume this one isn't a Caine, rather a Jameson. My main suspect at this moment is Peyton List's Nadia, which would be rather interesting.
Other Tidbits:
- Why didn't Viv use one of their monsters to go after Macy?
- The Ladies were serving looks right and left this episode, especially Macy at the Dark Marked was top notch. Loving me some Glamour spells.
- The CGI in this episode was particularly good. The Glamour spell, Elenor getting out of the painting and Abigail smashing the vault door, very visually pleasing.
- Also, should we pretend that Maggie didn't say she and Jordan shared mutual feelings for each other. Cool, cool, cool.
- The sisters and Harry enjoying a drink at the end of the episode, was a good homage to the final scene of the season 2 premiere.
The episode ended with Nadia and Aunt Viv bathing in some blue light, making me think the two of them will power up with the magic they've stolen from Harry, the Banshee, and Kadar Demon. What are your thoughts on the impromptu season 3 premiere of Charmed? Share your thoughts in the comment section down below. Till next week. . . when the sister will continue their fight against The Faction.