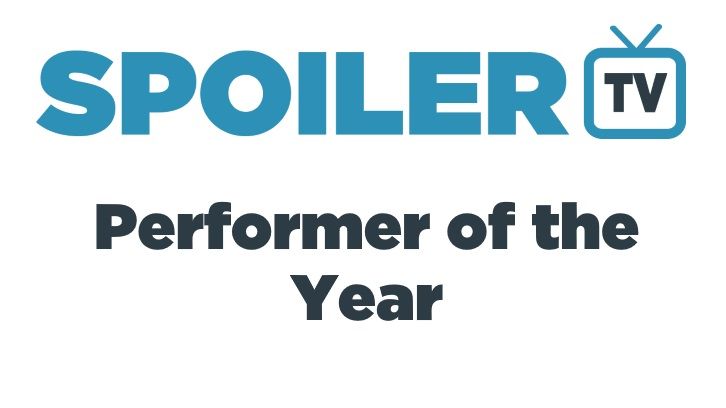 Results:
Coming in we knew this was going to be a fierce fight for the top spot on both polls. The contenders on both sides were very skilled and talented performers who delivered exceptional performances in 2020. On the Reader side, the ultimate winner surged out to a strong lead from the very beginning and was never again caught despite attempts to do so. The Staff side was also very competitive with the top spot changing hands a multitude of times and at times the top spot was even tied. Both of the ultimate winners are very deserving and have certainly earned the titles that have been given to them. They will both be honorable ambassadors as SpoilerTV's 2020 Readers' and Staff Choice Performers of the Year.

Wynonna Earp has a passionate fanbase that has been earned by the skilled performers who bring the beloved characters of the show to life. One of the most beloved is Nicole Haught who Katherine Barrell has passionately infused with heart and soul for four seasons now. Season Four allowed Barrell to showcase new complexities within the character as the story dove deeper into who Nicole is at her core. This is a character that has been hardened by thinking she had lost her true love. The audience got to witness the character grapple with all she had to endure while Waverly (Dominique Provost-Chalkley) was gone as well as everything that happened after she returned. Barrell took the audience along for the ride through all the drama, heartache, and ultimately the heartfelt passionate moments with Waverly. She has been a steadfast performer within the cast since the very beginning, so it is not lightly that it should be said that the first half of Season Four has been her very best with the series. Every performance she delivered in the first six episodes of this season can only best be described as a tour de force. She is very well-deserving of the title of SpoilerTV's 2020 Readers' Choice Performer of the Year.
Dead To Me spins a fast-paced tale of a singular friendship forged among the ashes of grief, anger, and the occasional murder. Judy Hale, one half of this show's beating heart, is brought vividly to life by the perfection of Linda Cardellini's performance. She tempered Judy's kind quirkiness with a simmering fury, a charismatic combination that made it a wonderful experience to be caught up alongside Judy in each of her predicaments. Cardellini relishes the escalating challenges of the show's many twists and turns; her zeal for the role combined with her instinctive graciousness have surely shaped the development of her character, which simply means Judy Hale wouldn't exist without Cardellini. She is just likely to leave the audience hysterically breaking down in laughter as she is to reduce them to sobbing furiously on Judy's behalf. For taking us on Judy's adrenaline-packed roller coaster of love, laughter, despair, and countless hijinks, Linda Cardellini has been chosen as SpoilerTV's 2020 Staff Choice Performer of the Year.
The winner articles for Katherine Barrell and Linda Cardellini will be out sometime in February, but in the meantime feel free to use the comments section to discuss these worthy winners and their incredible fellow nominees.
Original Post:
We had a problem with our polling software that caused the poll to crash and close. We're unable to restart the poll, so since we're this close to the end of voting we have chosen to let the results stand as they were prior to the software glitch. Staff voting is still ongoing, so as soon as that is complete we will release the results.
For the past 12 months, a vast array of performers have won the title of SpoilerTV's Readers' Choice Performer of the Month. Each of those winners will now compete one final time in the 2020 cycle to hold the title of 2020 Readers' Choice Performer of the Year. The winner of this poll will receive an article looking back at their performances from throughout 2020. Their win will also be notated at the top of all of the 2021 POTM cycle nomination and voting posts.
This is a group full of big names who had enough voting support behind them to propel them to a victory in each of their respective months. Whoever is crowned the ultimate winner will have to overcome many exceptional performers with very passionate fans who have an argument for why their contender deserves to win. Because of the passionate fans likely to flock to this poll and the comments, I urge kindness and polite banter. Make a pitch for why your contender deserves to win, but remain respectful for each other even if you don't agree on who should win in the end. No matter who wins in the end they will deserve it. 2020 was an unusual year, but through the chaos, these performers and all of their colleagues risked a lot to keep us entertained. Let's recognize a winner here and in the process pay our respects to an industry that helped keeps us all sane throughout a tough year.
Scroll on below to vote and come back on Sunday, January 10th after 6 pm ET to see who wins.
November 2020 Winners:
December 2020 Winners:
Olivia Cheng (Ah Toy) - Warrior
Pedro Pascal (Din Djarin/The Mandalorian) - The Mandalorian
Now comes the hard part where you can only vote for 1 performer. The poll will be live until Sunday, January 10th at 6 pm ET. After you vote be sure to make a pitch in the comments section for what the performer you voted for most deserves to win.