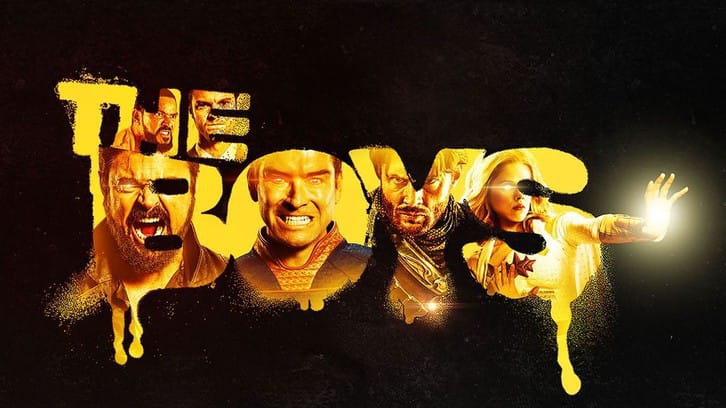 The Boys "Nothing Like It In the World" was written by Michael Saltzman and was directed by Frederick E.O. Toye. Saltzman joins the writers' room with a background in humor – Wings, The Middle – political commentary – Murphy Brown (the original) – and drama DAG, Sneaky Pete. The "It" in this week's title is love – and as Shakespeare points out the course of true love never did run smooth. This plays out in four storylines that all have love or some form of it running through them.
The episode begins with one of those true confession type interviews with a woman about the love of her life. These are peppered throughout the episode, and I'll admit that I really didn't see what their point was until the very end. Of course, we aren't supposed to be able to contextualize them, and this diabolically mimics the Deep's (Chace Crawford) own confusion. The Church of the Collective have decided it's time for him to marry – and they're picking the girl for him. And is it a surprise that they pick the one that seems the craziest rather than the one that the Deep has any interest in? The Deep is in over his head (pun intended!)…
Frenchie (Tomer Capon) is clearly head over heels in love with Kimiko (Karen Fukuhara), and his timing couldn't be worse. Kimiko is consumed with grief over losing her brother and rage in wanting revenge against Stormfront (Aya Cash). Frenchie deals very badly with his emotions – getting as high as a kite and then kissing Komiko – who is NOT receptive. He compounds all his mistakes by ending up in the bed of Cherie (Jordana Lajoie). Because that's what every girl wants: a guy who loves you so much that he goes and screws another woman….
Meanwhile, we get an up close and uncomfortable view of just how perverted Homelander (Anthony Starr) is. Yet, even here, the show is doing an amazing job at showing us why Homelander is like this – what growing up without real love or the real loving discipline of parents has done to him. It's the classic nature/nurture debate. Are all Supes inherently bad?
It was nice to see Elisabeth Shue back as Madelyn Stillwell – sort of. Of course, Homelander is forcing Doppleganger (Dan Darin-Zanco) to assume her shape – Stillwell really is dead. But we do get a revisit of Homelander's mommy-issues. And then in a really interesting scene, Doppleganger assumes Homelander's face – and this was a really brilliant scene from Starr, who is, of course, playing both parts. Homelander's own self-loathing takes over – he's not quite the unmitigated ego that we've assumed. He isn't going to take advantage of pleasuring himself because deep down he hates himself enough to kill himself – or at least when confronted with the less tasteful aspects of his character. Maybe this is also a deep seated longing to do better?
Part of the reason Homelander ends up killing his made up "home life" has to be attributed to his seeming, growing inability to control the women currently in his life. He almost kills Annie (Erin Moriarty), but seems reasonably satisfied with just asserting his dominance. A confrontation with Stormfront also seemingly has her reassuring him that she's willing to let him lead – but is she?
Meanwhile, Mother's Milk (Laz Alonso), Hughie (Jack Quaid), and Annie take a road trip to track down a lead on the mysterious Liberty. Things start to thaw between Hughie and Annie over their shared love of Billy Joel – much to MM's disgust. Naturally, these two can't really be kept apart and they end up spending a night of passion together. It's pretty clear that Hughie and Butcher (Karl Urban) are going to end up sharing a hatred of Homelander's treatment of the women they love.
One of my favorite scenes in the episode is between MM and Annie in the diner as they bond over donuts. In fact, we get quite a bit of background on MM in this episode. Certainly, we learn that he has pretty intense OCD – but we also learn why. I think Annie is going to end up loved by the entire team while Butcher isn't looking…
The show once again touches on the zeitgeist of the moment – Black Lives Matter – when the trio show up on Valerie's (Dawnn Lewis) doorstep asking questions about Liberty. With Hughie at the door, Valerie is frightened – who is this white guy and how is he going to hurt me? Is he from Vaught and angry that she's breached her NDA? When MM steps forward she is able to relax as he breaks the tension, assuring her that she's not in trouble and they are certainly not from Vaught. The tale Valerie tells, however, could have been ripped out of the headlines today. Bear in mind that the show was shot almost a year ago and the script would have been written even longer ago. I really respect the show for wanting to shine a light on this issue – before it was already being illuminated. It helps to reenforce what's really happening.
Valerie (Nana Damptey) was forced to watch as her brother Myron (Howard Campbell), who had done nothing wrong, was dragged from his car and brutally murdered by Liberty. Hughie and Annie's reactions really mirror the reactions of millions of people to the murders of George Floyd, Breonna Taylor, and so many others. MM, Hughie, and Annie discover that Liberty is none other than Stormfront. What's truly curious is how young Stormfront looks as the incident took place quite a while ago. It's a start though. Valerie also tells them that she was threatened and forced to sign an NDA – and she's abided by it in fear ever since. The road trip also ends with Annie telling Hughie that there's no future for them.
In the final tale of true love, Butcher finds and breaks into Becca's (Shantel VanSanten) compound. The two meet in a tunnel (of love?) and share a night of passion. Butcher tells Becca that he's willing to take Ryan, but in the end, he shows his own racial prejudice when he calls her son a supe-freak. Becca makes the painful choice to stay and bring her son up as normally as she can, sacrificing her own happiness for his. Butcher is clearly not pleased – will this make him even more prejudiced against all Supes?
Finally, in doing his best to rehabilitate the image of the Seven, Homelander tries to show how diverse the team is – another pre-echo of the current zeitgeist. He's just fired A-Train (Jessie T Usher) – by putting him on medical leave - but uses him as an example of diversity. Homelander then outs Queen Maeve (Dominique McElligott) during a national television interview! It's not enough for him to destroy his own love life, he has to destroy Maeve's too. Of course, now she could be free to love who she wants, but we all know at the end of the day that Homelander won't stand for that either….
It certainly seems like everyone is unlucky in love in this episode. This was another fantastic episode with terrific special effects and writing – and SUPEr acting! Lots of balls in the air. Black Noir (Nathan Mitchell) saw Butcher leaving the compound, so what will he do about it. Carol (Jessica Hecht) has found a bride for the Deep – but what exactly is her game plan here? And how (and why) did Liberty become Stormfront? What did you think of the episode? Let me know your thoughts in the comments below!