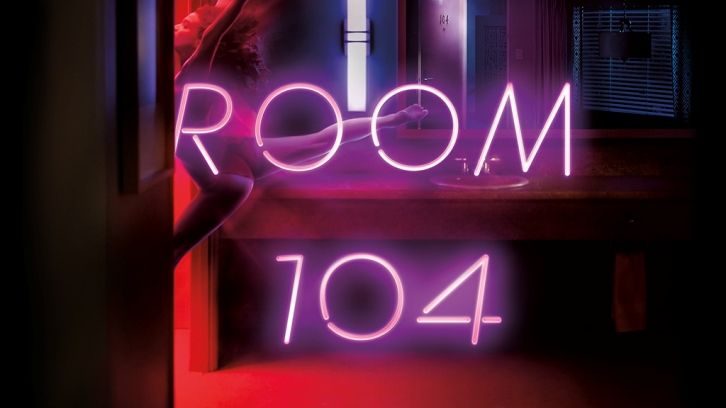 WARNING: Please don't read if you haven't seen Room 104 4x08 No Dice yet! SPOILERS AHEAD!
"If you were happy everyday, you wouldn't be a person, you'd be a game show host." - Veronica (Winona Ryder),
Heathers
This star-studded edition of the final season of HBO's late night anthology series,
Room 104
, concerns co-creator Mark Duplass' rather peculiar obsession with game show hosts. I can only assume this means to expand his recent season-long theme of nostalgia and yearning for bygone eras I have discussed in previous episode reviews. The myth of the relentlessly optimistic game show host has mostly gone the way of the dodo with only a few exceptions, at least in the USA. They were once a regular on the primetime and morning television scene, giving millions upon millions of attentive viewers an inviting and alluring presence in between cutthroat contestants jumping through proverbial hoops of fire on national television in order to win sometimes absurd items and/or cold hard, highly-taxable cash.
Here, we follow the story of elderly Edin (Linda Lavin of
Alice
fame) pining over the attention of the fictional host, Chip Crawford (Gary Cole), of the just as fictional game show,
No Dice
(yes, they actually roll an oversized dice). The last time I really remember watching any type of media story around the parasocial interaction between an elderly woman and a male game show host out of her reach, it was 20 years ago with
Requiem for a Dream
, so I sort of knew what to expect from this episode. Sadly, I didn't feel it offered much beyond some recognizable star power, which this series isn't exactly known for.
In the beginning of the episode, we see Chip with his producer, Steph (
Mozart in the Jungle
's Jennifer Kim), enter the titular room where Enid, his biggest fan(atic) awaits his appearance. As expected, Chip feels he is above this sort of fan service interaction, so it is spelled out that this is the network's idea, not his, to resurrect his public image. If there is any celebrity who needs to seem infallible in the prying public, it would be a game show host (just look at Chuck Barris' story) so Chip seems determined to do the bare minimum. He even expects Steph to "interrupt" the session in order for him to exit early, under the disguise of needing to catch an airplane. This being
Room 104
, things don't exactly go as planned.
First off, Chip is introduced as an acerbic, arrogant twat, which Steph is probably already well-aware of. So, when Chip expects her to give him the signal, she won't since getting a photo of him giving Enid the dice just won't suffice. We can tell almost immediately that Chip is a bit a curmudgeon. Since this is only a 1/2 hour episode, we don't know exactly what he had done to put himself into this PR situation, but whatever it was, it must have been pretty damaging. He also seems to be a bit of an alcoholic and really doesn't like being a successful game show host, but (I'm guessing) he needs the money too badly to ever really quit.
Of course, this is not the only time he's had to resort to desperate lengths to help himself. He claims he even directed and financed a vanity film project to try to resurrect his serious acting career. Of course, Enid's seen it and doesn't care how pathetic it makes him look. This triggers a reaction within Chip. He realizes that his audience is capable of more than what he was giving them credit for. Enid isn't as far gone as Ellen Burstyn's character was in
Requiem for a Dream
. She maybe a little emotionally attached, but is not delusional, materialistic, or even desperate for attention. She just wants a do-over of their first meeting when she was a guest on his show in 1993, which she claims Chip ruined by being distracted by her bosom.
By the time that Chip realizes how much Enid's connection to his show gives her an inner joy money could never buy, he remembers his sense of purpose as an entertainer. Suddenly, he wants to play the game with her. He needs to let her win so she can have her moment when he turns the dice around to make sure she doesn't get stuck with the snake eyes she rolls. Of course, it is implied that the game is rigged so only a few combinations are even possible on the dice, but that doesn't seem to matter to him in this moment.
Up until this point, he has been in denial about how his destiny as a host makes other people feel. It is implied he couldn't have success as a serious actor not because he lacked talent, but because he was given the wrong opportunities and fell for the allure of the consistent paycheck. Enid's affection and need light a fire inside of him that he had long since tried to extinguish with liquor and probably other harmful substances. Enid wants to feel like the woman Chip lifted did during the first show she saw him on. By doing this, Chip seems to attempt to lift the curse he inadvertently placed on her when he caused her to roll the dice again. No longer will thinking of the clock she could have won bring her agony. Now, she can receive closure for the pain he placed upon her. She sees past his hideous veneer and sees the talent that even he forgot lies within.
Naturally, this is a deliberate attempt to make her and himself feel better. Enid even says in the first part of the episode that she likes the
No Dice
game in the first place because it is about leaving life up to chance. Clearly, Chip knows better and does not want her rolling snakes eyes to make her feel even worse than he's already made her feel. Sometimes a little white lie can be a good thing, but sometimes you end up hurting the people who love you the most by not being honest and upfront with them. Chip just wants out of Room 104 and knows Enid has created a relationship with him and the game based on an illusion that she believes is real. He doesn't take his career seriously anymore, but Enid's belief is stronger than his vanity in this moment.
By assuming she did not see the second dice roll a one and changing the side it rolled on, Chip is merely placating Enid's desire to experience something true and meant to be. He knows allowing her to feel true happiness is really making him feel better about the coffin he made for himself when he accepted the hosting position. While the episode ends without us ever knowing if Enid figures out how Chip manipulated the results of the dice, we the audience and Chip both know every true moment of bliss of this supposed happy ending here is based on a rather condescending lie. That may be the most tragic ending of all.