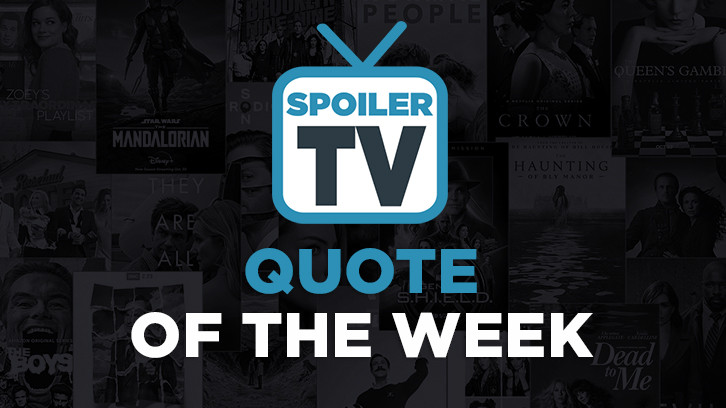 A weekly feature highlighting the best quotes on TV as picked by the SpoilerTV team. We'd love to hear your picks too so please sound off in the comments below.




The Boys
- (Folie-lex)
1. Mallory: "You promised I'd never see you again." Butcher: "I promised, not to come to your house again. A subtle but important distinction."
2. Stormfront: "Vought won't let me have pockets in this thing. You can see every crease in my a**; you can practically see up Starlight's uterus. You wanna talk about girl power, let's talk about getting some pockets."
3. Stormfront: "You write all women as either unknowable Hitchcock b*** or Michael Bay f*** dolls. I mean I get that a lifetime of jerking off to Transformers didn't exactly make you popular with the ladies, but, um a little effort would be nice. You know what I'm saying?" Bourke: "Excuse me, but I do have two sisters, thank you very much."
4. MM: "Hey kid." Hughie: "What are you doing here?" MM: "You ain't going... I ain't going." Hughie: "They're gonna be here any second." MM: "Probably." Hughie: "A**hole." MM: "Yup."
Raised By Wolves
- (Folie-lex)
1. Marcus: "If there is one true line in their big book of bullsh**, it's that you reap what you sow."
2. Mother: "Your strange mimicry of human love, it makes us less safe, Father. Not more. But if it turns out that I'm making them sick, I expect you to assist me in destroying myself." Father: "Mother, that I will never do." Mother: "You would have to. For the children."
Star Trek: Lower Decks
- (Folie-lex)
1. Mariner: "Brad, when a Starfleet relationship seems too good to be true, then - RED ALERT man! - It probably is." Boimler: "You think she's cheating on me?!" Mariner: "No! I think she's a secret alien who's gonna eat you, or a Romulan spy, or a salt succubus, or an android, or a changeling, or one of those sexy people in rompers that murders you just for going on the grass!"
2. Boimler: "[Barb]'s nothing but a great human lady. You need to stop spinning out and accept people for who they are. Now be quiet, I got to change everything about me to trick her into thinking I'm something I'm not."
3. Tendi: "The Cerritos might be falling apart but it's nice to be back home."
Ted Lasso
- (Folie-lex)
1. Keeley: "Rebecca's got me in to help with the team's PR." Roy: "Well you leave me out of it. I'm not one of your show ponies." Keeley: "You wear a number, trot around while people clap. So I wouldn't be too high and mighty about it."
2. Keeley: "You're a battler Jamie. It's really hot. But maybe someday you should stop battling the people that just wanna help you."
3. Sam: "Well, Ms.Welton, I really hope you can participate in this ceremony that we're having later tonight." Rebecca: "I don't think so." Sam: "I apologize but I can't take 'no' for an answer. Coach thinks it will only work if the whole team is there, and Ms.Welton, it's your team. So you have to be there. Please. At least think about it." Rebecca: "For you, Sam, I will." Sam: "Thank you. See you tonight."
4. Ted: "Gentlemen, I am by nature a believer: Ghosts, spirit guides, aliens. Still I can't actually tell you what lives beyond our physical world and what doesn't. What I can tell you, is that with the exception of the wit and wisdom of Calvin and Hobbes, not much lasts forever."