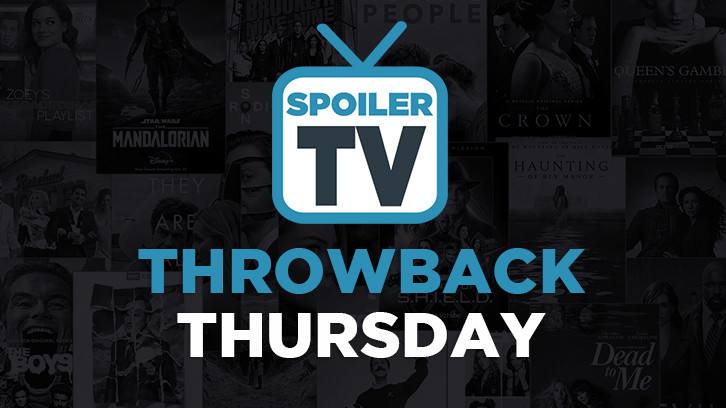 Throwback Thursday is a weekly article in which we look back at our favorite TV episodes from the past. Earlier this year Captain America fans were given a thrill when one of this season's episodes of Marvel's Agents of S.H.I.E.L.D. took them to 1955 and featured Jemma (Elizabeth Henstridge) posing as one of the most famous S.H.I.E.L.D. agents of them all, Peggy Carter. That wonderful throwback had me pulling out my Marvel's Agent Carter DVD's to rewatch that much-missed series. It was while watching I decided to do my TBT article on one of best episodes of the short-lived but excellent series, Episode 1x05, The Iron Ceiling.


There is no denying that Peggy Carter is one of the most beloved characters of the Marvel Universe; after all this time she even played an integral part in the blockbuster
Avengers: Endgame
film. (I found it personally satisfying and touching that Peggy and Steve finally got their dance.) It was just a matter of time until someone brought her to television and in 2015 ABC brought Marvel's
Agent Carter
to life. Despite widespread critical praise the show only lasted two seasons and a short total of 18 stellar episodes. At the heart of what made the show and character so special was one of the most perfect pieces of casting in film. If ever an actor and a role were meant to be together it's Hayley Atwell and Peggy Carter.
One of the standout episodes of the first season of Marvel's
Agent Carter
was a late Season 1 episode entitled
The Iron Ceiling
which reunited this iconic Marvel leading lady with the men who fought with her at Captain America's side in the movies, the Fighting 107th, the Howling Commandos and they never miss a beat. What made that reunion even sweeter is that the producers took great care and consideration in once again casting Neal McDonough as the head of the commandos, Dum Dum Dugan. And it's that and some sharp writing the makes the reunion snap. They never miss a beat as though it had been only days and not years since they had fought together. A highlight was the wonderful banter and respect between the Dugan and Peggy that opened Thompson and the other agent's eyes to the fact that there was more to Peggy Carter than they wanted to see. Atwell and McDonough had wonderful chemistry together and their banter was a highlight of the episode.
In a well-written, well-crafted, and action-filled hour, the episode gave us not only that great reunion but also moved along several significant plot points. The main focus of the hour was Peggy fighting for and getting the right to be a part of Agent Jack Thompson (Chad Michael Murray)'s team that's sent to Russia where they believe they will be intercepting an arms deal between fugitive Howard Stark (Dominic Cooper) and the Russians. It's only her connection to the 107th that gets her on the team. Most of the season of the show focused on Peggy's fight to be seen and accepted by the men in the New York Strategic Scientific Reserve (SSR) office as a fellow agent. It was a typical but frustrating attitude of the time that her greatest use to that office was to answer the phones and get coffee. This episode went a long way in challenging that, starting from Chief Dooley (Shea Whigham) allowing Peggy to go on the mission to the Commandos deferring to Peggy not Thompson's lead when they were in the field.
When they arrive in Poland to meet up with the Howling Commandos it's clear that these men had no hesitation and following Peggy into battle and fighting alongside her. When they reach the rendezvous point, instead of Howard Stark they find a boarding school and a young girl who turns out to be dangerous with a knife and proficient with a gun. They also find evidence of a brainwashing film teaching these young girls to "instill fear". They also rescue an engineer who was captured to build a weapon from designs stolen from Stark and a psychiatrist, Dr. Ivchenko (Ralph Brown) also captured to keep the engineer focused. Peggy's team becomes trapped and during the battle Thompson (whom Peggy had revealed to the Commandos was a Navy Cross winner for valor) freezes. Dugan and his squad blast their way in to get the team out, but Peggy must snap him out of his fear to get moving. After a poignant farewell with the Commandos in which she turns down Dugan's offer to stay with the team, Peggy invites the newly freed psychiatrist to come to New York and work with the SSR (a move which will later prove costly). In a significant but quiet moment on the flight back to the states, Thompson confesses to Peggy that the incident that he told the others had earned him his medal was a lie, but Peggy convinces him he was still worthy of it. However, one of the most significant outcomes of the mission is that once back in New York, after reporting to the Chief, Thompson invites Peggy along to join him and the rest of the men in the office for a drink to toast a fallen colleague. After the way he had previously been treating Peggy, this was a major step forward in his attitude.
While Peggy and Thompson were in Russia, there were several other major plot points that moved forward in this, tight and again well-crafted episode. Planted Russian spy Dotty Underwood (Bridget Reagan) breaks into and searches Peggy's room at the boarding house. Chief Dooley begins to suspect that Howard Stark might be a victim of a frame-up. And, most importantly, Agent Daniel Sousa (Enver Gjorkaj) begins putting his suspicions together and is stunned to find that his blonde suspect in a murder case connected to Howard Stark was none other than Peggy Carter.
Without question, Marvel's
Agent Carter
was a series that was somewhat ahead of its time and most certainly deserved a third season at the least. It would not surprise me that should there be talk of reviving the series the fans would welcome it with open arms, particularly if Atwell were to reprise her title role.
The Iron Ceiling
episode of the show was one of its finest hours and well worth a re-watch and this Throwback Thursday feature.
What did you think of Marvel's
Agent Carter
and
The Iron Ceiling
? Leave your thoughts in the comments below.