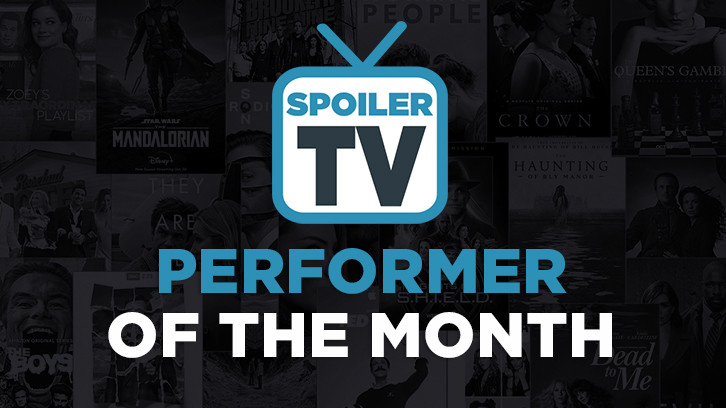 Results:

The Readers' Choice winner shot out to the lead from the very beginning and despite strong competition was never caught. The Staff Choice winner, however, came down to the wire after the top two repeatedly flip-flopped their hold on the top spot. The ultimate winner on the Staff side wasn't determined until about an hour prior to the end of voting. It was definitely a tight and hard-fought battle for the Staff winner this month.


Despite all the crazy wildness of 2020, it has been a good year for new sci-fi/fantasy genre shows. Netflix's
Warrior Nun
quietly arrived on the scene before rapidly taking Netflix and the world by storm. The slow rumble about the show quickly became a well earned deafening roar. Every member of the cast was considered a breakout star. They each stood out and made a mark in their own way. With such a talented and well-received cast it makes it all the more impressive that one of them was able to stand out from the incredibly gifted cast she is a part of. Kristina Tonteri-Young captivated the audience with her nuanced, powerful, and real portrayal of the loyal Sister Beatrice.
Proverbs 14:1
(1x8) was a standout episode for Tonteri-Young as she guided Sister Beatrice on a mission to train Ava (Alba Baptista) while also beginning what promises to be a long poignant journey towards making peace with her own inner truth. The sequence where Sister Beatrice is recounting the tale of Sister Melanie to Ava was particularly poignant. Tonteri-Young captured the raw emotions surging through her character in such a profoundly powerful way that one couldn't help but hang on her every word much in the way Ava was. From longing looks of adoration to tears and soft smiles, Tonteri-Young used everything given to her in this episode to craft a whole new layer in Sister Beatrice's journey and in the process solidified her hold on the hearts of the audience. Her remarkable performance led her to easily capture the title of SpoilerTV's Readers' Choice Performer of July.
For seven seasons, fans of
Marvel's Agents of S.H.I.E.L.D.
have followed this unique group of agents on mind-boggling adventures to save Earth. In this final season, the agents have been time-traveling in the Zephyr avoiding the dreaded Chronicom Hunters (the ancient and advanced synthetic, semi-robotic beings) determined to take control and create a new world. Offering valuable knowledge and assistance to the team was the Chromicom Anthropologist Enoch (Joel Stoffer). Yet, traveling with the team Enoch became so much more. He was no longer the emotionless, Spock-like character doing what he could to help protect the humans with whom he was traveling. He became a confidant to some, a loyal friend to Fitz (Ian De Caestecker), and protector of Jemma Simmons (Elizabeth Henstridge). In one of the series most acclaimed hours,
As I Have Always Been
(7x9) beautifully directed by Henstridge, Enoch's centuries-long journey came to a noble end as he made the ultimate sacrifice to save the team. In this episode, Stoffer, who brought so much humanity and life to a seemingly emotionless character had his finest moments. He was called upon in this episode to protect the location of Fitz buried deep in an implant in Simmons' brain, even if it meant killing the team including Simmons to do so. In a final act that was the most human thing he could do; Enoch sacrifices his own life to save the others. For a robotic being, he proved himself perhaps the most human and heroic of them all and he died not as a Chromicom, but as a member of both the team and
Agents of S.H.I.E.L.D.
family. For his exquisitely nuanced and touching performance, Joel Stoffer has been selected as SpoilerTV Staff Choice Performer of July.
Kristina Tonteri-Young and Joel Stoffer's articles will be out later this month. In the meantime, please feel free to use the comments section to discuss these two amazing winners and their incredible fellow nominees.
Original:
For the first time ever, there were only performers from two shows who made it to the Top 10 for voting. This round will be
Agents of SHIELD
performers vs.
Warrior Nun
performers.
Now it's time to determine who will be our July Readers' Choice Performer of the Month. The results will remain hidden for the duration of voting. The results of this poll and the Staff voting will be revealed after the poll closes.
2019 Staff Choice Performer of the Year:
Jodie Comer
2019 Readers' Choice Performer of the Year (TIE):
Hailee Steinfeld
and
Oliver Stark
January 2020 Winner:
Readers' and Staff Choice: Rachel Skarsten (Alice/Beth) - Batwoman
February 2020 Winners:
Readers' Choice: Sam Heughan (Jamie Fraser) - Outlander
Staff Choice: Jeri Ryan (Seven Of Nine) - Star Trek: Picard
March 2020 Winners:
Readers' Choice: Christina Hendricks (Beth Boland) - Good Girls
Staff Choice: Jane Levy (Zoey) - Zoey's Extraordinary Playlist
April 2020 Winners:
Readers' Choice: Amalia Holm (Scylla Ramshorn) - Motherland: Fort Salem
Staff Choice: Jessica Camacho (Emily Lopez) - All Rise
May 2020 Winners:
Readers' Choice: Taylor Hickson (Raelle Collar) - Motherland: Fort Salem
Staff Choice (TIE): Linda Cardellini (Judy Hale) - Dead To Me
Staff Choice (TIE): Marie Avgeropoulos (Octavia Blake) - The 100
June 2020 Winners:
Readers' Choice: Tyler Blackburn (Alex Manes) - Roswell, New Mexico
Staff Choice (TIE): Matthew Rhys (Perry Mason) - Perry Mason
Staff Choice (TIE): Tatiana Maslany (Sister Alice) - Perry Mason
Please remember that a performer can only win once in 2020. After that win, they will be ineligible to win again in 2020, but they will secure a spot in our year-end Performer of the Year contest.
Now comes the hard part where you can
only vote for 1 performer
. The poll will be live until
Friday, August 7th at 6 pm ET
. After you vote be sure to make a pitch in the comments section for what the performer you voted for most deserves to win.