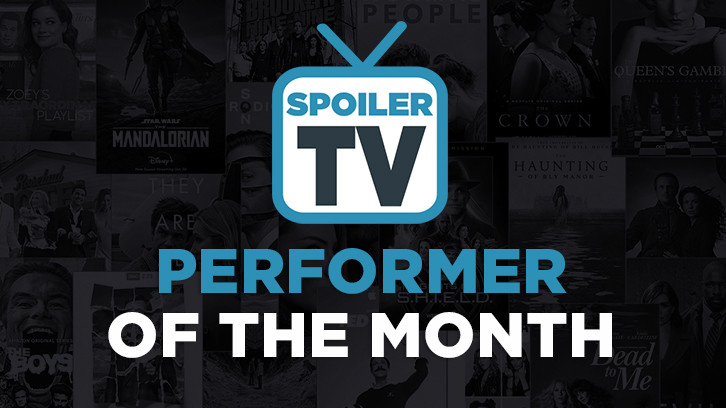 Results:

This was an interesting round of voting. The Reader side changed hands a few times before the ultimate winner surged ahead in the final twelve hours of voting and was never to be caught again. The Staff side, on the other hand, changed hands multiple times and wasn't decided until the last two hours before voting ended. The Staff side ended in a historic tie with two performers from the same show securing the win.


One of television's stealth gems right now is
Roswell, New Mexico
. In just its first two seasons, the show has moved beyond its inspiration, introducing addictive mysteries and compelling characters that continue to draw new fans. Our readers tell us it's just about impossible to pick a favorite character, especially after a sophomore season that made us fall deeply in love with just about every single person. The development of Tyler Blackburn's Alex Manes has particularly gripped our readers, who have rooted for Alex to overcome his family's traumatic legacy and navigate the risks of letting himself be vulnerable around the people he loves. In the season finale, there were more skeletons to be brought out of the closet, giving Blackburn the opportunity to show how much Alex has grown. Blackburn delivered a quiet, eloquent performance, revealing just enough of Alex's sorrow and hope to provide a fitting coda for his character's experiences up to this point.
Every generation seems to produce a select group of actors who possess those chameleon-like qualities to disappear into a role and make it their very own. Names like Streep, Mirren, Dench, and Adams often come to mind. There is a bumper crop of younger actresses who are quickly carving themselves a much-deserved place on that list. One of the most talented of that group is one of this month's Spoiler TV Staff Choice Performers of the Month, Tatiana Maslany for her work as Sister Alice, the mesmerizing evangelical head of the Radiant Assembly of God, caught up in the kidnapping and murder of a young child being investigated by down on his lucky private investigator Perry Mason (Matthew Rhys) in HBO's current mini-series of the same name putting its own gritty spin on the origins of Erle Stanley Gardner's iconic lawyer. There doesn't seem to be a role that Maslany doesn't tackle full-on and Sister Alice is no exception. In
Chapter Two
she becomes almost transcendent channeling the wrath of God and blistering investigating authorities while presiding over the funeral of the young kidnap victim. Yet, she shows us too that there are many intriguing layers of Sister Alice that we want to find out about. Maslany, resplendent in a Jean Harlow style platinum wig, using the same amazing acting talent that earned her an Emmy for disappearing into the clone-sisters of
Orphan Black
disappears into Sister Alice with such fervor that you can't take your eyes off her when she's on-screen. For her outstanding performance, she has rightfully earned the title as one of SpoilerTV's Staff Choice Performers of June.
The first thing anyone who has watched HBO's gritty retelling of the origin of the legendary character of Perry Mason is that this is not your mother's
Perry Mason
. This character is a down-on his luck private investigator who sometimes skirts the law. He lives on his family ranch that he is about to lose and doesn't mind stepping on toes from time to time. He's haunted by his war experiences but like the Perry Mason, many of us remember he does seem to have a code he follows, although this time it's a little on the shadier side than we are accustomed to seeing. This is pre-attorney Perry Mason, and in star Matthew Rhy's talented hands he is clearly on a hero's journey toward truth and justice. Rhys is one of the finest actors of his generation with a memorable body of work that includes his stellar work on
The Americans
. He shows us the many layers of this tortured but determined man who struggles to keep his word while fighting the corruption that surrounds him. For his amazing nuanced performance in the series premiere of
Perry Mason
, Rhys has garnered a place as one of SpoilerTV's Staff Choice Performers of June.
Tyler Blackburn, Tatiana Maslany and Matthew Rhys's winner articles will be out later this month. In the meantime, please feel free to use the comments to discuss these worthy winners and their brilliant fellow nominees.
Original:
Despite an unusual month of television, many of you turned out to place your nominations which has led us to a strong list of nominees.
Now it's time to determine who will be our June Readers' Choice Performer of the Month. The results will remain hidden for the duration of voting. The results of this poll and the Staff voting will be revealed after the poll closes.
2019 Staff Choice Performer of the Year:
Jodie Comer
2019 Readers' Choice Performer of the Year (TIE):
Hailee Steinfeld
and
Oliver Stark
January 2020 Winner:
Readers' and Staff Choice: Rachel Skarsten (Alice/Beth) - Batwoman
February 2020 Winners:
Readers' Choice: Sam Heughan (Jamie Fraser) - Outlander
Staff Choice: Jeri Ryan (Seven Of Nine) - Star Trek: Picard
March 2020 Winners:
Readers' Choice: Christina Hendricks (Beth Boland) - Good Girls
Staff Choice: Jane Levy (Zoey) - Zoey's Extraordinary Playlist
April 2020 Winners:
Readers' Choice: Amalia Holm (Scylla Ramshorn) - Motherland: Fort Salem
Staff Choice: Jessica Camacho (Emily Lopez) - All Rise
May 2020 Winners:
Readers' Choice: Taylor Hickson (Raelle Collar) - Motherland: Fort Salem
Staff Choice (TIE): Linda Cardellini (Judy Hale) - Dead To Me
Staff Choice (TIE): Marie Avgeropoulos (Octavia Blake) - The 100
Please remember that a performer can only win once in 2020. After that win, they will be ineligible to win again in 2020, but they will secure a spot in our year-end Performer of the Year contest.
Now comes the hard part where you can
only vote for 1 performer
. The poll will be live until
Tuesday, July 7th at 6 pm ET
. After you vote be sure to make a pitch in the comments section for what the performer you voted for most deserves to win.
Everyone, please stay safe and healthy.