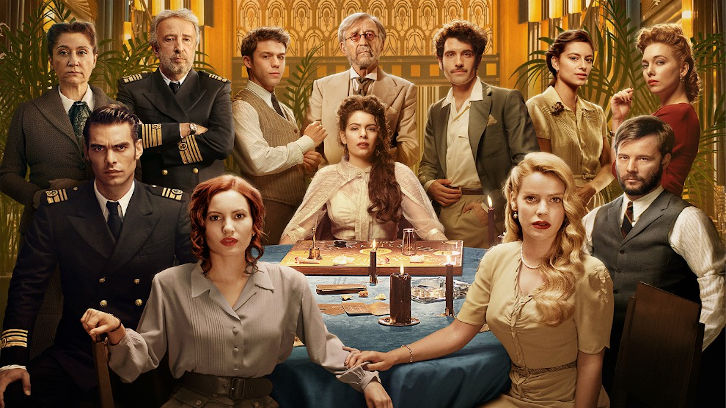 Note: This show was originally released in November 2019, however I am just watching it now. You are free to unleash spoilers in the comments with spoiler tags.

When you build an elaborate set for your mystery show, you just can't discard it after the characters solve the initial crime. Hence we get a second season (and a third and fourth) of Alta Mar. The stakes are raised by revealing the ship might be haunted, new information provided by our heroine Eva Villanueva (Ivana Baquero), and all the secrets that weren't brought to light on the first half of the voyage are set to simmer. I can't say these first two episodes bode well for how the season will play out, but I am relatively content with the dramatic chaos they introduce and set up. There's something campy about the show that makes it more diverting than it was before. It remains for me to see (as I'm sure many of you already have) if the entertainment factor outweighs the show's other flaws.


The premiere episode,
Casandra
, deals with the hunt for and recapture of Carolina (Alejandra Onieva) and Eva's murderous Nazi dad Carlos (Luis Bermejo). Uncle Pedro (José Sacristán) survived his brother's attack, but we learn that he is blind, in a classic 70s period drama twist. Needless to say, no one is thrilled that Carlos is on the loose; Eva states the obvious to Nicolás (Jon Kortajarena): "I was happier when I thought my father was dead." They question Carlos's accomplice Sofía (Manuela Vellés) who feigns innocence. She's definitively guilty as hell and also pregnant; her baby bump hilariously doubles in size in the span of two episodes. Carlos has hidden inside Sebastian (Tamar Novas)'s cabin, taking Verónica (Begoña Vargas) hostage. She attempts to subdue him in an act of pluck and courage that gave me new admiration for her character. (Don't make me regret this, Verónica). Dimas (Ignacio Montes) and Eva are the ultimate rescuers, with both Eva and Carolina talking their father into submitting peacefully to arrest. It's as calm a conclusion as they could hope for. Naturally, this just closes the first chapter in their woes.
Meet Casandra (Claudia Traisa). My theory, upon seeing her in the lifeboat, at the end of last season was that she would turn out to be Nicolás's thought-to-be-dead wife. Casandra even hits the decks of the
Bárbara de Braganza
cosplaying as a Victorian Gothic Ghost Wife. Thankfully, she's far more trouble than that. Casandra Lenormand, my friends, is positively extra. She claims to be psychic and wastes no time sharing her powers and observations with everyone she meets. She calls her ability both a gift and a nightmare, and she looks at every single person as if she wants to eat their soul with a teaspoon or sleep with them, whichever comes first. The other people rescued with her say she warned them their boat would explode, enabling them (and herself) to escape, the sole survivors. One of the people is her companion in some fashion, carrying a mysterious book or box with a symbol on the cover. Her first night onboard Casandra says several people have died on the ship, to which everyone responds "No kidding." But when she informs them three men and a woman died, lights flicker, pipes groan, and, as the kids say, we've got another mystery on our hands.
In these first two episodes, Traisa tiptoes that fine line between reserved and shady, leaving room for doubt as to whether she is indeed a trickster. Eva decides to prove that Casandra is playing games and discovers that Casandra likely previously traveled on the ship under its prior name, the
Covadonga
. As a faint antagonism develops between the two women, Carolina gets caught in the middle when she begins to believe a ghost is lurking about. The end of episode two
From the Dead
strongly hints that Casandra is telling the truth about the woman's murder. Could she be staging parts of the haunting to obtain everyone's assistance in solving it? Perhaps. Could the haunting be real? Also an option. The only thing that really matters is that Casandra is a wildcard that the season needs. However, there is an abundance of plot happening around the others characters.
Verónica isn't so sure she wants to hang out with Sebastian after he failed to protect her, but Sebastian views his "brush with death" as a sign he should propose to Verónica. Dimas even picks out the ring, in a moment that made me roll my eyes a little. Either fight for the girl or don't, Dimas. Pick a lane. Meanwhile, Clara (Laura Prats), literal victim of the show's worst storyline, is falling apart, and I suspect no amount of greeting card platitudes from Pierre (Daniel Lundh) and slaps from Natalia (Natalia Rodríguez) are going to save her. Natalia, though, is a more complicated character. She is eager to take power and access her financial freedom, and the show ensures she's not particularly likable in how she goes about it and treats other people. There was a trend a while back of TV shows taking unlikable female antagonists and revealing they were survivors of assault or domestic violence as a way to cook up complexity for them, a feeble excuse for many reductive storylines. Though Natalia's arc is unfortunately nullified by the show's treatment of Clara, her character is fairly progressive, and the show never minimizes her experience yet still lets her fill a somewhat antagonistic space. Detective Varela (Antonio Durán) blackmailing Natalia is a turn of events that would be more interesting if you couldn't see it coming from a hundred miles away.
The biggest surprise is that Nicolás's wife isn't in the lifeboat. But don't worry. She might be alive anyway! What would we have done without the classic dead wife-me-living girlfriend love triangle? Nicolás receives a telegram from Chantal, claiming to be alive and waiting for him in season three when they get to Brazil. Is it real? We probably won't find out for a while. Refreshingly, he tells Eva almost immediately, and she takes it very well, pointing out they knew each other a few days so it's not like they were going to be a forever thing. (Later, they passionately make out right outside the bridge, so I hope Chantal isn't setting up house in South America. Eva and cute safecracker exchange a meager crumb of flirtation at one point, so at least she has someone's number to give Chantal.
As to how I liked both episodes overall, I loved the spooky opening montage traveling through the empty spaces of
Bárbara de Braganza
. There was more daylight in these episodes than I felt we got in all of season one, which really gave the production design a chance to shine. With all the schemes and deceptions in play, there's a chance for things to blow up in an exciting way. (There's also a chance the ship could blow up, but let's be honest. They have to save that for the final season). We find out Carolina and Eva's mother has some secret going on with her. Carolina floats around in a gorgeous apricot satin dressing gown before getting scared out of her mind like a Hitchcock heroine. Doctor Rojas (Pepe Ocio) is way too casual for a person who did all the shady things he did last season, but also he's the only doctor on board, which I'm sure won't amount to anything concerning. He and Uncle Pedro do have the funniest moment of these first episodes.
Rojas, referring to facing consequences for his actions: "I want to be able to look myself in the mirror."
Blind Uncle Pedro: "That makes two of us."
So dark. And actually dark for Uncle Pedro.
I can't wait to find out just how many times Nicolás and Eva start making out then remember Chantal might still exist. I'm terribly worried Carolina will lose her mind or worse that Fernando (Eloy Azorín ) will have another shady secret. After their disagreements last season, it did make me happy to see Eva and Fernando teaming up to look out for Carolina. I also absolutely need Verónica to shape up and maybe take a break from dating. Mostly, though, I'm just here for Casandra's dramatic whispers and Eva's snarky rebuttals. Obviously, they'll be best friends by time the season is over.