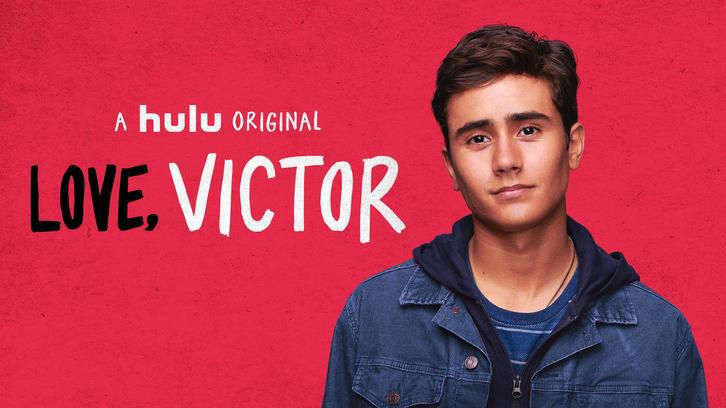 This episode felt like a return to form. Let's go.

Simon wants to know if Mia and Victor did the nasty? Victor admits he choked and says everything else about there relationship is perfect, so does sex really matter? It depends, Victor. Victor and Mia are incredibly cute together. During their school hallway walk and talk, Victor agrees to save Mia from Harold's lame university auction by going as her date.

Elsewhere, Felix wants Victor to help him decide on a portmanteau for his "relationship" with Lake. Unfortunately, Lake is firmly on the side of it never happened and it's never happening again. Felix comes crashing down from his high and is suddenly miserable.

You know who else is miserable? Pilar. She's living in her recent past, stalking the Instagram pages of her friends in Texas. It just struck me that Pilar probably hasn't made any new friends. She had a rocky start at Creekwood, which no doubt tainted her reputation.

The adults are in crisis. Isabel wants to go back to giving piano lessons, and Armando gives a firm no. His no was obviously gross even though we know why it happened. Isabel is fully grown, so she wasn't asking permission. She was attempting to have a conversation because unilateral decisions without discussion is a death knell to relationships.

When Victor walks into work, Benji is in a tank top. We all notice the way Victor's mouth falls open when Benji does hot boy things, right? It's so Pavlovian. Anyway, the ancient espresso machine needs to be fixed. Benji is not enthusiastic about road tripping to Willacoochee with Sarah (Beth Littleford), so he puts his tank top to good use and appeals to Victor's human side, the one drowning in lust. Our boys are taking a road trip, even though Victor promised Mia he'd go to Harold's soiree. Raise your hand if you think this ends well.
Felix goes looking for Victor because he needs to talk to him about his Lake troubles, but Pilar will do. Pilar helps Felix realize he's pathetic. Pilar shares that she is also pathetic. Is this a burgeoning friendship? I hope so.
Let's get back to the road trip. Benji opens up a little. This is a good thing because he can't just be the sweet, artistic, hot boy. He needs some depth along with the smiles, tank tops, and hand sweeps through thick locks. He used to go to Dollywood with his dad. Victor's surprised. He didn't take Benji as a Dolly Parton fan. Hey, Victor? Everyone is a Dolly fan. She's a badass. Benji's relationship with his father changed once he came out to him. You can see the sadness on Benji's face, but we also know that it's something Victor fears happening in his own life. We aren't allowed much time to live in that sadness because dumb Derek calls. Benji ignores his call. Did you see the light in Victor's eyes? Did you hear the lie in Benji's voice?
Isabel took Armando's "no" about as seriously as I did. She used the family's finances as a reason to get back to teaching piano, but it's clear that it's what she loves. People shouldn't have to give up what they love. Armando doesn't want Isabel teaching again because that's how she ended up getting physical with Roger. Isabel asks a good question, "When are you going to start trusting me again?". It's also a hard question. Once trust is broken, it's hard to regain, but a relationship without it is doomed.
Felix and Pilar are still working through their pathetic together, but they've reached the awkward silence stage. Somehow they leave behind the awkward and start getting real with one another. I love that Pilar recognizes she isn't an easy one. Same, Pilar. She sort of suggests that they get coffee, but Felix makes her actually ask him. I want this. I want Pilar and Felix. This is the portmanteau we should be figuring out, not Felix and Lake. I said what I said.
In Willacoochee, some slow moving old timer is set to repair the espresso machine. Victor is rightfully worried that he's going to disappoint Mia. Benji is zen about the whole thing and suggests they head to the thrift shop. It's time for fun and a fashion show. I'm trying to figure out if the thrift store moment is meant to serve as a contrast to their respective romantic relationships? Victor and Benji are carefree with one another. Victor is admiring a suit in the mirror when he catches a glimpse of a shirtless Benji. The tank top got him to go on a road trip, so shirtless Benji could probably convince him to rob a bank.
Andrew shows up at the fundraiser. Mia and Andrew take a walk down memory lane. Their history is long. I like them together. They seem easy and effortless in this environment. This makes their recent interactions all the more confusing. They were once friends and more than friends. It's clear they both still think about what they used to have, but now Andrew acts the role of the jealous jerk and Mia plays the part of the wronged ex. I get Andrew's jealousy, but I'm not seeing any evidence that Mia was wronged, which begs these questions—Why have the writers let the viewers think so poorly of Andrew for so long? Is there enough time to undo this methodical character assassination?
Back in Willacoochee, Sarah tells Benji to stay the night if the espresso machine isn't ready. We can all relax, the espresso machine is ready, so Victor can make it to the fundraiser. I'm kidding, no writer would pass up this opportunity. Not only will they be staying overnight, there will only be one bed. Leaning into tropes. Here it comes. Victor lies, so he can spend the night with Benji. It was the shirtlessness. Victor was powerless. He lies to Benji then he lies to Mia.
Mia says she isn't mad, but a lurking Andrew knows better. He comes bearing grilled cheese, but ruins the moment with a kiss. Say what you will, but I'm not convinced that kiss was one sided. Also, mystery solved. Mia instigated the sex between them but acts like it never happened. Andrew is hurt, which is totally understandable. Mia called him because a call from her mother sent her spiraling, which is totally understandable. She tells Andrew that he was just a terrible idea. Ouch! Worst apology ever. When you use someone, put a bit more emotion into your apology. Here's the thing, you can hurt for totally legitimate reasons. Sometimes you hurt people because you're hurting, but it doesn't excuse your behavior. You don't get a pass. Great, now I feel sorry for Andrew.
A quick montage of a few moments: At the coffee shop, Felix and Pilar enjoy themselves until Lake arrives and ruins the moment. Isabel and Armando sing together. It's Selena. Armando apologizes for being an ass. There is no way this lasts, but I want it to last. Veronica and Mia's relationship grows a little. Veronica's story reveals something about Mia's relationship with Victor. Her story boils down to people showing up for the people they love. Yes, they do. The audience didn't miss it, but did Mia?
Back to One Bed Willacoochee. Turns out Benji drank a lot when he was struggling with accepting himself, and drove through a restaurant. I'm enjoying this rainy night confession because it's filling out Benji's character while increasing the intimacy between the future boyfriends. They share heart eyes before Benji goes to sleep. No ways this stays platonic. Victor wakes Benji with a gentle touch and that's when the kissing starts. Victor may have started it, but Benji responds and he is all in until he remembers dumb Derek. When Benji pulls away, Victor realizes what he's done. Just to be clear, Victor doesn't run away because the two of them cheated. Victor runs away because the dam finally broke and he has to confront his sexuality. This is a big event for the show. There's no turning back now. Victor does apologize before running off. Do you think Benji's deep breaths, heavy sigh, and closed eyes after Victor leaves are because he realizes the part he played in getting them to this moment? Is he that self-aware?
Victor needs Simon. He tells him that he kissed Benji, and that it was the worst thing he could have done because he realizes that he can't keep denying who he is, but he hates what he is. He doesn't want his life to be hard. And this is the best message for those people still under the ignorant impression that being LGBTQIA+ is a choice. No one chooses hard.
Simon writes back. He tells Victor that he's perfect just as he is. He wishes Victor could see what his life is like in NY and that he could wrap Victor in the hug he's needed since episode one. Suddenly, Victor starts listening to Simon and takes all his words as an invitation. Victor's headed to The City That Never Sleeps.
What did you think? How do we feel about all the potential relationships?