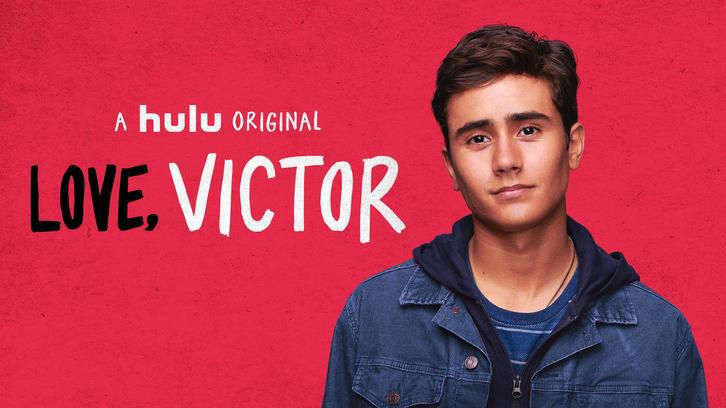 A few people have mentioned that Love, Victor has a Degrassi feel to it. Since I wasn't a Degrassi kid, I embraced the view of the masses and went down a YouTube rabbit hole. There I discovered a few things. The first is that Degrassi is an umbrella term for five different series. The second being that multiple people have created opening credit compilations for your viewing pleasure. I see what you see masses—Love, Victor definitely gives off Degrassi vibes. Let's dive into Episode 2, "Stoplight Party."

Episode 2 begins where Episode 1 ended, with Victor on the Ferris wheel, but Benji has taken Mia's place, which is how we know we're dealing with a dream sequence. If Benji's presence didn't clue you in, the booing crowd just as Victor and Benji lean in for a kiss absolutely did. The scene is meant to mirror the raucous cheering that greeted Simon and Bram's romantic moment atop the Ferris wheel in Love, Simon, as well as highlight that Victor isn't ready. He can't even say the word gay, instead he tells Simon that he isn't like him. And he's right. He isn't Simon. He's Victor and this is his journey.

Victor wakes from his kiss interruptus and gets down to the business of getting the $500 he needs to join the basketball team, but his dad, Armando, is not having it and tells Victor to get a job. Isabel tries to convince her husband to just give Victor the money he needs. Armando takes the opportunity to remind Isabel that the move was not only expensive but her fault. Armando clearly isn't over whatever happened. Isabel, what did you do? I mean, I think I know what you did.

Victor discovers the answer to his money woes during his morning coffee run with Felix. The local coffee shop is hiring baristas. I spy with my little eye a plot device. While there Victor learns that one ride on a Ferris wheel can change the entire course of your life. Overnight Victor has been dubbed a Creekwood hottie, riding the coattails of Mia's popularity.


Speaking of Mia, I find her characterization confusing. She's supposed to be incredibly popular, but we only know that because other characters keep telling us not because anything on screen is showing us. Her circle of friends seems limited to Lake and now Victor. We do learn that she's incredibly lonely, which explains why she always looks so sad. Her father travels a lot, and she's left behind in the family mansion. Lake being the good friend that she is suggests that a party is in order because what else do you do when you have a "baller mansion" and no parental supervision. Victor scores an invite, which means so does Felix. As the episode title warned us, it's a stoplight party!
A stoplight party is where green means come closer, red means no and nope, and yellow means, my true love is here, but they might not know we're meant to be. An indulgent aside: You know how Charlie Brown's sister, Sally, has a thing for Linus, the one with the blanket? And you know how Lucy abuses Charlie because she has a thing for him? (Let's not fight about that one. It's one of the seven things I know to be true.) So what happens when Sally shows up in yellow because she loves Linus but he shows up in red because he's in a relationship with his blanket. Then Lucy shows up in orange because she would and Charlie Brown just hides in Snoopy's dog house. Then no one gets lucky, right? Seems complicated and exhausting. There must be a better way.
Before the party, Victor heads to his job interview at the coffee shop? Guess who works there? Did you say Benji? Did you say it because you saw the teaser trailer? Doesn't matter. The viewer once again sees Benji through Victor's eyes. I don't know if it's a hot boy montage, but it is pure innuendo, and I am entertained and delighted. When Victor prematurely shoots foam all over both of them, see I can do it too, he runs away tossing excuses over his shoulder and doubles down on Project Mia.
Here comes Andrew and he's still twirling his mustache. I need him to get some depth and a backstory pretty quickly. It's clear he has history with Mia. It's in the eye rolls and cold shoulder she gives him. He even equates her riding the roller coaster with Victor as taking on a charity case. Plot twist, Lake likes Andrew. Messy. Additional plot twist, Felix has a crush on Lake. Messier.
Victor, overwhelmed by his complete lack of chill around Benji, races home to find a yellow shirt. Meanwhile, Mia decides to forgo green, red, and yellow in favor of wearing a black dress that looks like her grandma's Sunday best. I get it. Mia doesn't want to put herself out there only to be rejected and feel dejected if the cute boy she likes shows up wearing green. Luckily, Lake convinces her to take a chance, so she adds a shapeless yellow cardigan. Then Evil Andrew happens. He convinces Victor to cover his yellow shirt with some super logical argument along the lines of real men don't do desperate things like show how they feel. And just like the writers wrote it, Mia's disappointed when she sees Victor in green. She's so disappointed that she takes off the dumpy yellow cardigan her favorite auntie made her, which leaves her in just her frumpy black dress. It doesn't really matter because she abandons her own house party to wallow in her room. I'm having serious issues with the styling choices for Mia. What are they trying to tell me?
Thank goodness Felix has spent the bulk of the party getting drunk because it means Victor has to drag him around looking for a bathroom. They find themselves in Mia's bathroom where Felix opts for the cool tiles of the bathroom floor instead of remaining upright. Relatable. Felix's alcohol nap gives Victor and Mia time to talk. Turns out she wasn't always a rich girl. She misses her old life in her family's tiny apartment on the other side of town. It's pretty clear she misses her old life because it was the last place where she lived with her mom who we learn "is not in the picture." This episode is doing great things to flush out Mia's character. I approve. The maybe couple continues to bond. Turns out neither of them know who they really are. I don't think most of us did at 16. Before the scene comes to a close, Victor whips off Andrew's green jacket and stands before Mia in all his yellow t-shirted glory. She's pleased.
What about Pilar? My life twin is still angry and indignant, and I still love her for it. Her long distance boyfriend is hanging out with another girl. I think we all know this doesn't end well. In a fit of desperation, Pilar tries to save the relationship by sending her boyfriend some sexy pictures, but Isabel and her perfect timing save the day. Good thing because Pilar's boyfriend breaks up with her just a few hours later. This sequence led to some solid mother-daughter moments.
Not surprisingly, by the end of the episode Victor decides he likes Mia. But is he confusing "like" for like? Only time will tell. I'm kidding we know where this is headed. Victor DMs Simon and wants to know if he ever had feelings for a girl and thought maybe just maybe it could work. He's interrupted by Benji who makes him an offer he doesn't want to refuse.
It's clear Simon's advice from earlier is going to go unheeded. He cautioned Victor about being desperate to fit in and how it could lead to him compromising himself and hurting others. We all know that the ignored advice is going to cause major fallout, as well as propel the rest of the season. Let's see where this thing goes.
Things That Did Not Spark Joy:
Apparently locker rooms are still locker rooms and boys will still be boys in the absolute worst sense. No evolution to see here.
Just Cause:
For fans of the Simonverse, Becky Albertalli's final entry,
Love, Creekwood
, comes out on June 30th. Albertalli donated 100% of her English language advance to the
Trevor Project
. The Trevor Project is a phenomenal organization, which provides crisis intervention and suicide prevention services to LGBTQIA youth and young adults.
What did you think? Have you ever been to a stoplight party? Let me know in the comments.