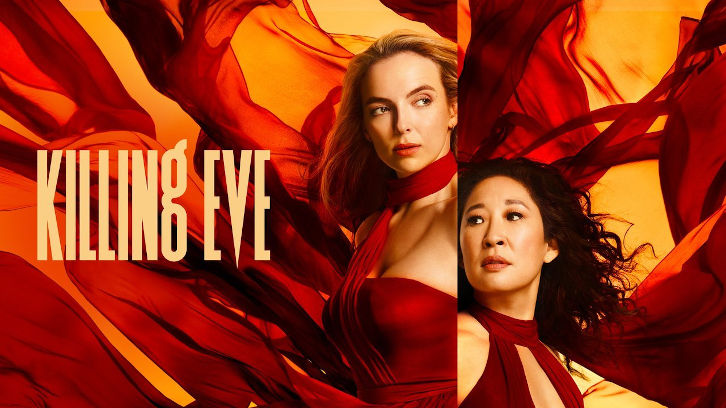 *NOTE – This review may contain spoilers.

After last week's exceptional episode written by next season's showrunner Laura Mead and nicely directed by Miranda Bowen, Killing Eve backslides a great deal this week with Still Got It, a bizarre outing that results in the murder of another key character. It's almost as if the writers aren't sure what to do next and decide, "Let's kill another original character" to see what happens. What is becoming more and more clear with each episode is that there is no clear-cut vision for this season from showrunner Suzanne Heathcote. Under her guidance, the show is fast becoming a series in search of a direction.


This episode was a confusing, disjointed mess. It was a series of character vignettes barely tired together with the thinnest of threads and the only reason we knew they were character vignettes were the out of place and oddly sized graphics with the name of the person each one focused on. It started out with poor Nico (Owen McDonnell) who retreated to his native Poland in search of a simple life. From the blink-and-you'll-miss-it moment early in his segment that begins the episode, where you spot Villanelle (Jodie Comer)'s former trainer, Dasha (Harriet Walter) in the background of the bar where he goes drinking you know the episode won't end up well for him. And, it doesn't because he ends up on the wrong end of a pitchfork wielded by Dasha who has been ordered to drive a wedge between Eve and Villanelle. Nico has always been the odd man out in Eve and Villanelle's story. However, he was never a threat, and judging by the way Eve dropped everything to go to Poland to talk when she erroneously believes he invited her, she genuinely loved her husband. Killing him makes no sense and framing Villanelle for his murder will have the exact opposite effect.
All the confusion aside, this was Sandra Oh's best outing as Eve this season. From tossing her birthday cake off the roof of the Bitter Pill building to drinking beer with magazine editor, Jamie (Danny Sapani) trying to one-up each other about who had had the more tragic life, she gave us the wonderfully off-kilter Eve with the sharp mind and lack of social graces that fans adore. A quick note about Sapani, I am loving his character and his chemistry with Oh, they are two wounded souls who understand one another and have connected on some level very quickly. The confused writers this season better not make him the next victim of their "what do we do next, oh, I know, let's kill him," syndrome. She was particularly moving when she showed up at the farm where Nico was in Poland, excited and eager to talk to him in hopes of saving their marriage only to be stunned and shocked into immobility by having him gruesomely murdered before her eyes.
Comer's Villanelle was woefully underused in the episode and almost served as the comic relief of sorts. From her awkward assassination of the wife of the accountant, the 12 suspects stole $6 million from them to her ever-present hiccups she was not used well. I found it just a little out of character for someone that is so eager to move up in management of the 12, she allowed herself to be manipulated so easily by Konstantin (Kim Bodnia). Even the usually fun and edgy scenes between Comer and Bodnia seemed off-kilter.
Killing Eve
built its reputation on being a sharp, quirky, and intense show led by Golden Globe® and Emmy® award-winning actresses. Who knew that this season the most interesting characters and storylines would Carolyn (Fiona Shaw) and Konstantin (Bodnia). That's not to say these two performers or characters don't deserve the attention. In previous seasons there has been a lovely balance to showcasing everyone that has been tilted. That said, Shaw continues to take advantage and command every scene she is in and shows once again here why I contend she's this seasons' MVP. The in-charge spy Carolyn is back retaking control at MI-6, even if it's just getting back the office she doesn't even know how to find while quietly looking into her son's murder. Then she breaks your heart as she heads home from work early for seemingly emotionless confrontation with her daughter Geraldine (Gemma Whalen) only to retreat to her bedroom, flop onto her bed fully clothed, and uses a pillow to smother her crying. I cannot repeat it enough, Shaw's work this season is pure gold. And, surely I'm not the only one questioning Geraldine's mysterious behavior and actions since her return?
Bodnia seems to be having some fun with the many facets of the mysterious Konstantin this season. He's never hidden the fact that Konstantin's priority is and always will be himself, however in this episode it was fun watching his young daughter call him out on his actions and warning him to be careful. Young actress Yuli Lagodinsky was marvelous in those scenes, matching Bodnia step for step, showing that Irina is certainly becoming a chip off the old block. Konstantin would do well to heed his daughter's advice. While he's going through the motions to help the 12 discover who stole their money when likely he's the culprit who absconded with the funds. His days of playing both ends against the middle may be numbered.
Speaking of chips off the old block, here's a big what if to consider. Given her odd behavior with her mother, and her unusual meetings and conversations with Konstantin, what if Geraldine is truly more like her mother than Carolyn ever imagined. What if she followed her mother into the spy business and is, in fact, working for the 12? In an even wilder, what if? What if, instead of Konstantin being revealed as Kenny (Sean Delaney)'s killer as all the blatant clues are pointing to, it was Geraldine that caused her brother's demise?
Share your thoughts on this episode and other theories in the comments below.