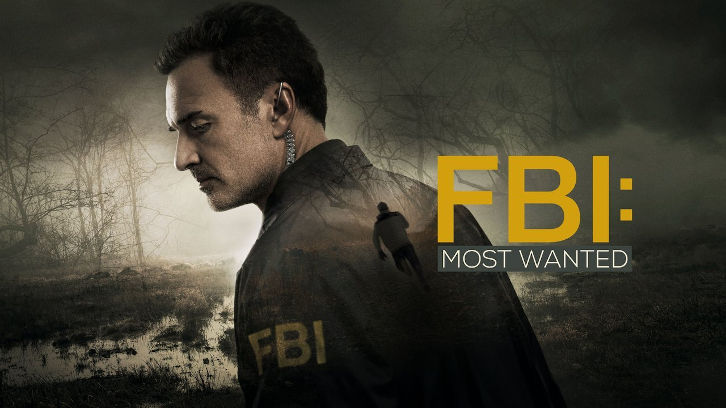 With a new episode of FBI: Most Wanted tonight, the season finale no less, let's do a recap of the show's previous outing.


In Grudge, our team is tasked with tracking down a John Doe, as their fugitive is an unknown cyber stalker. He gets the warrant issued to him after a failed kidnapping of his victim leads to the death of two people. We learn that Chris and Carly, our stalking victims, had raised the alarm about their stalker, but the threat wasn't considered credible until this final incident. Clearly shook by how far the situation had to go in order for the authorities to be mobilized to assist them, our young (and expecting) couple has trouble trusting the system enough to resolve the situation. The team reassures them that they'll do everything they can. Hana seems to be the most invested in the case, and the person who gets to have the most useful input for Chris and Carly. She also begins to get some mysterious messages throughout the investigation.
The team manage to track down the vehicle used for the almost kidnapping and when they find it they also discover the torture chamber set up inside it. Upon further investigation on both how the vehicle and some of the torture paraphernalia were obtained we find out that our stalker used some blackmail material he gathered via hacking in order to get his business done.
Meanwhile we also learn who has been texting Hana and why this case is hitting so close to home for her. She too has been stalked, and her stalker, a former FBI contractor hacker named Jack, has been offering intel... as an exchange for some one on one time with Hana. She agrees to it only to help the case, which ends up fruitless as he, is less interested in helping and more invested in lording his power over Hana.
The team manage to identify our stalker as David Fallon (without requiring any of Jack's input), which both forces David to go to on the run, but also amps his attempts to get his hands on Chris. On the plus side now having attached a name to our fugitive the team is able to track him more easily. They manage to find the connection to his victims and the root of his obsession.
For his part Chris being fed up with waiting and being afraid decides to take matters into his own hands and confront David. It doesn't end well for him as he gets captured and tormented but thankfully the team get to him in time and manage to capture David.
The episode switches things up and effectively spends more time with the Victim of Week for its runtime, rather than the Fugitive. It is far more important to the audience to grasp those feelings of anxiety and fear the stalking brings to the victims than trying to give stock into why somebody might become a stalker. The reasons for our Fugitive of the Week are what are expected from a guy like that anyway: he is a meek, weak and cowardly guy with the childhood trauma to reinforce how he feels wronged and therefore the world owes him. But the sheer power his looming threats entice, make for a far more compelling story.
This narrative approach also sets up nicely the stage for Hana's final confrontation with her own stalker, which allows the episode to conclude with a very strong scene. Hana lays down the facts of what Jack's stalking did to her. And he in turn tries to make excuses and "defend" himself. She has none of it, as she doesn't owe him anything. Not even the time to explain himself, and she gets to walk away from him once and for all.
Tune in tonight the season 1 finale of FBI: Most Wanted!