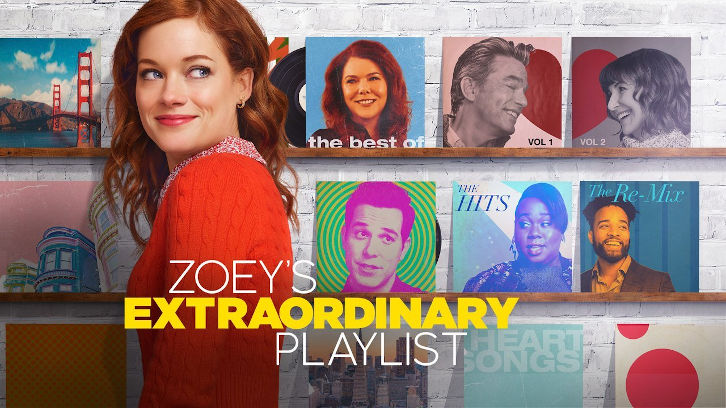 From Zoey to Maggie to Max to Mo, a lot of characters faced the end this week on "Zoey's Extraordinary Playlist," in a lot of different ways.
The episode begins as Zoey, David and Maggie visit a funeral home to make postmortem arrangements for a dying Mitch. The friendly but glib funeral home director Dale (played by "Bridesmaids" director Paul Feig) seems accommodating enough, but the situation still reeks of a sales pitch. After Maggie, David and all the surrounding patrons break out into The Animals' "We Gotta Get Out of This Place" in the casket room, Zoey suggests they leave to ponder their options for a while.
The next day, David and Zoey return to the funeral home with Emily to discuss plots with Dale (Certainly, the most exciting of trips). It's then that Zoey first encounters Deb (played by stage and screen legend Bernadette Peters), visiting the grave of her husband - and singing Nina Simone's "Feeling Good." Zoey immediately picks out Deb as a potential friend/support for Maggie, and makes friends with her.
Later, Zoey introduces Deb to Maggie, and the two talk about navigating the loss of someone you've spent so long with, and the agonizing minutiae of having to plan for that loss. Deb tells Maggie that grief is "just something you gotta wear, like a giant cinderblock sweater," and admits that there's no way around the subject - everything Maggie's been so afraid of and worried about, at some point, has to happen, no matter how ready she feels. Man, this episode really put the "drama" into "dramedy," am I right? I'm practically buried in tissues at this point.
I also found that it was a really interesting detail that they make Deb's character look remarkably like Zoey, right down to the brightly colored umbrella. It hit home to me that Deb represents what and who Zoey wishes she could do and be for her mother during this time - someone who completely understands what it's like to be losing her life partner, someone who can sit her down and tell her she's not crazy and honestly say that it gets better (or, at least, it doesn't get worse). It's yet another example of the
attention to detail the "Zoey" crew practices that I find is missing from the majority of network shows.
It's not just Maggie, though: Zoey also gets her fair share of catharsis this week, as she and Joan go out for drinks and Joan tells her what it was like to experience the passing of her own mother. Joan encourages Zoey to cherish the time she has left with her dad, and expresses an understanding that work should not be her first priority at the moment. This scene was super sweet, and as weird as their dynamic can be, I truly have gotten attached to Zoey and Joan's growing friendship over the season.
Meanwhile, on the 6th floor, Max is really settling into his new role as manager (even making up handshakes with his crew!). Even Leif, the newest 6th floor employee, is impressed. The two form a (sort of?) friendship and find themselves going out to a bar together - the exact same bar where Zoey and Joan are. Seeing their "lost loves" has very different effects on Leif and Max, with the former drunkenly going up to cry-sing karaoke to Air Supply's "All Out of Love," while the latter sings "Bye, Bye, Bye" to Zoey from across the bar.
The next day, the 4th and 6th floor teams are surprised when Ava and Joan group them all together and suddenly announce that the bake-off is cancelled, and that the two floors will be cooperating on the Chirp from that point forward. From here, Zoey sees the crews from both floors sing "Get Together" by The Youngbloods, and everyone joins in on the summer-camp-bonfire, touchy-feely vibe. Everyone... except Max.
And now, to take a quick detour into Mo's life: his relationship with Eddie has been going well, but this week's episode changed that. In it, Eddie excitedly tells Mo that he got an audition to be a cruise ship entertainer (oh, what a different world this episode was filmed in!). This means, however, that Mo and Eddie's relationship would have to be long-distance for 8 months, something that Mo isn't comfortable with. Acting as casual as ever, Mo breaks up with Eddie (and at a callback of all places!), all the while insisting to Zoey that he's fine with the relationship ending. But that's when Zoey hears him singing Julia Michaels' "Issues" ("'Cause I got issues, but you got 'em too, so give 'em all to me and I'll give mine to you...yeah, I got issues, but one of them is how bad I need you"), indicating that he secretly wishes that he and Eddie could make their relationship work.
After spending several days thinking mostly about death and various other forms of ending, Zoey realizes that regardless of the capacity, she still wants Max in her life, and so she goes to the 6th floor to talk to him. The two agree that they don't want their relationship to go back to how it was before, but that they do want to eventually "get back to whatever (they) are." It's good to see Zoey and Max make amends, but unfortunately, the moment is cut short when Ava calls Max into her office with some bad news.
Turns out, Leif had been acting as spy for the 4th floor, funneling 6th floor code covertly down to Tobin during secret meetings on the unfinished 5th floor. That is why Ava and Joan agreed to end the bake-off, and now Ava isn't happy. She blames the incident on Max for bringing Leif onto the floor in the first place, and the episode ends with her firing him - not just from the 6th floor, mind you, but from all of SPRQ Point.
Overall, I did enjoy this episode. While it was fairly plot-lite, I think it worked to get all the characters emotionally into the places they need to be for next week's finale. And who doesn't like Skylar Astin singing NSYNC? And you certainly can't go wrong with a little bit more Bernadette Peters in your life, let's be honest.
Who else can't wait for the finale? It looks like from the promo we'll get a full Simon/Max duet - what song do you think they'll be singing? Any other thoughts about this episode, or the season as a whole? Let me know in the comments!
Zoey's Extraordinary Quotes-List:
Mo: Oh, hmm...Would you like a straw? Would that help you drink my wine even faster?
Zoey: I know you're joking, but that would be great... When was the last time you went funeral shopping?
Mo: Paper, plastic, or metal? You know what, I'll get all three.
Emily: Oh, I'm not going into the ground. You know I'm claustrophobic. I'm for sure getting cremated.
David: Baby, I thought we agreed to be together forever.
Emily: The contract states "'Till death do us part." After that I'm free to do my own thing again.
Leif: You gotta tell me, man. How'd you do it?
Max: How'd I do what?
Leif: Get on with your life.
Max: What do you mean?
Leif: Everyone knows you have a big 'ol crush on Zoey.
Max: Everyone? That...makes me uncomfortable.