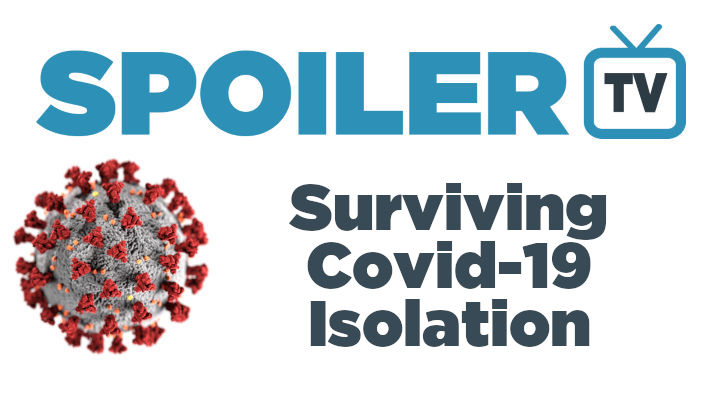 Many of us across the world are in lock-down or choosing to self-isolate due to COVID-19. We're doing it, you are likely doing it too. How does one pass the time in self-isolation? The SpoilerTV staff are here to help! We've collected suggestions and recommendations from many of the staff and would love to hear how you are passing the time.
Last week
we looked at binge worthy shows. Today we'll be looking at older shows and movies you can explore in isolation. We'll also look at books, games and more. Many of these have inspired the works we know and love today.
The Older Movies And Shows You Never Had Time For (Until Now)
Alias
My all-time favorite TV show. Action, kick-ass fights, beautiful locations, incredible wigs. Jennifer Garner is incredible in this, she IS Sydney Bristow. This show means so much to me, it was the first one I actually started obssesing over.
(Giulia Del Buono)
Arrested Development
I Love Lucy may have birthed the sitcom, but I firmly believe that AD birthed the modern comedy. If you like The Office, Parks and Rec, Community, B99, New Girl, etc; you have this show to thank. Every second of this show is both a setup and a punchline and the high velocity of long-running in-jokes is rewarding for the binge-watcher.
(Karenna Blomberg)
Boy Meets World
Watch Cory Matthews grow up... it's totally worth it. AND it will make you long for a teacher like George Feeny! Rest assured he can still teach you how to "Do good" even if you pick up this show now, and you're well over 12 years old.
(Folie-lex)
Christopher Nolan Movies
Listen all, the man is just a cinematic genius. My favorites are The Dark Knight and Inception, but if there's even one of Nolan's films you haven't seen: get on it. They're literally all good. Even the "bad" Nolan movies are fantastic. It kind of drives me crazy.
(Karenna Blomberg)
Citizen Kane
I would be a bad film buff if I didn't recommend THE movie, the OG classic film. Even if the plot twist ending is ingrained in cultural history by now, it's still so well-made you won't care if you know what's coming.
(Karenna Blomberg)
Degrassi: The Next Generation
While not technically a classic, anyone ages 20-35 will soak in the nostalgia that comes with watching this show. If you missed it the first time around, it's all available on YouTube.
(Laura W)
Dog Day Afternoon
I recently watched this film for the first time and it has a lot of comedic elements despite the situation, keeping you entertained for two hours.
(Alejandra Molina)
Dr. Strangelove
As far as Kubrick films go, I rarely see this one making the "faves" list. When you got The Shinning and Odysey 2001 to compete with I guess getting lost in the shuffle is expected. But this war satire is amazing and deserves to be seen and known and mentioned... all the time...
(Folie-lex)
ER
I'm totally cheating and putting this on here too... but a classic is a classic and deserves all the accolades.
(Folie-lex)
This show is a must if you love the medical genre! I know it is weird recommending a medical show with everything going on, but the writing and acting is superb and it still holds a special place in my heart after all these years. It is available on HULU.
(Beth Whitley)
Is this considered classic after just 25 years? This medical procedural was ahead of its time, addressed topics like transphobia, rape, sexual abuse, AIDS in the workplace and more.
(KathM)
Ferris Bueller's Day Off
This movie is a feel-good classic that's totally worth watching right now, it will keep you entertained and make you laugh as well.
(Alejandra Molina)
Friends
I mean, I feel like we could all use a laugh right now. And this show still manages to make me laugh despite having seen it several times already.
(Jamie Coudeville)
Golden Girls
See what all the fuss is about, you won't be disappointed, if only for the master class acting you'll see from a group of television legends.
(Abby Crofton)
Sassy ladies living their best lives in the later years of their life. Grace and Frankie wouldn't have place in the TV landscape if this show didn't exist.
(Folie-lex)
I am going to echo was others have said... It is great. Four ladies living their best lives in Miami with a ton of heart and hilarity. This show made me love Betty White before it was all the rage to love Betty White! It is available on HULU.
(Beth Whitley)
This show was truly ahead of it's time. The 4 leading ladies are absolutely hilarious. I wish they would show reruns of this here in my country. I'd love to watch this again.
(Jamie Coudeville)
Grave of the Fireflies
One of the saddest movies ever made. Sometimes you just need to ugly cry and this anime will definitely do it for you.
(Abby Crofton)
His Girl Friday
A movie ahead of its time but also really dated, but the writing and acting is so good. It's in the public domain so you can find it free on the Internet Archive at archive.org.
(Abby Crofton)
I Love Lucy
You can't get more classic than this - absolutely hilarious and timeless (well, timeless except when they talk about things like $20 for a dress being overpriced). If you've never seen this absolute gem, you're 100% missing out!
(Karenna Blomberg)
It Happened One Night
A very old romantic comedy, really enjoyable and funny, with Clarke Gable and Claudette Colbert.
(María Sol)
It's A Wonderful Life
Yes, I'm recommending a Christmas movie in March. This classic will make you laugh, it'll make you cry, it'll make you FaceTime your loved ones to tell them you love them. It's a necessary watch for everyone, in my opinion. Though it's not available to stream, it's available to rent on YouTube and Amazon Prime.
(Laura W)
Living Single
If you're sick of Friends, I recommend checking this show out. It has a very similar premise to Friends but premiered before it (making you wonder if Friends didn't take a few pointers from them). Queen Latifah is one of the female leads. The show is hilarious but might be difficult to find online.
(Jamie Coudeville)
Metropolis
Silent film and one of the first full length sci-fi movies ever made. Free at the Internet Archive, archive.org.
(Abby Crofton)
Murder, She Wrote
Angela Lansbury shines in this crime drama from the '80s featuring a mystery writer solving crimes in her small town in Maine. Philo has some episodes to watch immediately, and some that will air organically that you can tape and later watch.
(Laura W)
Rear Window
A Hitchcock classic with Jimmy Stewart as a journalist kept inside by a broken leg who spies on his neighbors out of boredom and see on possibly commit a murder. This story is topical in that after all of these weeks at home, who isn't going to want to spy on their neighbors?
(KathM)
Starred by James Stewart and Grace Kelly, this movie from Alfred Hitchcok can give you some ideas of what to do during a quarantine.
(María Sol)
Studio 60 on the Sunset Strip
Oh my God, this show is so funny. I am so sad that it only lasted one season, because it really was something special. I mean, it does have its flaws, sure, but it's a fun ride. Plus, Matthew Perry, Bradley Withford and Sarah Paulson? Count me in!
(Giulia Del Buono)
The Lord of the Rings trilogy
If you have enough time, maybe is the time to watch the extended versions of this trilogy about friendship, power and bravery, where everyone has an important part to play, no matter how small they might seem.
(María Sol)
The Sound of Music
Even if I'm not the biggest fan of musicals, this has always been my favorite. Its story about love, family and freedom, along with very catchy songs, makes it special
(María Sol)
The Wizard of Oz
A classic story that makes you remember that there's no place like home, something we need to keep in mind in this times.
(María Sol)
The Women
A comedy revolving around men and marriage that features NO men at all. You get actresses like Joan Crawford and Norma Shearer along with bonus Rosalind Russell, who own every scene she's in.
(KathM)
Wait Until Dark
If you're in for a thriller that keeps you in the edge of your seat and holding your breath, this movie starred by Audrey Hepburn is what you're looking for.
(María Sol)
Further to the above, some of SpoilerTV's staff have provided or created their own lists:
As I'm a film major movies are my specialty, so rather than bore you with long essay length descriptions on over 100s of films (which I'm more than happy to do), I'm gonna give a rapid-fire list of some of my favorites, one from each decade starting with the 30s (not too big of a fan of the silent era). All of these are either free, able to stream, or can be rented for around $3:
(Chris)
1930's - "The Wizard Of Oz"
(might be the obvious pick here, but it's a classic that's worth revisiting time and time again. Side Note: Music lovers check out the video showcasing the match up of this film alongside Pink Floyd's Dark Side Of The Moon album. You'll thank me later.)
1940's - "Gilda"
(a classic film noir starring Rita Hayworth and Glenn Ford in their prime)
1950's - "Rebel Without A Cause"
(classic coming-of-age film. Fans of 80s John Hughes should find something to love here!)
1960's - "Bonnie And Clyde"
(thrilling crime drama based on the true story of its titular characters)
1970's - "Taxi Driver"
(a legendary Martin Scorsese film that inspired Joker. Very disturbing but extremely well crafted. This one is actually free to stream on Crackle)
1980's - "War Games"
(this one's another freebie that can be found on Youtube right now. A fantastic 80's film about the dangers of computer AI and the threat of nuclear war)
1990's - "Braveheart"
(medieval war epic that features thrilling action, romance, and tons of iconic quotes)
2000's - The Lord Of Rings Trilogy
(kind of cheating, but this incredible trilogy stands as some of the best filmmaking of all time. Epic is too weak a word. If you have yet to watch this, drop what you're doing and go to Netflix and do so RIGHT NOW)
2010's - "Sing Street"
(a fantastic film about teenagers attempting to form a band in the 1980s. It, unfortunately, flew under-the-radar and deserves more recognition than it gets)
For those looking for some movies to watch I'm going to cheat and recommend two things that aren't technically movies at all. I spent the first few days of quarantine putting together a list of my 700 favourite movies -
available here
- in chronological order that should provide more than enough viewing entertainment for those looking for something to watch. I'm also going to recommend two streaming services to subscribe to - if you're in the USA, why aren't you subscribing to the Criterion Channel? There's a wealth of undiscovered classics on their service and I own a lot of their physical releases and can confirm they're (mostly) all great - and who knows, maybe you'll find a new favourite film? If you're not in the USA - hunt down Mubi, and the selection changes depending on what country you're in but one thing never changes: there's 30 movies on their service and one gets added as one gets taken away each day. I've discovered amazing films that I've never even heard of before through their service and can't praise both Criteron and Mubi enough.
(Milo M-J)
Classic show wise, if you have Britbox, there's never been a better time to catch up on every classic episode of
Doctor Who
from the 1960s onwards - and there's always the puppet-animated Gerry Anderson masterpieces
Thunderbirds, Captain Scarlet and the Mysterons
and
Stingray
to get stuck into. And we can't simply leave
Twin Peaks
,
Wanted: Dead or Alive
(This show was one of the many inspirations for Quentin Tarantino's
Once Upon A Time in Hollywood
),
The Green Hornet
,
The Man From UNCLE
or
Columbo
out of a list like this, all gems waiting to be re-discovered.
(Milo M-J)
Never Forget The Source!
The Books, Games And More That Inspire Us
Agatha Christie's Books
A few movies have been made based on her books, but her work is really vast so I'm sure you'll get some great moments solving crimes with her main characters.
(María Sol)
Bad Blood by John Carryrou
The book by the journalist who exposed Elizabeth Holmes' lies and deception. There have been a couple of documentaries based on this insane story, plus two announced screen adaptations including a Hulu series staring Kate McKinnon and a film staring Jennifer Lawrence. Check out your local library's digital collection to hopefully get it for free. And then get ready to rage.
(Abby Crofton)
Big Little Lies by Liane Moriarty
The book which the show is based on. I really enjoyed it, and the show is really good.
(Giulia Del Buono)
Castlevania Games
This series has been ongoing since the 80s and thus sprawls virtually every major system since the original Nintendo. That means whatever system you own you're gonna have an option to play an entry in the series, and honestly, there's no bad starting point (except the N64 games, avoid those at all costs). If you want to start with the one that the TV show was directly based on, that would be Castlevania III: Dracula's Curse. It was on the Nintendo originally but can now be played in the Anniversary Collection on PS4/Switch/Xbox One. My personal favorite is Symphony Of The Night, and if you love Alucard in the series I highly recommend you play this one.
(Chris)
Code Name Verity by Elizabeth Wein
Set during World War II the book focuses on two young women. That's all I'm going to say because of the way the story unravels saying more would give too much away. The ending is one I think about occasionally even after all these years. It was optioned for a movie years ago, so here's hoping it gets made one day. Check out your local library's digital collection to hopefully get it for free.
(Abby Crofton)
CSI: Crime Scene Investigation: The Board Game
Another thing bought as a Christmas gift because it was related to a show I liked, this game is something I've never gotten around to delving into. Now is a perfect time! Featuring the characters from the show, you can solve different crimes by finding evidence around different locations in the game. The game is available on Amazon.
(Laura W)
Daisy Jones and the Six by Taylor Jenkins Reid
Why not take the chance to read this before the series comes out? I'm reading it at the moment and it's an utter delight.
(Milo M-J)
Death Note written by Tsugumi Ohba and illustrated by Takeshi Obata
Don't let the Netflix movie fool you, the original manga is widely praised for its deep complex storyline. It touches on themes of morality and justice while really making use of the stylish artwork. If you have never experienced a manga, then this is the perfect chance to give one a try.
(Christopher DeBono)
Discword by Terry Pratchett
With Amazon's upcoming The Watch TV show in the works I highly recommend you first step into the source material of Terry Pratchett's crazy world... that's a Disc... carried on the backs of 4 large elephants... that walk around on the shell of a giant sea turle... that's floating in space... And did I mention there's magic on this world? Any of the various series of the books that take place in this bizare planet is about as crazy and fun as you're imagining it to be. I haven't read not one of these books and not literally laughed my ass off and loudly. I would suggest ANY book that takes place in this Universe, but it the task seems too daunting just go straight for The Watch books as they are the ones that will be mostly related with the show. My fave from the ones I've read is "Nightwatch". It's one of the later books in the series but because of its premise I would say you can read it out of its place in the timeline without much trouble. And I say this with quite some authority as it was the second Discworld book I read and 100% read it out of timeline.
(Folie-lex)
Eleanor & Park by Rainbow Rowell
Picturestart and Plan B are helming the movie adaptation of Rainbow Rowell's award winning Eleanor & Park (2014). Two star-crossed lovers meet on the school bus in 1986 Nebraska. Though they start as unwilling seat mates, mixtapes and comicbooks cement their bond. Then there's love. Eleanor and Park is a bittersweet exploration of falling in love and fighting to stay that way. First love can be so sweet, but is it meant to last? What are your guesses about those final three words? Follow the movie's development on Instagram @eleanorandparkmov.
(Alison D)
Gallagher Girls series by Ally Carter
Another one optioned years ago, at one point Drew Barrymore was going to direct the movie based on the first book, "I'd Tell You I Love You, But Then I'd Have to Kill You." Set at a girl's school for spies, there's a mystery throughout the entire series that gets really twisty. Also check out Carter's Heist Society books about teen thieves. Check out your local library's digital collection to hopefully get it for free.
(Abby Crofton)
Good Omens by Terry Pratchett and Neil Gaiman
If you haven't read the book before having seen the amazing mini series Do! It! Now!
(Folie-lex)
His Dark Materials Trilogy by Phillip Pullman
Perfect for those waiting on the second season of BBC's fantasy show.
(Milo M-J)
Keep This to Yourself by Tom Ryan
Last summer a serial killer came to Camera Cove. A killer looking to create the picture perfect family one body at a time. The killer was never caught. The final victim was Mac's best friend and the town golden boy. While everyone else is doing their best to move on, Mac just can't let it go. This twisty thriller has been optioned for television, but that's just the beginning of its journey to the small screen. Until then, read this incredible YA mystery/thriller. If you love it, try Caleb Roehrig's Last Seen Leaving or White Rabbit.
(Alison D)
Little Fires Everywhere by Celeste Ng
The book is a quick read and I could not put it down. Check it out and you'll see why they made a show based on it.
(Beth Whitley)
Hulu's newest TV show is based on this book. Loved it. Can't wait to start watching the show, too.
(Giulia Del Buono)
LOST Puzzles
Years ago, ABC released four jigsaw puzzles based on things about/related to the show. If you, like me, only picked them up because they were LOST, now's your chance to work on them! If you missed them when they first came out, some are still available on Amazon/eBay.
(Laura W)
Marvel Comics
Here are a few recommendations if you want to dive into the world of Marvel comics
(Chris)
Daredevil: The Man Without Fear
Spider-Man: Blue
Jason Aaron's entire run on Thor starting with Marvel Now
X-Men: Days Of Future Past
DC Comics: Now for the DC side of things!
Batman: The Long Halloween
The Flash Vol. 1: Move Forward (New 52)
Green Arrow: Year One
Superman: The Death Of Superman
Batman & Wonder Woman: The Brave And The Bold (this one's a really underrated story featuring a team-up between two awesome heroes!)
Mushoku Tensei: Jobless Reincarnation written by Rifujin na Magonote with illustrations by SiroTaka
With everything that's going on in the world today, sometimes we just need an escape. Japan has a number of series that I find perfect for this, but Mushoku Tensei: Jobless Reincarnation is a current favorite. The series follows a 34 year old male who is going nowhere in life, after being hit by a truck he reincarnates into a fantasy world. Using his 2nd chance, he decides to right his wrongs and become a success. This series has over 20 volumes in Japan which are finally being made available in English. An adaption is also scheduled for later this year making it the perfect time to catch up.
(Christopher DeBono)
Neapolitan Novels by Elena Ferrante
Starting with
My Brilliant Friend
, are absolutely worth the read as HBO's criminally underrated show has just come back for a second season.
(Milo M-J)
Restaurant to Another World written by Junpei Inuzuka with illustrations by Katsumi Enami
If being reincarnated like Mushoku Tensei: Jobless Reincarnation doesn't take your fancy then the Restaurant To Another World series can provide a different escape. Originally adapted into an anime series in 2017 we now have the books available in English. Restaurant To Another World follows a Japanese restaurant which by day appears completely normal but every Saturday it opens to different fantasy worlds who come to dine on the exotic food they serve. It's calming and unique, while each chapter is generally standalone creating the perfect experience to jump in and experience what's going on at the restaurant today.
(Christopher DeBono)
Richard Castle's Books
With 2019's release of Crashing Heat rounding out the Nikki Heat series at 10, there's plenty of material to dive into while you're at home. Based on the characters from the TV show, the Nikki Heat series follows Kate Beckett's literary persona as she solves crimes with her partner Jameson Rook. All of the books are available to purchase on Amazon but check with your local library first. (Remotely, of course, using apps like Libby.)
(Laura W)
Sherlock Holmes Books by Sir Arthur Conan Doyle
I think a good way to pass the time is solving mysteries with one of the most famous fictional detectives in the world, so if you know him from his different movie and TV versions, this could be the time to dive in the source material.
(María Sol)
The Bridgerton novels by Julia Quinn
Netflix and Shonda Rhimes are adapting this series of 10 historical romance novels for Netflix. The first is "The Duke and I" but you can drop into the series at any point - each book focuses on a Bridgerton sibling. It's cool that the last books feature the romances of the siblings who were children in the first books. Check out your local library's digital collection to hopefully grab them for free.
(Abby Crofton)
The Gatekeeper Trilogy by Christopher Golden and Nancy Holder
For those who love Buffy the Vampire Slayer (and those who do not but still like fantasy/horror), I strongly recommend The Gatekeeper Trilogy. Christopher Golden and Nancy Holder wrote some of my favorite TV tie-in novels, but this trilogy is the best I've read. I even made my boyfriend at the time read it, and he liked it even though he didn't care for Buffy.
(Dahne)
The Gentleman's Guide to Vice and Virtue by Mackenzi Lee
Berlanti Productions has optioned Mackenzi Lee's The Gentleman's Guide to Vice & Virtue (2017). Our hero, Henry "Monty" Montague, is a bisexual British Lord wholly committed to the principals of pleasure. He romps across 18th century Europe with his best friend/secret crush, Percy, and bookish sister, Felicity. Along the way they disgrace the halls of Versailles, encounter robbers, tangle with pirates, and play a dangerous game of keep away with powerful forces. The movie is expected to air on HBO Max. While you're waiting, be sure to check out the novel's sequels The Ladies Guide to Petticoats and Piracies, The Gentleman's Guide to Getting Lucky, and the forthcoming The Nobleman's Guide to Scandal and Shipwrecks (August 2020).
(Alison D)
The Harry Potter Books by J. K. Rowling
This saga is a great way to past this days. 7 books might seem to many, but as soon as you start to get deeper in the story and its characters, you won't want it to end.
(María Sol)
The Inheritance Games series by Jennifer Lynn Barnes
I've been waiting for one of her YA series to be adapted for TV for AGES and this one is finally in development at Amazon. A quirky, witty book about a tomboy who writes a contract with her rich grandmother to become a debutante, with an underlying mystery tying it all together. Barnes is a master at creating an interesting narrative that is familiar to the YA fan, but nothing like the other books you might have read.
(Karenna Blomberg)
The Mortal Instruments (& prequels/sequels) by Cassandra Clare
If you loved Shadowhunters on Freeform/Netflix it might be worth checking out the books the show was based on. Yes, there are a lot of them. Between the original series, the prequels and the sequels.. I've lost count but they are all great. I may even like the later series even more than I did the original series. And the author is far from finished.
(Jamie Coudeville)
The Mysterious Benedict Society written by Trenton Lee Stewart and illustrated by Carson Ellis
My childhood book series is finally becoming a show on Hulu and I've never been more ecstatic! Discover the semi-surrealist magic of the MBS and learn about morse code, narcolepsy and the prisoner's dilemma, among other things. Read it to your kids (if you've got them), with your significant other (again, if you've got one), to your cat (see previous) or just by yourself - there is literally no one on the planet these books will not appeal to. Honestly, who can resist a story that prominently features a foul-mouthed hyper-intelligent 3-year-old named Constance?
(Karenna Blomberg)
The Secret Circle by LJ Smith
If, like me, you're still pissed that the show got canceled after only a single season, you might want to try the trilogy the series was based on. It's a bit different, for instance there are 13 main characters rather than 6. But I loved it so much that I've already reread it. There was a sequel trilogy but it wasn't nearly as good as the original trilogy, mainly because it wasn't written by the same author but a ghost writer instead.
(Jamie Coudeville)
The Umbrella Academy written by Gerard Way and illustrated by Gabriel Bá
I recently read the first graphic novel and while they tweaked a lot for the show, it is an awesome read which I highly recommend.
(Beth Whitley)
The Vampire Diaries by LJ Smith
Now, I have to warn you, the books are very different from the show. Like Jeremy is a little girl. And Elena has an extra friend named Meredith. But that doesn't make them any less good, especially the first 7 books which were still written by the original writer, before the ghost writer took over.
(Jamie Coudeville)
The Witcher Games
I'm currently playing the second game in the series and am loving it (the first is good too but it's quite old by this point). I've yet to read the books but I hear they are also very good!
(Chris)
Virgin River by Robyn Carr
I have read the first book in this series thus far and it is a page turner. With how much source material they have to work with, it is no wonder Netflix jumped at the chance to make a series based on it.
(Beth Whitley)
We'd love to hear your suggestions and what you're doing to pass the time in isolation. Let us know in the comments below!