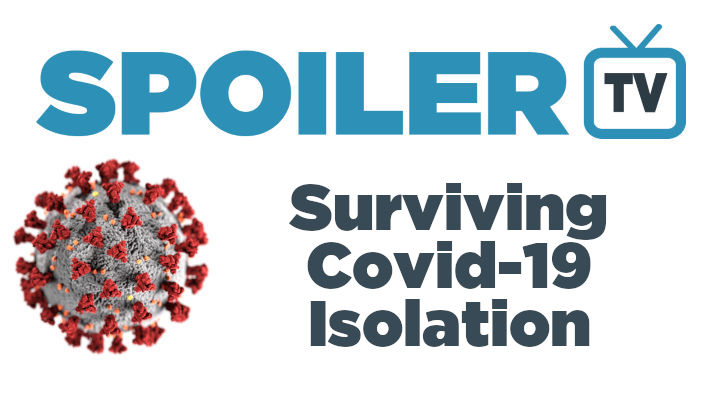 Many of us across the world are in lock-down or choosing to self-isolate due to COVID-19. We're doing it, you are likely doing it too. How does one pass the time in self-isolation? The SpoilerTV staff are here to help! We've collected suggestions and recommendations from many of the staff and would love to hear how you are passing the time.
Today we'll be looking at shows you can binge watch in isolation. The shows that you can dive into a watch episode after episode
12 Monkeys
I know that considering the current situation this one might hit a bit too close to home, but it's such an incredible series. I only just finished it a few months ago. One of the few shows that stayed entertaining from start to finish.
(Jamie Coudeville)
Arrow
With the show wrapping up its final season, it's now ready for you to completely binge from start to finish on Netflix. If you want a show with a hefty amount of seasons and episodes (8 seasons and over 150 episodes), and love superheroes (especially Batman/Daredevil types), then I HIGHLY recommend you watch this series. It gets a bit weak around the end of Season 3 through honestly all of Season 4, but it picks back up big time on Season 5 and keeps up the pace until the end. Fantastic action and dark storytelling make this a must-watch! Of course, if you haven't yet, you will undoubtedly eventually want to watch the rest of the Arrowverse (Flash, Supergirl, Legends Of Tomorrow, etc.) as you begin seeing the crossover episodes. If that's the case, you'll have enough shows to last you for the better part of the year!
(Chris)
Avatar: The Last Airbender
A great series with a satisfying ending. Bad thing is that it may be hard to find. Try the Nickelodeon website, On Demand, or your local library's digital collection. My library has it free through Hoopla.
(Abby Crofton)
Barry
Simply put, not enough people watch this show. I've never laughed and cried so hard in the same 30 minutes than I have when watching this show. Bill Hader is amazing. Henry Winkler is amazing. Anthony Carrigan and Stephen Root and Sarah Goldberg - amazing. This show features some of the greatest acting, writing and directing for any show - comedy or drama - on air today.
(Karenna Blomberg)
It's one of the best shows so far, it's both funny and dark at times, you end up crying and you end up laughing so hard. Bill Hader does some of his best acting on this show, and the writing is on point.
(Alejandra Molina)
Battlestar Galactica
The single best binge-worthy show I have ever seen. That was one wild ride and I always watched way more than I should because each episode leaves you on a high point and you need to find out what happens next. It's not a happy show or an easy show, but it is a supremely bingeble show.
(Dahne)
Better Off Ted
A show way ahead of it's time, only 26 episodes so very bingeable. Plus it's very funny.
(Abby Crofton)
Black Sails
One of the best shows you never watched. It's a historical drama where characters, real and fictional, wage war on land and at sea. It also serves as a prequel to Robert Louis Stevenson's Treasure Island. To say it's just a show about pirates is an insult. It's about pirates and politics, battle and betrayal, and lots of other alliterative things. The show does so much right when it comes to character and story. It's true perfection rests in what is so often missing on television series, which is a commitment to being character driven. There is never a moment when characters act in service of the plot, and that works because every character is compelling. They are also flawed, some to the point of villainy, but you keep rooting for them. This is especially true of Captain Flint, played brilliantly by Toby Stephens. If you love history and incredible story telling try Black Sails. Did I mention the love story?
(Alison D)
Bob's Burgers
Just put an episode on at random and get ready to smile. Great because you can jump in at any point and watch for days.
(Abby Crofton)
Borgen
A Danish drama that tells the story of Denmark Prime Minister. She's a fierce and intelligent woman. The show focuses greatly on both her private and public lives. Sidse Babett Knudsen is one of my favorite actresses. To say that she's wonderful in this is an undestatement. I really love this show.
(Giulia Del Buono)
Criminal Minds
Criminal Minds has enough episodes to (hopefully) last through your quarantine, and make sure you're keeping your doors locked while you're at home. It has dark subject matter, but light characters that keep you wanting to watch it.
(Laura W)
Dare Me
This show has a lot of twists and intense moments you can easily binge watch it in a day because it's that good. It's currently on Netflix worldwide.
(Alejandra Molina)
Derry Girls
Focuses on the lighter side of a place in a horrible, horrible situation. Very relevant!
(Abby Crofton)
Dickinson
A real gem of an historical re-imagining, Dickinson is the shortest show that I've selected here but it's the crown jewel of Apple+'s entertainment so far. Hailee Steinfeld puts in one of the best TV performances of last year as Emily Dickinson, but this is not the stuffy uptight period drama that you could be lead to believe - instead, think
A Knight's Tale
for a spell of historical revisionism where Billie Ellish and Lizzo are on the soundtrack and they use contemporary slang in conversations. It's something that shouldn't work, but knows exactly what kind of show it wants to be from the start, and is the perfect light escapism from current affairs.
(Milo M-J)
This show is available on Apple+. Sure, it's historical but in a way I've never seen before. Hailee Steinfeld is absolutely incredible in this. And so far there are only 10 episodes so it's an easy binge.
(Jamie Coudeville)
Downton Abbey
My go-to binge when I'm bored. It's fantastically charming, and it's so easy to get wrapped up in the Crawley's drama and forget that there are more important issues than all the men wearing black tie to dinner (which, if you've seen the show, you'll recognize is an offense in the highest degree).
(Karenna Blomberg)
Euphoria
I have to be honest: I did not think I would love this show as much as I did. It has everything, it is gender-bending, well-acted and perfectly written. Zendaya gives a career-defyning performance, and the entire cast is incredible.
(Giulia Del Buono)
Face Off
This is a REALITY SHOW, but one of the very few I watch. If you like creativity and imagination I think you'll find this show worth a look. Each season has a group of special effects and make-up artists competing each week in numerous challenges until the last one standing wins a cash prize and maybe get a chance to join some of their favorite professionals on the set of shows like the Hunger Games. The challengers are largely amateurs, but there is nothing amateurish about the quality of their work. A great show to watch with your family because it will inspire your kids to new heights of creativity.
(KathM)
Four Weddings and a Funeral
If you are a rom-com fan, this is the one for you. It is based off the movie and gives you 10 episodes of feels. If you want an escape, I highly recommend it. It is available on Hulu.
(Beth Whitley)
Gentleman Jack
Tune in for the historical lesbians, stay for the cheeky direction, confident acting and heartbreaking writing. It's an HBO show so find it through their sites.
(Abby Crofton)
Gilmore Girls
A story about family and friends that is the perfect mix of comedy and drama, with a fast paced dialogue, a lot of pop culture references and great music.
(María Sol)
God Friended Me
This show will always leave you with a sense of hope and a smile on your face and just a few tears.
(María Sol)
Gotham
Catch up with the best DC/comic book show there is.
(Folie-lex)
High School Musical: The Musical: The Series
It's delightful. You don't need the nostalgia of Zach Efron's side-swept bangs to enjoy this series. It may stand on the shoulder's of Disney greatness, but it does it's own thing, and does it well. It acknowledges its roots with some cute Easter Eggs, and those unfamiliar with High School Musical might miss a few nods to the original, but it won't even register. You'll love the friendships done right, the normalized LGBTQ representation, and a love triangle you won't mind even a little bit. I say this as someone who minds them all. Writer and executive produce Tim Federle delivered an absolutely entertaining and utterly bingeable surprise. If you enjoy it, check out some of Federle's work as an author, including Better Nate Than Ever, The Great American Whatever and Tequila Mockingbird: Cocktails with a Literary Twist. Either way, it's a great reminder that we are all in this together.
(Alison D)
Hot Date
I recently wrote an entire article explaining why you should be watching this masterpiece, but I'll say it again for the people in the back: picture a variety show where all the sketches every week were plays on the same theme, and they're all interwoven together. Add two great comedic actors, and have them play every role.
Now imagine if those two actors were also married irl, making their team-up not only twice as funny but completely adorable as well. That's Hot Date, in a nutshell. It's absolutely hilarious, and deserves way more traction than it currently has.
(Karenna Blomberg)
How I Met Your Mother
Even if most people hated the way it ended (not me btw), this show is worth watching if you're looking for a few laughs.
(María Sol)
It's Always Sunny in Philadelphia
Whether you're watching it for the first time or rewatching it, this show is a perfect fit because the episodes go by so fast and the gang's misfortunes makes it hilarious to watch. It even has a quarantine episode that's one of my favorites of the entire show.
(Alejandra Molina)
Line of Duty
The best crime show since
The Wire
- and I'd put it on the same level as David Simon's magnum opus - it has everything. Exploring police corruption and what happens when police officers go rogue leads to a thrillingly addictive series that just gets better and better with every season. If you saw and liked
Bodyguard
when it aired - Jed Mercurio went and upped his game for this series that outmatches it at every turn. Its high-profile guest stars include the likes of Thandie Newton and Stephen Graham - who bring their A-Game to the table each season. Thanks to the short length of its seasons it's easily binge-able in Acorn TV's recently-extended free trial period - in the USA - and it's on Netflix in the UK.
(Milo M-J)
AC-12 investigates the crimes that happen inside the police force, and they have some great stories to tell. Each season takes you through a different potential crime and takes us through the investigation until the brilliantly performed and tension-filled last act when the investigators interrogate their brothers and sisters in blue. I recommend Season 4, which focuses on Thandie Newton.
(KathM)
Marvel's Agents Of S.H.I.E.L.D.
On the Marvel side of things, instead of suggesting the usual Daredevil/Jessica Jones/The Punisher (though those shows are fantastic and you should watch them if you haven't), I wanna shine some light on the much-underrated Agents Of S.H.I.E.L.D. Though the show's ties to the greater MCU dwindled as the show went on, the series took many deep-cut comic elements and built a great mythology of its own. It takes a minute to find it's footing, but right around the middle of Season 1 a huge twist happens, which propels the show forward in an exciting way. Seasons 2-4 are absolutely golden, as they introduce the Inhumans, Ghost Rider, and LMDs and utilize them in thrilling and intriguing ways. While Seasons 5 and 6 aren't as highly regarded, they still offer enough action and thrills to merit a watch. With the final season coming in the Summer, now's the perfect time to play catch up.
(Chris)
Merlin
A new and fresh take on the classic story of King Arthur and his magical advisor.
(María Sol)
On My Block
When I watched the trailer for this, I was not interested because it didn't look like my cup of tea. I am so glad that I gave it a chance because this show is really special. It is about a group of friends who have to deal with the complexities of growing up in a world where they are given the burden of dealing with adult problems they didn't ask for. The cast is fantastic and it will make you laugh, cry and enjoy the journey. It is available on Netflix.
(Beth Whitley)
Once Upon a Time
A mix of fantasy, adventure and romance in the shape of the fairy tales we've always known with a twist that you'll definitely enjoy.
(María Sol)
Outside the superhero realm, Once Upon A Time is a great show for lovers of Disney and quite frankly fantasy in general. Set in the modern-day, the show follows Emma Swan as she is taken by a boy claiming to be her son to a town called Storybrooke. Filled with fairytale characters that have forgotten who they are, the boy insists that Emma is the only one able to lift "the curse" and bring back the memories of everyone in the town. The show offers fascinating takes on classic characters such as Snow White, Peter Pan, Rumpelstiltskin, Little Red Riding Hood, Cinderella, and pretty much every other fairytale character you know. A great show that I'd recommend to everybody!
(Chris)
One Day at a Time
With the new season having just premiered, let's show Netflix what a huge mistake they made by binging this amazing show. It has a ton of representation and is hilarious. One of the best comedies I've ever seen. I also recommend supporting it on it's new home POP. I love those guys for saving this show.
(Jamie Coudeville)
I'm not sure what more I can say that others haven't already said, but you should absolutely give it a try!
(KathM)
Parks & Recreation
For fans of The Office. Parks & Rec has a similar camera setup and it makes me laugh just as much. The lightweight episodes are really good for someone looking for something to have on in the background, or something to make you laugh.
(Laura W)
Peaky Blinders
One of my favourite British shows, emerging from nowhere - launched with little advertising and promotional material its growth can purely be attributed to word of mouth praise, becoming must-watch television over the course of its five seasons. It's a tour de force from start to finish, a stylish and beautifully shot show set in the inter-war years in Birmingham following the rise of the Shelby crime family. It has drama, awesome music, and some of television's best villains and anti-heroes. Coupled with a stellar cast that includes the likes of Cillian Murphy, Tom Hardy, Helen McCrory, Sam Neil and Annabelle Wallis, every season of this show just gets better and better, and more addictive as it goes on, perfect then - for fans of
The Sopranos
or
Boardwalk Empire
. Available as a Netflix exclusive in the USA, all seasons are available to watch now.
(Milo M-J)
Prison Break
This show was made for binging. It has a little bit of everything to occupy your mind during this trying time. The story explores how far someone will go to protect the ones they love. It is available on Hulu.
(Beth Whitley)
Smallville
If you want a superhero show with a bit more heart and overall sense of joy, you can take a trip over to Hulu to watch this incredible take on Superman's origin story. This show is very 2000's (bad CGI included) and thus might take an adjustment for fans of modern-day superhero flair, but if you take a chance on it, it might just surprise you. Admittedly the first season isn't the best, as it takes more of a strict "Freak-of-the-weak" format rather than focusing on any larger mythology or narrative. Once Season 2 kicks in, however, you'll start to get a feel for what makes the show truly great.
(Chris)
Sons of Anarchy
If gritty shows are more your thing, this one is extremely Bingeable. It has action, love, heartbreak, humor and examines what happens when outlaws are the ones we are rooting for. It is also available on HULU and if you like it, it has a spin off called MAYANS MC that just completed its second season.
(Beth Whitley)
Supernatural
I can attest from personal experience that if you attempt to watch every episode of this show, your self-quarantine will end well before you're finished. It's addictively generic and yet still always creative and fun. And it's crazy to watch beginning to end, with the knowledge that it's older than a majority of the TikTok generation.
(Karenna Blomberg)
The 100
I wanted to include one series I'm watching myself at the moment, and this is one I'm currently binging for the first time. The best description I can give you is it's The CW's version of Fallout-meets-Game Of Thrones. It's a post-apocalyptic show where modern military elements meet sci-fi tropes with a good dose of ice-age looking warriors. It takes a good chunk of the first season for the show to move past the initial cringy teen drama, but once it hits, it hits hard and fast. I'm on Season 5 right now and there's yet to be dull episode for me, and that's saying A LOT for a CW show.
(Chris)
The Bold Type
If you want a feel good show with kickass leading ladies, then this show is for you. It's funny, heartfelt and the relationships both romantic and platonic are pretty great. Not sure what streaming service this is available on, but if you come across it you should definitely check it out.
(Jamie Coudeville)
The Good Wife
A great story about coming to terms with a scandal concerning your life and rising from the ashes better than before. The first two seasons are incredible, in terms of writing and acting. Then the story gets very linear, until season 5, a season that I would describe as perfect. It has everything: legal cases, a will-they/won't-they situation, and Julianna Margulies. I know you love her!
(Giulia Del Buono)
The Procedurals
Hawaii 5-0, The Mentalist, House MD, ER, Code Black
I know procedurals of any kind can get a bad wrap of not being "bingeable" but personally I completely disagree. Procedurals with strong characters in their center are supremely bingeable! And I stand by the bingability of every show on this list because of that fact!
(Folie-lex)
Timeless
Aside of giving you an entertaining hour full of adventure in each episode, it has the plus of teaching you a bit of history which could be very helpful this days that most shools are closed.
(María Sol)
Timeless is a fantastic show to watch for both adults and children. It provides accurate stories of historical events/figures, while also having everything the average sci-fi show has: action, ships, time-traveling -- the norm.
(Laura W)
Violet Evergarden
Don't let the fact that this is animated fool you, this is one of the nicest and most heartfelt anime adaptions I've seen. The story focuses on Violet Evergarden a former soldier who reintegrates back into society following a war. Taking up a job as a ghostwriter, she turns peoples feelings and emotions into words they can share with others while learning the truth behind each word. However one phrase still aludes her, the final words she heard from her Major. The series is available on Netflix
(Christopher DeBono)
World on Fire
This is a relatively unknown show but I want to pitch it whenever I can. There are only 7 episodes so far. It's set in World War II but it mostly focuses on regular people in different locations (that are all tied together) and how the war affected their lives. It's got some big names in it's cast like Helen Hunt and Sean Bean. Definitely worth checking out.
(Jamie Coudeville)
We'd love to hear your suggestions for TV Shows you can binge while self-isolating.
Next week we'll be looking at the classics you never had time for (until now) along with books, games and more.