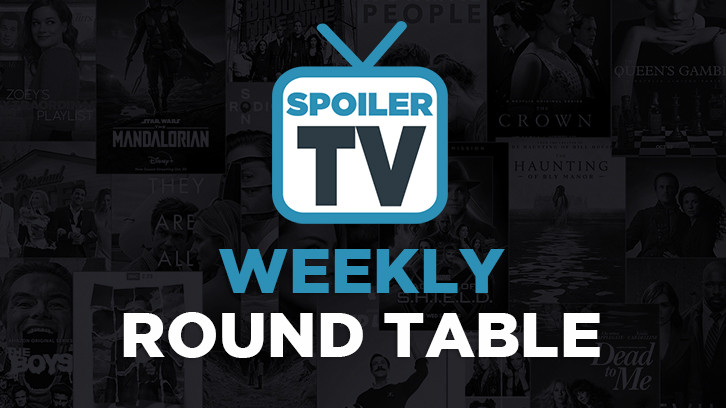 Hello and welcome to a new edition of SpoilerTV's Weekly Round Table! Joining us this week is Lisa Macklem (LM), KathM (KM), Jamie Coudeville (JC), Cecile (CL), Donna Cromeans (DR), and myself (ZF). You just have to sit back enjoy the read and join the discussion in the comment section down below.

SDCC has officially been cancelled. How do you think this will affect the convention circles?
Lisa:
I don't think the cancellation of SDCC will have any bearing on the convention circles. The big news here is what Covid-19 has done to them. SDCC couldn't run for a number of reasons. Firstly, studios don't have the content - they'd be finalizing all the big stuff with FX right now - and that's not happening. Secondly, we don't know when the lockdown will end, and even when it does, people won't be gathering in large groups likely until there's a vaccine. On top of that, the situation has been so mismanaged in the US, I think there's going to be a backlash of people being really reluctant to chance going there until there's a vaccine even if things are opened up (likely too soon). I help run a convention in Belfast in August. We just decided, based on the likelihood of no large gatherings and our concern for our attendees to push it to 2021 - ie cancel this year. Nothing at all to do with SDCC. Concern for our members and guests - not to mention the difficulties of traveling, which is all up in the air.
Kath:
At this point, not all cons have canceled. Dragon Con, for example, is still scheduled for September, although I think they'll end up canceling as well due to Covid-19. There is still time for smaller and mid-sized cons to try and come up with creative ways to put something out there for their fans. Frankly, I'd be trying to come up with ways to work with some of the networks and vendors left out in the cold by SDCC and see whether I could get some of their business.
Cecile:
At this point, I don't think any cons will happen in 2020, or at least not the major ones which bring together sizable masses of people. Events are one of the last things that will start again when it's finally safe to gather people if they even feel comfortable enough to attend, and especially in entertainment (as opposed to industry trade shows for example).
Donna:
This wasn't a totally unexpected announcement. SDCC is a huge corporate investment with lots of stars in attendance and not really for the fans. They are erring on the side of caution in the event the pandemic numbers are not under control by that time. While other large cons are scheduled and/or rescheduled for late Summer/early Fall. I don't foresee any major event, not just cons, that involve a gathering of large groups of people happening until things more under control. I don't think we will see a big con happening again until 2021 at the earliest.
The internet has already seen a few at-home conventions pop up since the crisis started. Do you think SDCC and other big cons should've gone this route? Do you think online cons will remain a thing once shelter-in-place orders are lifted?
Lisa:
Shelter-in-place will stop at different times according to country but the moratorium on large gatherings will continue. Cons like SDCC might be able to go online - but the big attraction is literally rubbing shoulders with fellow fans, picking up cool merchandise - with your hands - and cosplay! I don't think a virtual version of a lot of this stuff will translate. Not to mention, a lot of the cons like Dragoncon are built on getting that autograph or photo op with your favorite star IN PERSON. Skype/ Zoom/etc are like watching tv. It's just not the same. Sure the One World concert was fab, but does it really make you want to see those artists in person less?
Kath:
I think that once physical cons have been reestablished there will be a place for a virtual component. Additional attendees on a panel, for example. But they won't replace panels entirely. I don't think that SDCC could have gotten their arms around the entire operation, but it's possible that they could have worked with the networks and other vendors to come up with something. We don't know that they didn't, and perhaps they couldn't come up with a solution. Frankly, cons make a lot of money for everyone involved. As much as they may want a good experience for their attendees, that may not spread to opportunities for free content from the networks.
Jamie:
I don't see how you could possibly do a convention on the scale as SDCC from a home setting. The amount of planning it would take, I understand why they just canceled it. And I think that once physical cons can take place again, the internet ones will disappear. It's more profitable and you can't really recreate the atmosphere at these cons through the internet.
Cecile:
For at least a little while, digital and hybrid events will definitely be a possible alternative to the real thing, but they'll never be able to replace it completely. Bringing fans together is the main part of these cons, as are the celebration after-parties for studios, and the networking part is hard to put online. As for SDCC in particular, I don't think it's possible to digitalize the whole experience, so for 2020 it was probably simpler to just cancel especially since studios are in turmoil too, with no filming going on and the movies they wanted to push likely not ready. But maybe for 2021, they will be able to compromise and mix online/onsite activities to keep everyone safe, while optimizing fan experience & revenue.
That said, even if SDCC remains a huge attraction every year, I do wonder how this will affect them long-term. Studios have been pulling out of it for a few years now, some even skipping it completely because the costs far exceed the ROI they get out of it. Buzz at a panel does not necessarily mean box-office success when the movie premieres and studios have been organizing their own launch events which cost less and are on their terms. So one year without it happening at all might hurt them even more as studios organize themselves without it, and won't have the budget to invest in it next year.
Donna:
Going virtual would have been a smart move and a way to salvage some of the investment some companies had already made in SDCC. Given the success and popularity of HOMECON created by Paul Amos and Rachel Skarsten,
which I wrote about here
, I see more and more online cons becoming a big part of con future. They are certainly more affordable and accessible for many fans who otherwise can't attend a large con. HOMECON officials are already teasing an announcement of a HOMECON 2.0 this week.
How do you see COVID-19 affecting the entertainment business in the long run, the way it's been going thus far?
Lisa:
COVID-19 is going to have long term effects on the entertainment business. But there's not a lot that can be done to change the way things are filmed. Studios are going to have to get creative - and they are already putting plans into place. Will wearing masks be mandatory for everyone not on camera? I'm betting that's a firm yes. Will there be dedicated equipment that only the operator can touch to avoid re-sanitation too frequently? Seems like a good idea. Will they try to run on skeleton crews? Likely. Less makeup and hair breaks? Maybe. However, don't underestimate what a huge chunk of the national budgets film and television represent - in the US and Canada - but also Australia and even China. These industries need to get back to work - and the governments know it. They will work with them to implement plans to get things back to a "new normal" as quickly as possible.
Jamie:
I think we'll definitely still see the effect for the rest of the year. Honestly, it all depends on how much longer the COVID crisis lasts. The longer it lasts, the more there will be a need to find long term alternatives. Both for movie releases as we've seen Disney come up with a digital alternative, as with the actual production. Currently, no one is filming, but if this crisis lasts until December for instance, there will need to be a fix for productions.
Cecile:
I think 2020 is going to be a very tough year on this side too. How do you organize filming so it can be safe? Actors can't do social distancing on screen, for one thing, and the box office losses from postponed / VOD released movies will likely affect budgets for a while anyway. Movie festivals are already being canceled (Cannes, for one thing, but it's unlikely that the Fall fests will take place this year, at least in their current format), and this will affect awards season too. What movies were ready before this happened, how many later releases will be pushed back to 2021 so they have a shot at making their budgets back and getting seen in theaters?
As for TV, which has much longer production times, for the most part, it looks like the premiere season will be very different too. And the resulting gaps between seasons could hurt these shows too. The WGA strike in 2007 derailed a lot of shows, creatively speaking, (which a little similarly to now, had to use what had been filmed to close out their current seasons), and I wonder how this will pan out.
Donna:
Like all of us the entertainment industry is having to closely re-evaluate how they conduct business. I think for most television shows I don't see them being the going ahead, whether in New York, LA, or Vancouver where a majority of the production is done, before September or October at the earliest. If that is the case, then we are likely to see either the new television season calendar changed to January. However, there are very strong rumors I've read that television/film production may be suspended for the rest of the year and not begin again until next January meaning no new programming until at least fall of 2021. Networks, producers, etc will be scrambling to find alternatives or creative ways to get into production and on-air sooner.
That wraps up another round table! Feel free to drop your thoughts in the comments below. See you next week!