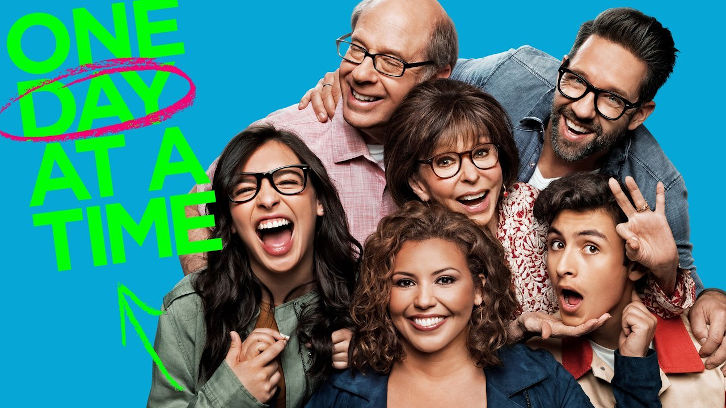 This week on One Day At A Time, every couple is headed up to the roof for the Supermoon. First, it's Schneider and Avery, followed by Elena and Syd who have a discussion about crushes which gets a bit awkward. They then have to hide when Alex and Nora arrive. Alex is still struggling with his parents' divorce. The next couple is Max and Penelope, who thinks he's going to propose and makes it very clear she does not want to marry him. He agrees and suggests they keep it casual. It turns out all the decorations were for Lydia who finally scatters Berto's ashes with the whole family present.

Awkward: The moment on the roof between Elena and Syd started out really sweet but when they got to crushes things got a bit awkward. And I get where Syd was coming from, it's one thing when it's an unattainable celebrity but when it's someone in the immediate vicinity, it's different. I wonder if this will come up again later in the season. It was brushed off quickly because they heard someone coming up to the roof. This is the first time (I think) that we've seen them deal with jealousy and it will definitely be a factor when they are both in different states for college. Although, to be honest, I have no idea in what state Connecticut is.

Yeah, I love her now: Okay, I hope we see a lot more of Nora in the future because I really like her with Alex. He better not screw this up. She just really seems to ground him. She seems like a very confident girl. She knows what she wants. And Alex seems to really trust her, he even confided in her about how he's still affected by his parents' divorce. It makes sense, he was really young when it happened. And it wasn't exactly amicable, with Victor's mental health issues. I'm glad Nora was there for him and I'm really happy that Alex found someone like her.

Quite a change: Max seems to have done a complete 180 about what he wants from a relationship. Back in season 2, he wanted to get serious and have kids. Now he's fine with a casual relationship, it even seems to be his suggestion. I wonder if this sudden change will be addressed. I mean, I know that people can change their minds. But this is a big change. I just want them to talk this out.
This felt right: So we finally got a bit more info on Lydia's trip to Cuba. It's understandable that Cuba no longer felt like home. It had been so long since she'd been there. And I'm actually glad she waited to scatter Berto's ashes. This way the whole family could be there, not just to witness it but also to support Lydia. He may have been dead 10 years but you can see how much she still loves him.
Best quotes: Penelope: "Oh, what's wrong? Not having a care in the world getting you down?"
Avery: "If I wasn't already pregnant, I'd say let's go make a baby."
Alex: "I guess my mom knows how to get chicks."
That's it for now. Let me know in the comments what you thought of this week's episode.
Please be respectful in the comments, any unnecessary rudeness isn't welcome.