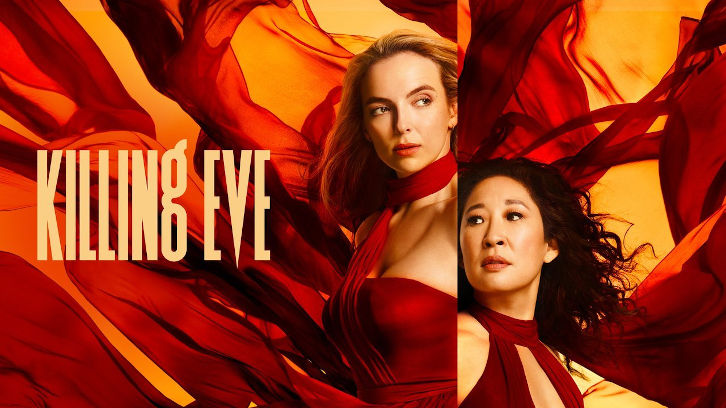 *NOTE – This review may contain spoilers.

After a very rocky start, the Killing Eve we all know and love is back! For the first time this season, the show brings us an episode that hits on all cylinders with Meetings Have Biscuits! Like someone emerging from a drunken fog, the show has finally found its feet this season with the sharply written, well-directed, and beautifully acted episode.


All three actresses, Sandra Oh, Jodie Comer, and this season's MVP so far, Fiona Shaw all bring their "A" game thanks in large part to a brilliant script from announced Season 4 showrunner, Laura Neal. She brought us a thankful return to the crispness, and sharp, dry humor filled with delicious twists like a classic
Killing Eve
episode. Her continued involvement fills me with excitement if this is the type of energy she will bring to the show. Neal is matched by the exquisite direction of Miranda Bowen, whom I believe is also directing next week's episode. A highlight of Bowen's direction is a scene that will go down as one of the series' most iconic moments that takes place on a London city bus of all places. In what perhaps may be one the greatest reunion scenes I've seen in a very long while, Eve (Oh) and Villanelle (Comer) are together on screen for the first time this season and they light the screen on fire! The scene crackled with timing, energy, and tension. Most importantly the episode showed us significant signs that the ladies of
Killing Eve
are back to being their sardonic, sarcastic, sharp, complicated, and villainous selves and are aided by the addition of a couple of very enigmatic supporting characters.
Our in control analytically minded Eve is almost all the way back from the shell of a character that opened the season. The show is sharply pairing Oh with its most valuable assets once again. Watching her trade barbs and snark with Shaw's Carolyn as the latter goes rogue from MI6 to investigate Kenny (Sean Delaney)'s death was pure joy. Eve was taking control of the investigation again with by schooling Carolyn's new assistant, Mo (Raj Bajai) on what happens to people under MI6's protection; and later filling in Bitter Pill Editor Jamie (Danny Sapani) of the dangers of going after the 12. But she really came to life in that electric reunion with Villanelle (Comer) on the bus. Despite stunned by Nico (Owen McDonnell) checking himself out of the clinic and disappearing without a word, she quickly gathered herself when her sociopathic adversary suddenly appears on the bus and asks her to "smell her". She did what any sane person would do when confronted with the person who'd shot them and left them for dead, she went on the attack. And just when Villanelle thought she had the last word after their kiss, Eve executes a well-placed head butt to put an exclamation point to emphatically declare the reunion was over.
Comer continues to surprise us by exploring even more layers of the deliciously twisted Villanelle. From kidnapping the baby of one of her latest victims, and points to Dasha (Harriet Walter) for her creative solution to the situation, to her stunned reaction to being sent back to London, Villanelle is more complex than ever. Standout moments for Comer this episode include the fabulous scene with the perfume maker describing to him what "power" should smell like; her confused and stunned reaction to the Build-A-Bear shop which soon evolved into a cathartic emotional beat as she recorded a message for her bear to Eve; and her intriguing conversation with Konstantin (Kim Bodnia) about what she was like as a baby and wanting to find her family, all while wearing a child-like CareBear nightshirt. But, again THE scene of the episode for her was her epic reunion with Eve and Oh. Scenes between these two are electric and hopefully we will get more of them to come as the season progresses.
Fiona Shaw's quiet work only adds to my contention that she is the MVP of the season so far. Everything she did in this episode was so very typical Carolyn. Of course, she'd hold meetings of a clandestine investigation while in a bubble bath because doesn't everyone get their best ideas in the tub. She was perfectly offended and sarcastic when Eve brought the Bitter Pill in on the meeting about the case, and of course, everyone knows you get biscuits at meetings when you prove you belong there. She slipped easily back into spy mode by making her daughter believe she was going out on a date when she was, in reality, going out to trap and slyly question an old beau for banking information on the 12. Watching Shaw play Carolyn the spy, playing the shy coquette to reel the guy in was a masterful piece of work. And then, watching her remind us that Carolyn is human by her stunned return home following her close brush with death at Villanelle's hands was outstanding.
Strangely enough, killing Kenny has injected new life into
Killing Eve
. As difficult as it was to say goodbye to Sean Delaney, making his character's death and focus on the 12 the center of the season has been perhaps one of the smartest moves the show has made. It has also brought two new interesting characters into the inner circle. As I stated in a previous review Sapani's work with Sandra Oh is great to watch and we need to get him more involved in the case. And, the casting of Gemma Whalen as Carolyn's daughter Geraldine has brought another dynamic to the show which, this week, made me wonder just how different is Geraldine than and her mother and how alike are they? Has this daughter not fallen far from the family spy business tree? Is she there employing Carolyn like wisdom and moves? One has to wonder if she is truly a caring daughter or is she a calculated operative planted by the 12? Either way here's to the ladies of
Killing Eve
! Welcome back and thank you for bringing us such a stellar episode to remind us why we love this show so! What were your thoughts on
Meetings Have Biscuits
? What do you think Carolyn's daughter is up to? Share them in the comments below.