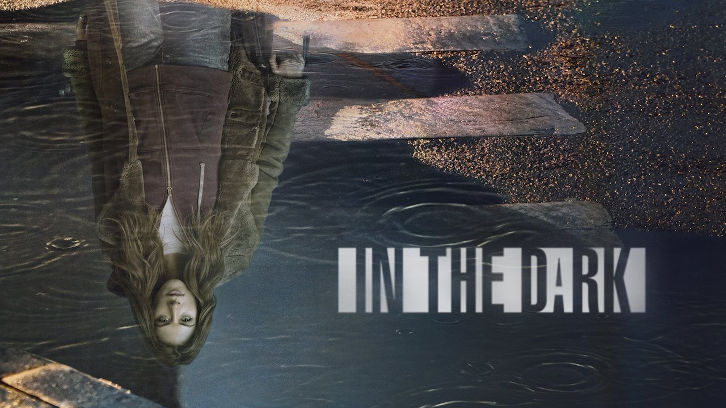 In The Dark returned from the hellish hellatus with two strong episodes and put our now Money laundering gang into a whole new predicament. The show continued to work it`s black humor with dramatic moments and proper character development. So let`s dig into what happened during the first two hours of season 2.

All About Benjamin
The season premiere of In The Dark had everything you could ask from a show. In an attempt to avoid a sophomore slump, the writers dig deep and kept the story emotional and coherent. The season 2 premiere was directed by John Francis Daley and Jonathan Goldstein and written by executive producer Corinne Kingsbury.
The episode picks up moments after the season 1 finale with Murphy couping with the Nia blackmail that rocked her world. This led to a magnificent team-up between Murphy, Jess, and Felix. The writers perfectly exploited the interaction between the trio and used all their character traits, heightened them a bit, and had a bunch of fun. It was an interesting way of playing with the characters and working through the episode while working through the story.
The only thing that truly annoyed me in this episode was the biker incident. It was way too pushy and convenient writing, I am really not a fan of convenient writing. But eventually, they`ve got through that issue by taking money out of Jess`savings account. But Nia wasn`t having it. Nia is one formidable bench though. Nicki Micheaux is just great in the role, she is threatening, but not over the top, she is subtle but powerful at the same time. Her Hitwoman Sam (played by Cortni Vaughn Joyner) wasn`t that subtle though, leading the gang to seek out the help of the police. Things, of course, took a turn for the worse after Dean squealed his way out of jail.
Rich Sommer is so perfectly disgusting in the role of Dean. It is truly revolting. After seeing the trailer for this season and realization that Dean was happy outside I was a bit irritated. Yet the way the writers present the case and showed how flawed Murphy`s plan was it played out perfectly for Dean. Keeping Dean around is a really devious move and will put a major weight on Murphy`s shoulders down the line and it will be interesting to see how she will coup with it in further outings.
And here we come to the best part of the episode, Perry Mattfeld`s performance as Murphy. Week in week out last season, Perry brought her A-game and once again she nailed it. The trauma, the pain, the power, the weakness, everything culminated in this outing as Murphy tried to somehow do the right thing, but all the odds were against her. It weren`t even 12 full hours since Dean completely broke her heart, she faced the killer of her best friend and looked death in the eyes. And you could feel it all! The tension in Murphy`s body, the painful stare in Murphy`s eyes, and the fear of being helpless and an easy mark to everyone. The pain broke Murphy that much that she was at the point of shattering Chloe`s life as well, the pleasure in retribution seemed like it would at least heal part of her wounds. Murphy doing the "right" thing just showed how good Murphy was at her core. She knew her pain and couldn`t let Chloe feel the same.
In a rather unfortunate turn of events, Darnell found Jules dead body after getting released from Prison. I am a fan of Darnell but not sure how much he can contribute to the story at this point. I feel sad for Jules, but she is probably a victim of budget vs story.
Cross My Heart and Hope to Lie
Episode two of the season featured the highly anticipated return of Max and Marphy for that matter. I am just a major sucker for Max and Murphy's scenes. The two of them have such captivating chemistry and their interaction just drives me nuts. These two star-crossed lovers have impeccable chemistry and the way they shot that hook-up and in bed scene just highlighted their intimacy even more. Murphy deciding that the only way to keep Max safe is to break his heart, felt just inhuman to her. Just a week ago Murphy`s world was shattered and after experiencing a glimpse of hope she had to go to the darkest place and let him go. Perry always does so much work with her voice and face, creating such a deep performance leaving you no other option than to relate. Max eventually left but Casey Deidrick is still listed as a regular so I hope he won`t be gone for too long.
But there is one interaction I prefer over Max-Murphy scenes, Murphy-Jess drama. Their sisterly bond rupturing and getting stitched together again just making me all giddy and excited. Perry and Broke just give so much of them to each other and build a relationship between these characters that is beyond sisterly.
They are each other's yin and yang, they are part of each other and see the light and the dark inside of them in a way no other can. They can be at odds and disagree, but when push comes to shove they will move a mountain for each other.
Murphy: If you are everything I`ve got, than I am doing pretty fine.


On the other side of town, Dean was moving forward against Nia. And Max swiftly became his target thanks to Officer Gene Whiles. Matt Murray was quite interesting as Gene and a interknit opposite to dark and gloomy Dean. Dean knows he is playing a risky game and any second he could fall off the cliff, seeing this change of character makes much sense in that regard. Nia won`t allow him to play too long both sides and her retaliation should be interesting.
Yet Dean isn`t the only one Nia should be looking out for. Darnell might be the next one to target her. Nia being the one who took out Jules isn`t a major surprise, that it got revealed this soon did catch me by surprise. Darnell`s reaction to the news was so painful to watch, in a good way though. Keston John didn`t really get earth-shattering material in season 1, but that seems to change this season. The words Nia was saying to him felt rather like bullets and he couldn`t stop them from hurting him. He couldn`t safe Tyson, he can`t revenge his death, he couldn`t safe Jules, he can`t revenge her death. Darell is in a really dark predicament at the moment and doing the right thing feels tougher than ever and desperate Men do desperate stuff.
Last but not least, we had to say goodbye to Murphy`s parents, at least for now. Hank and Joy were a tough cross to keep around during the Money laundering and Kathleen York and Derek Webster certainly were putting a dent in the show's budget. Their exit was unexpectedly emotional. I didn`t expect it to be such a heavy hit as Joy and Hank were more background characters during these first 15 episodes. Still, their departure felt heavy and painful. I didn`t expect that.

I weirdly dig Felix and Chelsea. Felix is a very odd guy but the amount of dislike and likeability he has balanced itself out quite well. So while my eyes do roll, with each of his words I enjoy his insecurities play out.
The Flashforwards
I am a huge sucker for Flashforwards but they rarely play out well. As probably most of the fandom, I was surprised by the first and final shots of the episodes. Ben being dead and the cul de sac being involved, is a neat twist. The countdown is going by fast and midway through the season we should find out who killed Ben and why. Somehow my gut tells me Dean is involved in the actual murder, still, the writers must have a couple of aces up their sleeves and I look forward to seeing them play out.
That is a wrap on my side. From this week on my reviews will be weekly and I am already looking forward to the remaining episodes of the season. In the meantime share your thoughts on the first two episodes in the comment section below. Till next week . . .