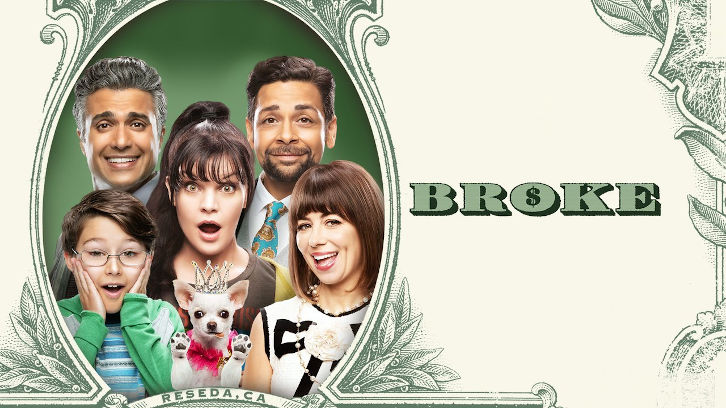 Broke
"Mom's Secret" was written by Al Madrigal and was directed by Victor Gonzalez. Madrigal previously wrote for
I'm Dying Up Here
,
The Poker Table
, and
This is not Happening
. I'm starting to warm up to the characters a little more. It's still far from the funniest show on television, but the characters are still worth watching – and even rooting for.
This week, as seems to be the pattern, we follow two different stories, which both start from the same basic catalyst – the chimney. The Santa Ana winds have arrived and cause the chimney to sigh "si." It's driving Elizabeth (Natasha Leggero) to complain, but she's mollified a bit by the arrival of some of Javier (Jaime Camil) and her things. We learn that Javier is a painter when he tries to hang a picture he's painted of Elizabeth over the mantle. Jackie (Pauley Perrette) doesn't like and in fighting over it, it gets destroyed. Physical comedy is not Perrette's strong point.
Here the stories diverge. Javier goes off to the paint store in Reseda – when the one in Beverly Hills proves too costly! He's been trying to send photos of himself "working" to his father to show him how he's changed and Javier discovers that Luis (Izzy Diaz) hasn't actually been sending them. Javier is furious with Luis, and when Boris (Floyd Van Buskirk) mistakes him for a house painter, Javier goes off to work for Boris for the day.
In working with Gabriel (Jay Pichardo) and Marco (Joseph Garcia), Javier learns a valuable lesson in what it really means to work for a living. He finds out that Gabriel works more than two jobs to support his family. Marco sends all his money to Columbia…. University! Where his daughter is studying Philosophy – it's one of the funnier jokes. There's also some fun banter about Javier's naps. But he sees real generosity from the two. It also reminds Javier about how hard his own father worked to make the fortune he's so good at spending.
Meanwhile, Elizabeth and Jackie discover something about their mother when Jackie tries to fix the chimney and finds a box of old love letters shoved up it on a shelf. It turns out that their mother was having an affair. Elizabeth is suddenly convinced that their mother's lover is her real father because the letters sound just like her!
Jackie is determined not to go with Elizabeth to meet the lover until she has a talk with Luis in the bar. Luis is upset that he's disappointed Javier by not sending the pictures. When he talks about Javier as a brother – and always sticking by his brother, Jackie realizes that she has to stick by Elizabeth.
Alex McBride (Lesley Ann Warren) turns out to be a woman! So clearly not Elizabeth's father. However, both Elizabeth and Jackie come to terms with their mother having taken a lover because she was often lonely when their father was in prison. Alex tells them that their mother loved them very much and would never have broken up their family. Jackie further discovers that Elizabeth was always very different from her, and Elizabeth confides that she and their mother used to go off and have little feminine adventures and it was only after their mother's death that Elizabeth tried to be more like Jackie and their father to fit in.
Luis and Javier also come closer by the end of the episode when they make up over their fight. Javier realizes that sending pictures to his father is stupid, and he understands why Luis didn't send them and was reluctant to tell him. The two end up hugging it out as "brothers." I really love that Luis and Javier speak Spanish – with subtitles. Are you homeschooling right now? Good chance for your kids to brush up their Spanish! But more, I love that they keep the language true to the characters.
The show is carefully structured and not just played for laughs. Perrette and Leggero are definitely settling into their roles. I'm still not warming up to Keith (Fred Stroller). They either need more bar regulars – or just skip it entirely. What did you think of this week's episode? Let me know your thoughts in the comments below!