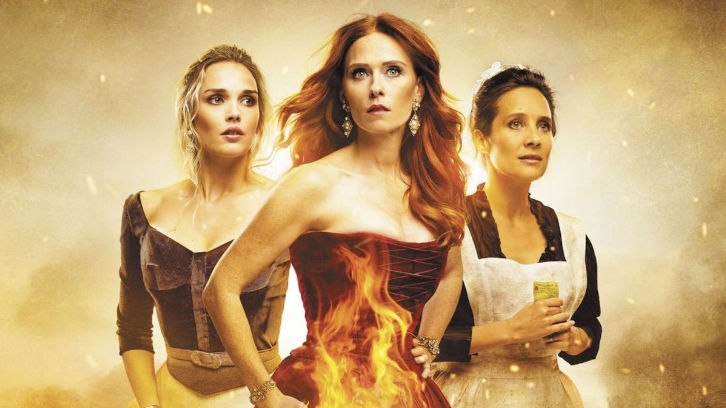 To get one thing out of the way, Bonfire of Destiny is a very cheesy title. You could make a whole cheesecake out of it. The original French title is Le Bazar de la Charité (The Charity Bazaar), and I will refer to the show as such. One of Netflix's most riveting miniseries, almost unbearably suspenseful, Le Bazar de la Charité follows the stories of three survivors of the horrific historical catastrophe. The first episode shows the tragedy itself; a fire starts in a crowded, wooden warehouse that has been repurposed for the charity fair, and those trapped inside fight to escape. Women, in particular, are caught in the flames, hampered by their own garments and the lack of emergency exits. This part of the episode is difficult to watch, even harder to put into words without minimizing the terror, cowardice, and selfless heroism on display. It effectively sets the tone for the rest of the series, which turns out to be relentlessly intense.

Adrienne (Audrey Fleurot) isn't inside the bazaar, having slipped out to meet her journalist paramour Hugues (François-David Cardonnel). Escaping the blaze gives her the opportunity to fake her death and flee her purely evil husband Marc (Gilbert Melki). Adrienne's attempts to leave Paris, retrieve her daughter Camille (Rose de Kervenoaël, one of a roster of very talented young artists on this show), and avoid being murdered form the most stressful storyline on the show. (Satisfaction with how things turn out may vary). When not trying to help Adrienne with all of the above, Hugues is one of many characters trying to track down the truth about the fire. Public sentiment demands a villain be produced, and Marc and his fellow politicians are more than happy to find one. As for Adrienne, she lurks the streets of Paris, trying to formulate an escape, until approached by Célestin Hennion (Stéphane Guillon) who suspects Marc's involvement in a murder (It's not even a spoiler to acknowledge Marc is guilty of murder, because you'll realize he's capable of the worst almost as soon as you meet him). Fleurot's best scenes are the ones she shares with Florence Pernel (an absolute standout) who plays Adrienne's sister Mathilde de Jeansin. The latter is one of the show's finest characters, and there are many others.
Our second heroine is Alice de Jeansin (a stellar Camille Lou), Mathilde's daughter, whose life also takes a drastic turn after the fire. She barely escapes, surviving only due to the protection of her friend and maid Rose (Julie de Bona) and a daring last minute rescue by Victor Minville (Victor Meutelet). All the gorgeous coats and horses in the world (and does she ever have both!) can't undo the trauma that Alice has experienced, but she has barely started breathing freely again when her parents update her that she needs to marry boyfriend Julien (Théo Fernandez) immediately to save her family from bankruptcy. Too bad Alice witnessed him do something unforgivable during the fire. It's no wonder that she seeks out the companionship of Victor who was drawn to her even before the tragedy, although carrying her out of an inferno when everyone else had left her behind definitely earned him bonus points. Alice's life is filled with grief...the weight of saving her family on her shoulders, the loss of a best friend and the disfigurement of another, and the betrayal associated with all those things. After what she's been through, pursuing Victor isn't playing with fire. But Victor is named the primary suspect, and lingering shots of the guillotine haunt their growing love. Alice and Victor's love story is one of the most thrilling parts of
Le Bazar de la Charité
, but Alice's relationship with her parents Auguste (Antoine Duléry) and Mathilde is another rich dynamic that raises the show's level of excellence.
Now we've reached the part of the review where I discuss the most dramatic, triumphant, and agonizing storyline of the miniseries. Prior to the fire, Rose (Julie de Bona) was looking after Alice's friend Odette's son Thomas (Adrien Guionnet). Rose sees the fire start and immediately gets Thomas to safety, going back in to warn his mother and find Alice. (Spoiler alert: Odette's fate is one of the more brutal moments of the fire). She doesn't escape unscathed. While Rose's husband Jean (Aurélien Wiik) and best friend mourn her death, Rose herself is abducted and held prisoner. (DARK TWIST ALERT). Her captor is none other than Odette's mother Madame Huchon (Josiane Balasko). Huchon reveals to Rose that the latter was burned almost beyond recognition in the fire (later Rose examines those burns and her new body in a heartbreaking, reverent scene that de Bona knocks out of the park). Because Huchon doesn't want her son-in-law (who would be the worst if we didn't already have Marc) to get Odette's money, she wants Rose to take on Odette's identity. Every scene between Balasko (monstrously cold in some scenes but earnestly desperate in others) and de Bona is gold. Adrien Guionnet's performance is not to be missed either. He is unforgettably good as Thomas whose reactions to the changes in his world are often surprising.
Le Bazar de la Charité
contains every element: resplendent costumes, political conspiracies, charismatic performances, passionate love stories, multiple murders, nerve-wracking tension, heroines embracing their power, and an ending that will make you weep buckets. It's not precisely perfect. We get more brutal scenes of Marc mistreating Adrienne than felt necessary, and the cold case murder seems more miscellaneous than anything else. The sum total of the miniseries, however, is an addictive drama that will keep you rooted to your seat. Proceed with caution. And don't forget to breathe.
If you have seen the series, please feel free to discuss in the comments (with spoiler tags if possible). Were you expecting SPOILER to be the one to SPOILER SPOILER? How did you feel about SPOILER making an SPOILER? How fantastic were the young cast? Were you relieved this was a miniseries after the finale? Did the cold case matter in the grand scheme of things? Were you pleasantly surprised that SPOILER that SPOILER brought in was actually professional and decent? Favorite fashion moments?