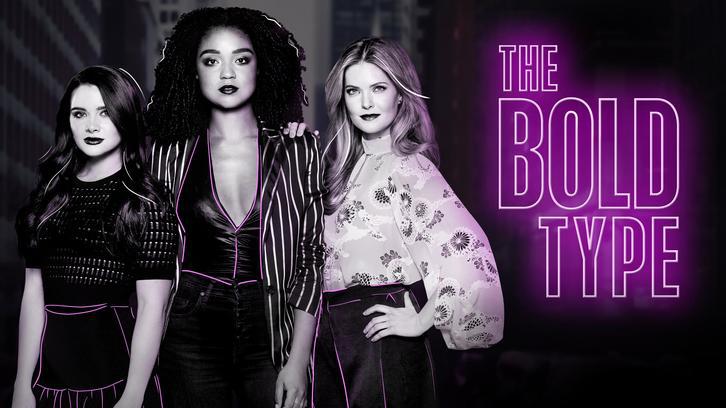 This week on The Bold Type, Kat and Adena confront RJ but his lawyer warns them that they'll destroy them if they release those tax returns. Kat does it anyway and loses her job. On the bright side, RJ quits. Oliver offers Sutton the job of stylist. She turns him down at first, intent on moving to San Francisco with Richard. But a conversation with her mother makes her realize how much she wants that job. She tells Richard right before they get married, he's not too happy about it but Jacqueline talks to him and the wedding continues. Sutton and Richard get married. Jane and Ryan break up. At the end of the episode, Jane goes in for her surgery.

Favorite relationship: I know I should talk about the couple that got married here… but I'm not going to do that. Instead, I want to talk about the 2 people that nearly made me cry several times, Sutton and Oliver. He had the whole moment with the business card planned out. And you could just see his heart break when she said she was moving. I love that he tried to protect her, because he knew offering her that job would complicate everything, especially with her wedding so close. But not offering it wasn't fair either because she deserves to have the option. Of course, she wanted to take it. It's everything she's been working for all season.

This pissed me off: Which is why Richard really pissed me off this week. I know, I know, he came around in the end. But wasn't it hypocritical of being upset that Sutton wanted to take her dream job and stay in New York when Sutton supported him when he took his dream job and moved to San Francisco? Why should he get to follow his dream and not her? I'm glad he came around in the end but that was not his finest moment.
Difficult choices: Jane has not had it easy lately. All these changes at work, all the drama with Ryan and stressing about the surgery. This girl needs a vacation. I don't want to see any drama headed her way in the second half of this season. But I think she made the right call regarding her relationship with Ryan. I rooted for them from the start but he ruined it this season. And it's not just because he cheated, that's like 50% of it. It's the fact that he lied to her face. The trust is gone. And while she may still love him, Jane shouldn't have to put in all the work to learn how to trust him again after he screwed up. She deserves better than that. Luckily she has 2 awesome friends who support her no matter what.
Called it: Oh, Kat. On the one hand, I get it, but on the other hand, I think she made the wrong call here. I get the need to do something immediately. All that talk about the right time and waiting doesn't help the kids currently in those conversion camps. But burning down your career while you didn't have to, that doesn't seem right. She had a platform at Scarlet to help so many people, now she no longer does. Adena even said that there were legal ways of doing this, it didn't have to get her in trouble. Even Jacqueline couldn't save her out of this one. I wonder what she'll do now.
Words of wisdom: Thank god for Jacqueline, right? Without him, this whole episode would've gone to hell. The whole show, really, when you think about it. Whenever anyone needs advice, Jacqueline is right there. And I do mean anyone. She's helped the girls but this week also Oliver and Richard. It's a shame RJ had such a stick up his ass, he could've used her advice, maybe he wouldn't have had to quit. But who can she turn to for advice? It seems that she and Ian are trying to work things out but her heart doesn't really seem in it.
Best quotes: Andrew: "Sorry, I didn't realize Frumpy Fridays were a thing. I would've changed." Jacqueline: "Andrew." Andrew: "Yeah?" Jacqueline: "Zip it."
Jacqueline: "And now you're just letting her go?" Oliver: "I'm not letting her go, but I can't stop her." Jacqueline: "But you're not giving her the opportunity to choose." Oliver: "Shit."
Oliver: "It's cute. Is that a bed?" Jane: "Don't judge me."
Andrew: "And can I just say you look infinitely better than yesterday? Really, it's like night and day." Jane: "Andrew, are you paying me a compliment?" Andrew: "It's a special day, Jane. Soak it in."
Oliver: "He's back." Sutton: "Who's back?" Oliver: "Beatrice Arthur. Who do you think? Richard."
Sutton: "Nothing is bigger than us. You know that."
That's it for this week. Let me know in the comments what you thought of this week's episode.
Please be respectful in the comments, any unnecessary rudeness isn't welcome.