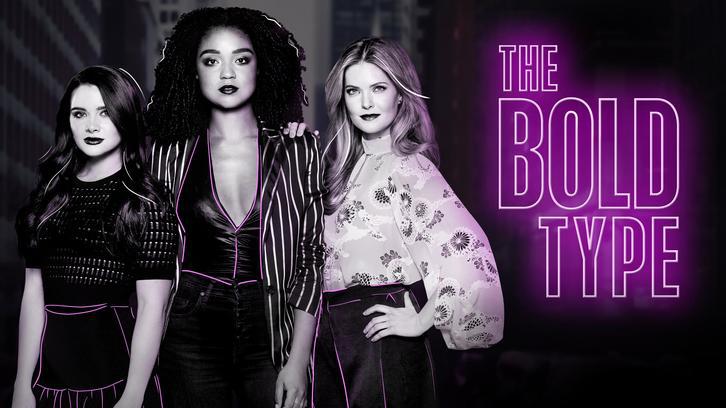 This week on The Bold Type it was all about weddings. Jane started to write an article and interviewed Jacqueline but accidentally recorded a phone conversation between Jacqueline and her husband about their marriage problems which made her scrap her story. Jacqueline was not happy about this and eventually convinced Jane to do her article after all. Sutton got to be in the spotlight and model wedding dresses which made her a little uncomfortable, which lead to some issues at Carly's school regarding her uniform. But she smoothed everything over with Oliver. Kat got back into the dating world but purposely chose someone she had nothing in common with to avoid a serious relationship. But despite that, things still got a bit too serious for Kat. She eventually landed in bed with the male bartender.

Favorite relationship: I'm so glad we finally got an episode that put more of a focus on the relationship between Sutton and Oliver. It's always been a bit in the background but not this week. It showed that their relationship is more than just employer/employee. Just look at how excited Oliver was to dress Sutton for the photoshoot. I highly doubt he feels that way about all of his assistants. Sutton managed to worm her way into his heart, which seems so easy for her. She's very likable which is why it's surprising that her influencer plan wasn't working out that well at first. But I guess when you lose the spontaneity, it's not the same. Though a tag from work can do wonders, it seems. I liked the issues that she raised about the wedding planning, she should've used that for her page. Not every girl gets super excited about weddings, especially these days with so many children with divorced parents. But honestly, the wedding is not the most important part, it's what comes after that counts. Personally, I'm not a huge fan of weddings. It's just so expensive. I feel like that money would be better spent on the future.

Self-sabotage: I'm glad Kat is getting back out there in the dating pool but it kind of felt like she was cheating this week. Not cheating on someone, but cheating herself. She only went for someone she knew she'd never seriously date, purposely ignoring people she has more in common with. I get that she wants something carefree but I'm pretty sure there are apps with people who just want a hookup. If you both agree in advance that it doesn't go beyond one night, I think you can avoid ending up at someone's birthday party. But I think she secretly wants a relationship again. And that's why she let herself get carried away temporarily. It's weird, because Kat used to only have non-serious relationships when she was still dating guys and I think that might be why she went back to a guy for a hookup. All of her serious relationships have been with women so a guy might seem safer. Anyway, it didn't surprise me. Once I saw which actor was behind the bar, I knew he'd do more than pour drinks. With some actors, you just know they're there for more than just a guest spot.
No such thing as perfect: I think Jane has grown a lot in the past four seasons, especially where relationships are concerned. Jane may once have had fantasies about perfect marriages but I think those days are long past and not just because of Jacqueline's problems. I think her relationship with Ryan is probably one of her most serious relationships and while she really loves him, their relationship clearly isn't perfect. So I think she has let go of that fantasy. Side note, this was the first time we saw Jane's dad, right? I know we'll be seeing her brother soon as well. I'm glad we're getting to know more of Jane's family.
In a mood: This week was probably the darkest mood we've seen from Jacqueline so far and it startled me a bit. She's usually so supportive but this week, it was like she just couldn't bring herself to do it. Like she didn't have the energy. And I get it, everybody has their breaking point. They say you can't let your home life affect your work, but that's not always possible. Especially when your work is the reason your home life is wrecked. When Jane told her what she'd overheard, I thought she was going to snap. It was really smart of her to walk away before she said something she regretted. To give herself time to let it all sink in first. Not enough people do that. I was happy to see her finally open up to some people and to see her get her groove back at the end of the episode.
Best quotes: Kat: "What does a lesbian bring to a second date?" Jane: "Oh, a moving van." Kat: "Right. See, it's a lame stereotype, but, unfortunately, I think it might be kind of true. And I am DTF, not DTN." Jane: "What is DTN?" Kat: "Down To Nest. I just made it up." Jane: "Cute." Kat: "Thank You." Jane: "I could see it catching on."
Sutton: "Do you really believe in school uniforms?" Oliver: "I do. I know it may seem strange since, you know, I adore clothing, but school uniforms encourage kids to focus on their classes and not each other. For 12-year-old girls, fashion can easily turn into a weapon. With school uniforms, there are no labels, so there's less bullying, less worrying about what to wear to impress friends." Sutton: "I never thought of it that way." Oliver: "I know it might seem anti-intuitive, but having to wear a uniform actually encourages kids to become free, independent thinkers. And if you're still not convinced, you should know that Coco Chanel wore a school uniform." Sutton: "No." Oliver: "Yes."
Jane: "So you just ran out? Like, no goodbye, nothing?" Kat: "I panicked." Sutton: "That's a savage ghost."
That's it for this week. Check in again next week for an all-new review and let me know in the comments what you thought of this week's episode.
Please be respectful in the comments, any unnecessary rudeness isn't welcome.