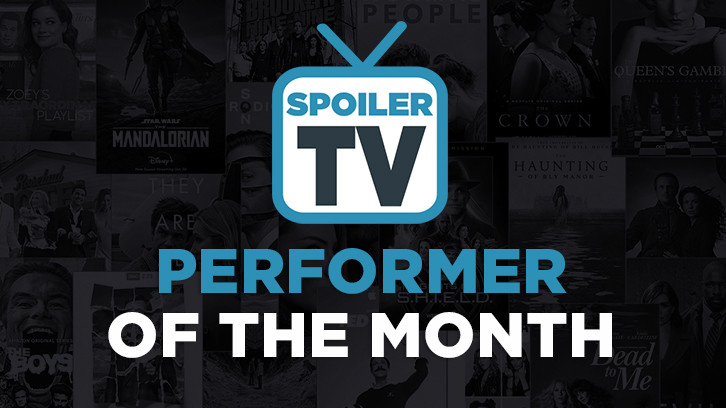 Results:

This was a round with some very tough competition. Performers really came into the New Year throwing some of their best material at viewers. The high caliber of performers in both polls highlighted that fact. Which makes it all the more impressive that both sides, the staff and our readers, agreed on who the best performer was for January. Our ultimate winner came out of the gate strong and while the competition put up a fierce and intense fight, this winner was ultimately able to hold the lead long enough to win the honor of being this year's first winner with the added bonus of also being the first dual winner of the year.


From the moment
Batwoman
premiered Rachel Skarsten has been a force to be reckoned with. She storms into every scene as the mentally unstable Alice and commands attention be paid. It is no surprise that when the opportunity presented itself the writers trusted her with a second character. She brought as much heart and enthusiasm to Beth as she brings sadism and twisted bravado to Alice. Even though she is the embodiment of both characters she still managed to make them both feel very separate and different from one another.
An Un-Birthday Present
(1x11) provided her with an opportunity to turn in a tour-de-force performance and she fully capitalized on it. This episode proved to be one of the best, if not the very best, of the series so far and that is largely in part to the performance Rachel Skarsten delivered. For these reasons, and all that will be covered in her winner article, she is SpoilerTV's Readers' and Staff Choice Performer of January.
Rachel Skarsten's article will be out later this month in the new 2020 article format. In the meantime, please feel free to use the comments section to discuss her and her brilliant fellow nominees.
Original Post:
Thanks to all of you we have an amazing list of nominees for the first POTM round of 2020.
Now it's time to determine who will be our January Readers' Choice Performer of the Month. The results will remain hidden for the duration of voting. The results of this poll and the Staff voting will be revealed after the poll closes.
2019 Staff's Choice Performer of the Year: Jodie Comer
2019 Reader's Choice Performer of the Year
(TIE)
: Hailee Steinfeld and Oliver Stark
November 2019 Winners:
Readers' Choice: Hailee Steinfeld (Emily Dickinson) - Dickinson
Staff Choice: Jean Smart (Laurie Blake) - Watchmen
December 2019 Winners:
Readers' Choice: Katherine McNamara (Mia Smoak Queen) - Arrow
Staff Choice: Molly Parker (Maureen Robinson) - Lost In Space
Please remember that a performer can only win once in 2020. After that win, they will be ineligible to win again in 2020, but they will secure a spot in our year-end Performer of the Year contest.
Now comes the hard part where you can
only vote for 1 performer
. The poll will be live until
Tuesday, February 11th at 6 pm ET
. After you vote be sure to make a pitch in the comments section for what the performer you voted for most deserves to win.