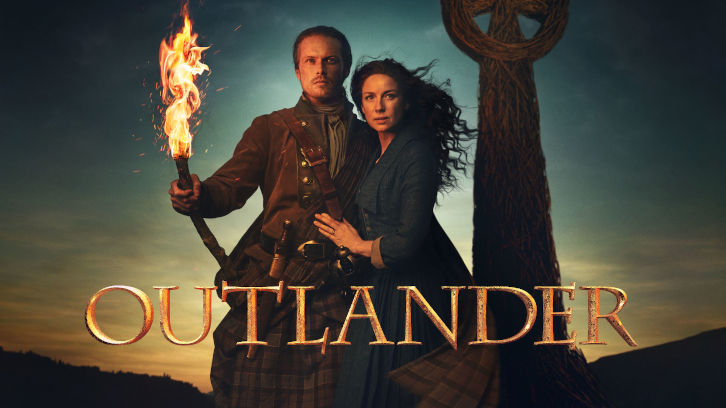 In the final scene of the season premiere, Jamie insistently warned Murtagh that it is not safe for him to remain in the Province any longer. The Governor wants him dead and will not stop until he sees him hang. Jamie urges his godfather to leave, to hide and not to be found. The fact that Jamie himself was tasked with finding Murtagh makes this entire situation even more complicated and significantly more dangerous. If Tyron finds out Jamie warned Murtagh hell would break loose. And if Jamie actually finds his godfather he would be forced to capture him and extradite him to the Governor. If he refuses to do that it would have grave consequences for him and his entire family. He is in a predicament and the only way this could end well is if Murtagh gets as far away from the Province as possible.

It is not particularly surprising that Murtagh does not actually go anywhere but instead makes everything worse by brutally attacking corrupt and cruel tax regulators in a village not too far from Fraser's Ridge. He and his resistance group have no intention to stop fighting for their cause. They'd rather risk war.


When Jamie and Knox (a lieutenant Tyron has sent to help Jamie find Murtagh) are informed about the vicious attack they head to the afflicted village. Jamie is rather shocked to see just how cruel Murtagh and his followers were. They poured hot tar over the lawmakers and then proceeded by coating them with feathers.
Three men of the resistance group were captured and locked away. When Jamie and Knox go to see them it is visible how concerned the Scotsman is that one of the imprisoned people will turn out to be his godfather. Thankfully, there is no sign of Murtagh. One of the captured men, however, is particularly defiant and claims to be Murtagh Fitzgibbons. When he proceeds by spitting Knox in the face the lieutenant loses all self-control and stabs him. He executed the man without trial. The lieutenant himself is shocked by his action. Jamie feels forced to defend Knox and announces that he has acted in self-defense.
executed a man without trial

Read more: https://www.springfieldspringfield.co.uk/view_episode_scripts.php?tv-show=outlander-2014&episode=s05e02
executed a man without trial

Read more: https://www.springfieldspringfield.co.uk/view_episode_scripts.php?tv-show=outlander-2014&episode=s05e02
During the night Jamie sneaks back to where Murtagh's followers are locked away and frees them. He gives them a message for Murtagh and sends them on their way. Knox does not suspect a thing. Instead, he believes there is a traitor in the village who broke the lock and let the men get away.
Back at Fraser's Ridge, one of the settlers dies from appendicitis. His wife rushes him to Claire and begs her to help him. However it is too late, there is nothing that can be done. Claire is upset about not being able to help and decides to give the man's death meaning: She performs an autopsy to confirm the cause of death and to learn even more about the human body. This might help save other patients. However, it is rather dangerous to cut open a dead body as people at this time simply are not able to understand what she is doing. They will consider it witchcraft and not scientific research. Despite knowing it might get her into trouble Claire performs the autopsy.
She assures her that this is for science and then asks if the young woman would consider being her apprentice. She has seen her butcher. The girl knows how to use a knife, she recognizes all the different parts of animals and she has good instincts. She could help Claire perform autopsies. Marsali is shocked, overwhelmed. All the believes she grew up with tell her what the older woman is doing is wrong but her believe in Claire being a good person is stronger. She listens to the healer, lets her explain how autopsies can save the lives of others. Suddenly Marsali is intrigued. We did not get to see her answer on whether she wants to be Claire's apprentice but I think it's a safe bet to say she will agree.
Roger is surprised to find out that Claire actually agrees with him. She believes the 20th century is a much safer place for the little family. Provided Jeremiah is able to travel through the stones, she would encourage Roger and Brianna to go back to
their own time very soon. It would kill her to see them leave but it is necessary to assure their safety. There are not even antibiotics available in the 18th century. Little Jemmy could scrape his knee and die of something as mundane as an infection. Claire would not be able to bear that.
Claire:
As much as I love all of you being here I hope you don't stay. I would miss you all.
Terribly. But it's safer in the future for all three of you, and I know you feel the same way.
I'm doing everything I can to make this a safer time, but it's not. It's my fault that you're all here.
The episode ends with a scene of no other than Bonnet brutally hurting a man that accused him of cheating in a bet. Bonnet cuts his eyes and slits his legs.
Bystanders ask him:
"Why didn't you kill him outright?"
Bonnet answers:
"I wanted to set a good example. I'm a father now."
Oh damn! Stephen Bonnet knows about little Jeremiah's existence and believes he is the kid's biological father. Who the heck told him Brianna had a baby? Did he spy on the Fraser family? Is someone Brianna is trusting working for Bonnet?
The Frasers and McKenzies better sleep with their eyes open from now on.
What are your thoughts on the episode? Are you enjoying the new season so far? Share your opinion in the comments below!