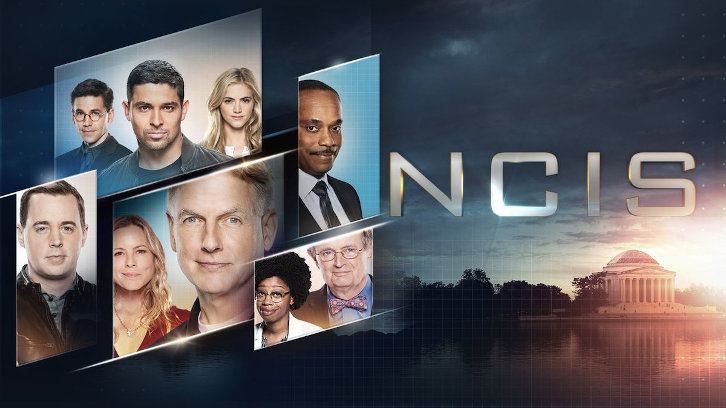 17.14 - "On Fire"
Written by Brendan Fehily
Directed by Tawnia McKiernan
Reviewed by KathM

"These are the only kids I have left," Leroy Jethro Gibbs
Last week's episode of NCIS brought us a hyper-aggressive Bishop I hadn't seen before. When Torres is hit by a negligent Lamborghini driver as he and Bishop jog in a quiet residential neighborhood, you have no idea what kind of hell our little Ellie wants to unleash. In addition to Torres pushing her out of the way so she didn't get as injured as she could have by the car barreling towards them, Torres has not woken up from his head injury. The hospital is flying in "the best neurosurgeon on the East Coast", and I like to think I'm not the only one hoping that Jon Cryer is reprising his role as Dr. Cyril Taft. No such luck.
The driver turns out to be a sociopathic Russian criminal called Xavier Zolotov, whose old school Russian royal blood grants him something called Sovereign Immunity. He has no remorse for hitting Torres or Bishop, and his only regret is how hard it will be to find someone who repairs Lamborghinis. And yeah, he was drunk, but so what? He has immunity.
Vance wants to help, but the State Department "doesn't want to upset the Russians" and doesn't want to pursue the case. "These are the only kids I've got left," Gibbs tells Vance, who lets Gibbs know that they'll do everything they can to delay Xavier's exit from the US so they can build a case to arrest him, anyway.
Ellie is ready to go. Not since Qasim has she been so ready to cause some serious damage. In this case, it's actually more frightening. She flat out tells McGee that she's going to kill Xavier, but before he can talk to her Gibbs pulls Ellie into a corner of the office to talk with her about going down the murder road.
"You do the kind of things I've done, you get the kind of things I've got. Bourbon and a boat in the basement. You don't want to become me."
Do you know what Ellie says? That it's too late.
It always makes me sad when Gibbs talks like that, as though he has nothing but whatever ghosts haunt him as he works alone in his basement. Has losing Phin and Ziva (again, but she's always wandering off) sent him back to Square One emotionally? I hope not.
They arrest Xavier's wife for having a pet tiger without a permit, but he doesn't care if she winds up in jail. While Gibbs ignores Sloane's insistence that Bishop has PTSD Torres's condition improves then worsens again, and he heads back to surgery.
The gang meets up in the bullpen except for Ellie, who McGee sent home but didn't end up going there after all. She won't tell them where she's been, and nobody is really asking. While watching a helmet video a bicycler took of the incident McGee notes that there is a blonde in Xavier's car, and is able to identify it as Colleen, the woman who lives down the hall from Xavier and his wife. Sloane talks about how Xavier's narcissism means that he will need more than just his wife to adore him, and they figure that Colleen is the winner of that particular lottery. They head over to her apartment, which is closer to home than where most rational people would put their mistress: just down the hall from where he and the Mrs. live. When Gibbs and McGee break down the door they find Colleen gone and Xavier in the bathtub, shot in the head.
I'd normally ask for a moment of silence, but nobody cares.
So, who killed Xavier? Despite a few joyful planning sessions in her head Bishop assures McGee and Gibbs that she didn't do it. When Jimmy examines the body in the condo he finds that the bullet is gone and the area has been cleaned up as if it had been a professional hit. Oh, and a single blonde hair. Hum...but Ellie still denies everything.
We are now approaching the twist that makes this episode really interesting: a report comes in from NCIS is up in Michigan letting them know that Colleen was suspected of injecting her sister with heroin so that she wouldn't have to share a family inheritance. But they needed someone to go undercover to bust her, so they called on...Torres. Oh yes, this was completely unexpected. I love it! The case was being reopened and Torres was going to be the star witness, so Colleen needed to get rid of him. Hey, why not have your drunk billionaire boyfriend do it, that one who has immunity and can't be prosecuted? Sounds like a plan.
Collen is caught injecting heroin (get more creative!) in Torres's IV, but he's awake enough that he helps the team capture her by switching the IV tubes. Torres FTW, even in a hospital bed!
While we don't know for sure who shot Xavier, McGee believes that Gibbs took the shot. He doesn't say so, but the way he looks at Gibbs as he leaves for the day from the office and the background music implies as much. And I'm okay with that.
I was surprised by this episode and didn't like it as much as I wanted to. It was action-packed and had some interesting twists and turns, but I would have liked the Colleen story to be a bit more prominent and come up a bit earlier. Liked the way Ellie and Torres were holding hands as she sat on his hospital bed; I don't know whether it means anything, but could certainly be nice foreshadowing. McGee, Kasie, and Jimmy seemed to be the voices of reason, which unfortunately put them largely in the background.
I hate to say this, but I think Ellie has been working with Odette. She just seemed different in this episode, angry and nearly uncontrollable at times. I was particularly interested in how the scene of Xavier's murder was cleaned up ballistically: that is something Bishop might have learned from Odette.
I wonder where the rest of the season will take us. Thoughts?