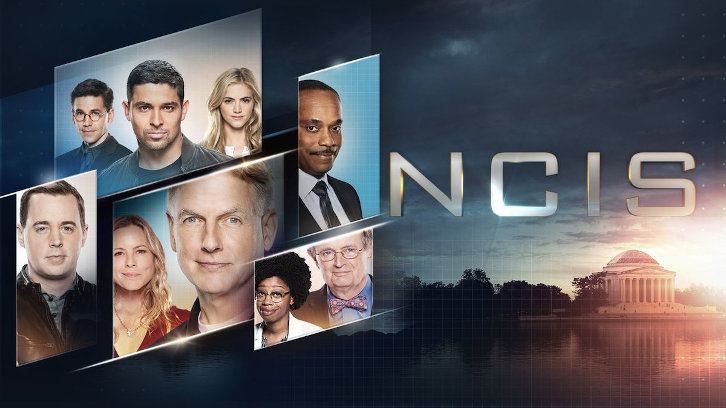 17.15 - "Lonely Hearts"
Written by Brendan Fehily
Directed by Tawnia McKiernan
Reviewed by KathM

I would just like to say upfront that any episode featuring the character of Navy Captain Phillip Brooks (ret.) I seem predisposed to dislike. I do not know why. Maybe it's the sad-sack characterization or the actor who plays him, but when I see Phil onscreen I instantly feel annoyed and anxious for the scene to be over. That being said, this was a fun episode with a lot of the traditional NCIS formula, and since they used a lot less Phil than they could have, it was worth watching. They also used him well, which I didn't feel like they have before.
When nearly skeletonized remains of Capt. Alan Wales is found in the woods shot in the heart with a bow and arrow, our team looks to the last woman he dated for information about the last time she saw him, etc. Stacy Gordon is a JAG lawyer who, when visited by Gibbs and Bishop, is found in a compromising position with Phil Brooks, the man who considers himself Gibbs's best friend. They both have trouble believing that Phil and Stacy are a couple, particularly when Stacy is so attractive and Phil is...Phil. She says she's attracted to Phil's "effortless masculinity", which I find confusing, but to each their own. The month they've been together has been wonderful, they tell Gibbs and Bishop. As for Capt. Wales, Stacy dated him for about six weeks and then he stopped answering her texts. A dead-end, then? Maybe. But when they discover the case of another Navy man, Petty Officer Craig Olson, killed in the same way, had also been dating Stacy, a red flag begins to fly. Olson's death was not investigated by NCIS, but by MPD detective Tom Logan. This piques my HinkyMeter, because why would you keep a case when you could easily hand it over to another agency?
Hijinks ensue. Everyone begins to suspect Stacy, even Phil, a little. He tries to help out in the investigation by wearing a wire, then is unable to remember the code word he was supposed to use to get Gibbs to come in. Obvious red herrings are carefully placed, such as the fact that Stacy's husband died in an "accident", and that she wasn't half bad with a bow and arrow.
The episode blended a nice NCIS tale of comedy and drama with a surprising villain and Kasie cheerfully meandering around the morgue and her office with a huge bow and arrow. She's a good shot, just ask Torres.
Speaking of, Nick returns to work earlier than he was advised and refuses light-duty, instead of jumping into the fray by running after possible criminals, jumping over tall fences and showing Kasie how well he can shoot a bow and arrow despite how much strength you need. Surprisingly he listens to Ellie about being an idiot who needs to take better care of himself and actually goes back to the office before the big shoot-out at the end. Looks like our little boy is growing up.
The surprise villain is none other than Detective Tom Logan, who turns out to be a cousin of Stacy's ex-husband and has been in love with her for years. He killed both men and her ex (who she thought she killed herself because he was abusive toward her), and will now kill Phil, Stacy and himself in a cabin in the woods. Because all the crazies seem to have a cabin in the woods. When Phil sees Gibbs and some of the agents coming to rescue them when he's looking out the window he tries to stall Tom by trying to engage him in a conversation about the tax implications of a murder-suicide. It was hysterical and nearly redeemed him as a character in my eyes. In the end, Phil and Stacy are rescued, Tom is collared, and all ends well. Stacy even decides to take Phil back after extensive groveling, which I can just picture.
And oh yes, it's Valentine's Day, so we pepper in a few bits and pieces about that here and there. Jimmy is going with the full "hotel suite with chocolate-dipped strawberries", McGee forgot, and Sloane is getting chocolate and roses from a Secret Admirer who everyone (especially Torres) thinks is Gibbs. Sloane dares not hope. When the crew gets ready to leave the Bullpen at the beginning of the episode Gibbs remarks on the chocolate box she's sharing around and Sloane offers him a piece. He not only takes one but he kisses Sloane on the cheek as he does so. No doubt her heart is going pitter-pat. But hey, he's not a chocolate and flowers guy, is he? She thanks Gibbs for the flowers and candy (don't scare the bunny, Sloane. It could run away.) but he denies it. Because seriously, Gibbs? Ellie wants confirmation that they're from Gibbs and Sloane is wondering, too. And hoping.
It turns out that the gifts were meant for someone in HR who has a name that could possibly be confused with Sloane's but not really at all. It turns out that HR woman received a box of candy meant for Sloane, too, and she quickly opens the card to find that it's not from Gibbs, but from Faith. Considering how much she wants a relationship with her daughter I think that's a big step for Faith, and I think we may end up seeing her before the end of the season.
Points to ponder:
Do we think it was really Leon's profile on Fleet Date? I am not sure a man in his position would do that, and certainly not in a bathing suit.
Did anyone else think that it might have been Gibbs who sent Sloane the goodies just because it wasn't a Gibbsy thing to do, and nobody would suspect? Am I overthinking?
Gibbs threw that phone Phil gave him (complete with a "Jethro" profile. The phone could pick up the replies he received, too, unlike his current one.) into the fireplace (hugely dangerous, BTW). However, the profile wasn't deleted. Do you think we might see any mentions of his Fleet Date profile from the random person or two down the line?
Somethting that pleased me
: No singles whinging about being single on Valentine's Day! Sloane might be an exception because of Gibbs, but she would have been fine getting nothing at all, I think.
How many people do you think tried to buy the domain name "Fleet Date" after Tuesday's episode?
Is anyone else still trying to figure out the whole Gibbs's Feelings for Sloane thing? I mean, he'd have to be deaf not to hear what the team murmurs about them, and he's comfortable being physically demonstrative with her. Regardless, I find it much more interesting than a simple, "Does he likes me?"