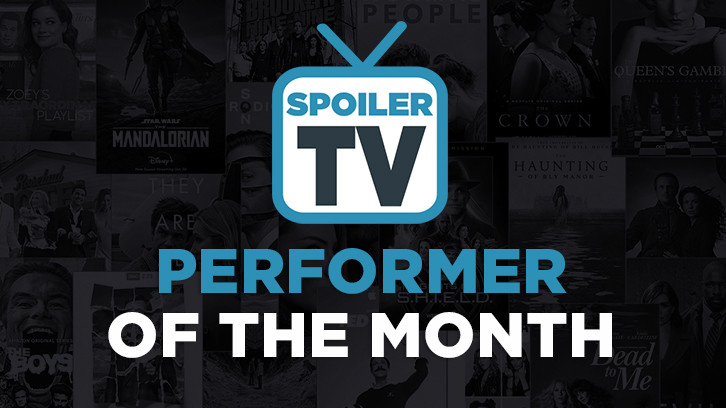 Results:

This round proved to be a fierce fight for the top spot in both categories. The Reader side was a fierce battle throughout voting with the top two nominees constantly changing spots. The ultimate winner pulled ahead in the final 24-hours and was able to hold the lead. The Staff side changed hands multiple times before the top 2 pulled ahead. They each fought for the top spot until the ultimate winner was able to secure the win. It was a fierce battle this month and a great way to end the 2019 round of POTM.

Starting tomorrow at 6 pm ET we will kick off our Performer of the Year poll. Voting will only be open for 48-hours. All of the Readers' Choice winners from throughout 2019 will compete for who will be crowned the 2019 Readers' Choice Performer of the Year. We will be doing the same on the staff side to also determine the 2019 Staff Choice Performer of the Year. So come back tomorrow ready to vote. In the meantime, look below for the final winners of 2019.


When any show begins the transition to its natural end, viewers start to wonder what its legacy will be. New characters are often introduced to mixed reactions from an audience waiting to see what emotional resolution will be awarded to their favorites they have followed for years.
Arrow
introduced an actual legacy character in Mia Smoak, the daughter of beloved original characters Oliver Queen (Stephen Amell) and Felicity Smoak (Emily Bett Rickards), played by Katherine McNamara. While carrying the responsibility of continuing the spirits of her character's parents, McNamara also got to create her own equally thrilling hero, which is no easy feat. Viewers were wary of a new character at first, but the gusto that McNamara brings to the role proved irresistible. Her fantastic portrayal of Mia's equally powerful fragility and strength as she molds her own identity has even created the potential for more stories with her character in a spinoff. McNamara turned in some of her best work yet in Purgatory when Mia is forced to confront losing her father. For that performance, viewers voted her SpoilerTV's December's Outstanding Performer of the Month.
Actors who portray iconic characters in shows that update the original take a great risk in alienating fans of the original. Then, there are those who take those characters and give them their own unique take and create new definitions of the word iconic. Such was the case for actress Molly Parker. In the Netflix remake of
Lost in Space
she stepped into the shoes of Maureen Robinson, a role created by June Lockhart, giving her own twists and personality to the Robinson matriarch. In the Season Two standout episode
Unknown
(2x8) Parker shines as a determined Maureen leads a mutiny aboard the Resolute spaceship to save thousands that were going to be left behind. For her outstanding performance in this episode, Parker has been selected by the staff of Spoiler TV as Staff Choice Performer of the Month for December.
The winner articles for Katherine McNamara and Molly Parker will be out later this month. In the meantime, feel free to use the comments section to discuss them and their very talented fellow nominees.
Original:
We have a great list of nominees this month. Since this is the final round of voting for 2019 POTM, that makes this the last opportunity for all of you to help one final performer become eligible for the Performer of the Year voting that starts on January 12th at 6 pm ET. All Readers' Choice winners from 2019 will compete against each other for the title of 2019 Readers' Choice Performer of the Year and the Staff will also vote for our Staff Choice Performer of the Year.
Now it's time to determine who will be our December Readers' Choice Performer of the Month. The results will remain hidden for the duration of voting. The results of this poll and the Staff voting will be revealed after the poll closes.
2018 Staff's Choice Performer of the Year: Sandra Oh
2018 Reader's Choice Performer of the Year: Alycia Debnam-Carey
January Winners:
Readers' Choice: Jared Padalecki (Sam Winchester) - Supernatural
Staff Choice: Andre Braugher (Captain Raymond Holt) - Brooklyn Nine-Nine
February Winners:
Readers' Choice: Jensen Ackles (Dean Winchester) - Supernatural
Staff Choice: Hale Appleman (Eliot/The Monster) - The Magicians
March Winner:
Readers' and Staff Choice: Camilla Luddington (Dr. Jo Karev) - Grey's Anatomy
April Winners:
Readers' Choice: Matthew Daddario (Alec Lightwood) - Shadowhunters
Staff Choice: Jodie Comer (Villanelle) - Killing Eve
May Winners:
Readers' Choice: Tom Ellis (Lucifer Morningstar) - Lucifer
Staff Choice: Chyler Leigh (Alex Danvers) - Supergirl
June Winners:
Readers' Choice: Suranne Jones (Anne Lister) - Gentleman Jack
Staff Choice: Jared Harris (Valery Legasov) - Chernobyl
July Winners:
Readers' Choice: Alycia Debnam-Carey (Alicia Clark) - Fear The Walking Dead
Staff Choice: Nicole Kidman (Celeste Wright) - Big Little Lies
August Winners:
Readers' Choice: Hannah John-Kamen (Dutch/Aneela) - Killjoys
Staff Choice: Cara Delevingne (Vignette Stonemoss) - Carnival Row
September Winner:
Readers' and Staff Choice: Oliver Stark (Evan "Buck" Buckley) - 9-1-1
October Winners:
Readers' Choice: Stephen Amell (Oliver Queen/Arrow) - Arrow
Staff Choice: Cobie Smulders (Dex Parios) - Stumptown
November Winners:
Readers' Choice: Hailee Steinfeld (Emily Dickinson) - Dickinson
Staff Choice: Jean Smart (Laurie Blake) - Watchmen
Please remember that a performer can only win once in 2019. After that win, they will be ineligible to win again in 2019, but they will secure a spot in our year-end Performer of the Year contest.
Now comes the hard part where you can
only vote for 1 performer
. The poll will be live until
Saturday, January 11th at 6 pm ET
. After you vote be sure to make a pitch in the comments section for what the performer you voted for most deserves to win.