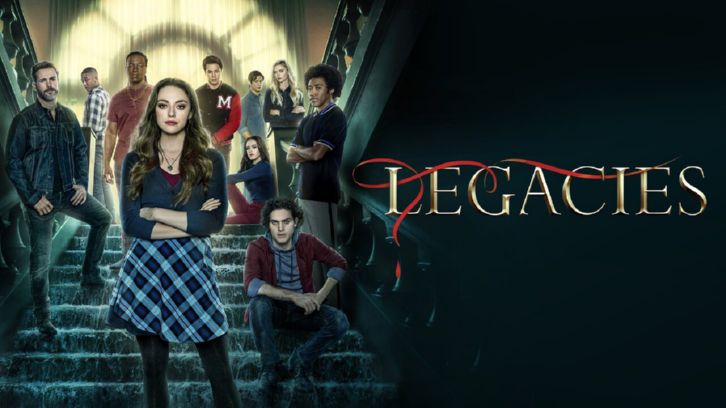 This week on Legacies, Sebastian took a leading role as everyone tried to figure out what to do with him. Lizzie tried to keep her distance, after sleeping with him many times. He wasn't too pleased with what the witches had to say about him and lashed out. Later he attacked a woman and there was a confrontation with Alaric that we don't know the result of. Josie kept avoiding Hope until she asked for her help in dealing with that hourglass thingy. Apparently, it's very dangerous and they can only temporarily contain it before it starts to shatter from the inside which will lead to very bad things judging by Josie's vision. We were shown what happened to the Necromancer, who will now only be known as Ted after he disappeared last season. Apparently, he was human for a while, recruited a guy named Chad (of course), got his powers back and then started to interfere in Mystic Falls again. Oh, and he wants the hourglass thingy.

Harry Hook has me confused: Okay, so at this point, it's pretty obvious Sebastian is not a good guy. However, I also think we've seen a lot worse. We don't know much about his past yet, but "Sebastian The Merciless" doesn't sound great. Then again, neither did "the ripper of Monterey", yet Stefan was still considered a good guy. But while he and Lizzie have a lot of chemistry, and I am sort of starting to ship it, I think Lizzie made the right call to stay away from him. She doesn't need this kind of drama in her life, it's already messy enough as it is. And then there's that final scene with Alaric. I've seen some speculation about this online. Some thought it confirmed that Sebastian was bad, others, myself included, think that Sebastian was just saying those things to get Alaric to kill or imprison him and that even the attack was staged. The witches already proved that Sebastian doesn't think he's good enough for Lizzie. If he doesn't think he can stay away from her on his own, I could see him pull something like this. And I'm 100% convinced that Alaric did not kill him. We would've seen it on screen if he had. He probably imprisoned him again.

You don't impress me: The other male lead this week was Ted. And I have to say, as far as villains go, this is one of the least impressive ones I've ever seen. I'm not entirely sure I understood what his ultimate goal was. To be super powerful? Revenge on Malivore? Okay, I guess. I was kind of hoping for something more. I guess he'll be around until at least the end of the season, sending monsters to the Salvatore school. So basically the same thing Malivore did. Does that mean we've officially moved on from Malivore, though? It's still a bit unclear. Boy, these random villains are confusing. Can we get a villain with actual ties to one of the main characters? Those are always the best ones, like Dalia, Katherine or Mikael.
Hello darkness, my old friend: So, Josie is clearly headed somewhere dark but I'm glad that she seems to be actively fighting it. And that we got an explanation for her behavior earlier this season (though I'm still convinced some of it was due to having never met Hope). Those visions, though. Is that a definite future or can it still be prevented? Because the school going up in flames by the end of the season would sure put us down a new path for season 3 (yay renewal). And part of me wants to see Josie go that dark. The hourglass is already starting to crack, which is a bit sooner than I had expected. And why exactly are two students in charge of preventing a powerful object from exploding? Shouldn't there be an experienced witch on staff who can handle this? Where are all the teachers when all these shenanigans are going on?
Awkward: It was to be expected, but things will be a bit awkward between Josie, Hope and Landon for a while. But I must say that they are handling it much better than I had expected. And Josie wasn't nearly as heartbroken as I thought she'd be. It makes me wonder how serious it really was. But the scene where Josie and Landon decorated Hope's room was so sweet. Hope has never had many friends, it's nice to see people do something like this for her.
I like you: Speaking of friends, or should I say enemies in this case. I really like Alyssa and I hope she's not a temporary character. Although, she does kind of feel like Penelope's replacement. Was that just me? Anyway, it seems like Hope and Alyssa will be at odds with each other, which is a total bummer because Hope needs more friends. And these two would be so much fun to watch. And I liked seeing a bit more of the witch community this week. It looks like we'll get even more of it next week.
Which brings me to this. Dear writers, please give us the witch origin story! I have been begging you for seven years. Also, please don't kill Alyssa off next week.
Already erased: Someone online said that Sebastian has already gotten more character development than Rafael, they're not wrong. In fact, it seems like his character has simply been erased. No one seems to miss him and Jed has already taken over the pack. I fear that we won't be seeing Rafael anytime soon. If he returns, which I'm also not sure of, all of his character development regarding being trapped in his wolf form will have happened off-screen. Very disappointing.
Best quotes: Alaric: "I'm a little out of the loop myself. I just like to stride confidently and, uh, nod in hopes that people don't figure that out."
Lizzie: "So we've been having a lot of sex. And my mind is telling me to stop, but apparently, my body didn't get the message about how much of a feminist I am."
Dorian: "What's the mood?" MG: "Today sucked. You got anything for that?"
That's it for this week. Check in again next week for an all-new review and let me know in the comments what you thought of this week's episode.
Please be respectful in the comments, any unnecessary rudeness isn't welcome.