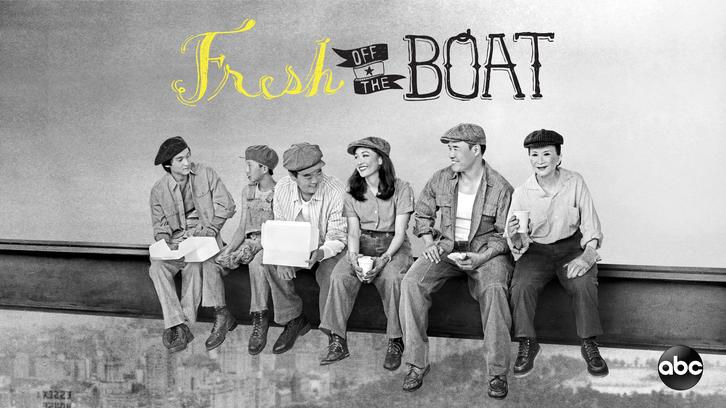 Happy 2020! And with the new year comes the start of the last few FOtB episodes. I'm gonna miss it when it's gone, but we still have a few more episodes to go, so let's jump into it.

Jessica Town

This year's Christmas episode opened with a musical number, which I'm always happy with, and Jessica rocking a fantastic Victorian style suit-dress with top hat situation. I hope Constance Wu got to take that costume home with her when she wrapped. It's a really fun start to the story, reminding everyone just how into Christmas Jessica is and giving some good spectacle to boot. The problem is that we've seen Jessica obsess over Christmas and get into fights with Louis due to her rigidity quite a lot by this point. It's overdone storyline that's disappointing to see in the last Christmas episode of the show. And Lao Ban Santa barely made an appearance! The nice visuals and the musical number helped keep it engaging, and Wu and Park were on point as usual, but this was not the episode's strong point.


The B-story with the three boys is where the show really shined. I've loved the evolving dynamics between the three kids as they've gotten older. Who could've imagined a time when Evan would not only start the thing that got him and Eddie into trouble, but then solve it by panic stealing a nutcracker made by real Germans? Or that he'd be pressuring Emery to fix everything? Or that Eddie would be ready to take the blame to offset the damage he'd done to his siblings? I think we all knew Emery would put his happiness, dignity, and potentially his sanity (he's Jingles now) on the line to help out his brothers, but hey, not everything has to change. Including Jenny, who both helped family when their backs were against the wall as well as held it over them for gift certificates. I love to see the evolution of the kids as they grow up, but I want to Jenny to stay just as she is. I also root for Alan Rickman in all of his movies whether he's the villain or not, so we're basically soulmates.

90s Stuff: The last chance to have some 90s nostalgia, and there's not really any to be had. Still, thanks for all the throwbacks, FOtB. I'm excited to spend a couple episodes in the early 2000s before we sign off. I hope someone gets some frosted tips before the end.

Best Quote: "Hans Gruber is actually the hero of this story."

A Seat at the Table


Historically, FOtB has handled the day-to-day indignities of racism very well. This remains true in this episode, as Jessica takes what turns out to be a made up position at a private school where her only job is to rubber stamp any ideas that her white colleagues have that involves "diversity," aka serving tacos for Hispanic History Month, and be their shield when they've made a racially insensitive mistake. Jessica understandably struggles to decide if she should keep the job or not; whether it's better to have a seat at the table and try to make change from the inside or to at least try to find another job in a private school that will appreciate her individual contributions. Louis is just as lost in how to advise her. It's not an easy decision to make, and making headway seems hopeless. However, in true Jessica fashion, she figures out to use the school's dependency on her to her advantage. And she got her and her bunny friend Mr. Buns a better office out of the deal. It's a solid A-story, and the rabbit is very cute.

In a flip of the Christmas episode, the boys story is the lagging of the two plots. Again, it's nice to see the dynamics between the three explored, with Evan expecting that spending time in high school will mean hanging out with his brothers like they do at home. He's right in that age where his fantasies now have a hip-hop soundtrack to them, like Eddie's always have, but his fantasy drink of choice is still chocolate milk. It's kinda adorable. And I enjoyed the heart-to-hearts between the boys, including more variations on idioms that Louis and Jessica misuse. However, since we've gone over the brothers deciding whether to hang out or not a couple of times now whenever one of them moved up a grade, this is some pretty well tread territory. It's not a bad plot, but it's hardly treading new ground, and a little disappointing in one the show's final episodes.

2000's Stuff: Nothing yet. Still waiting on the frosted tips.

Best Quote: "Immigrant parents. Great at raising kids, bad at idioms."

So what did you think? Did you enjoy the last Christmas episode? Are you dreading the last couple episodes? Curious about the backdoor pilot? Let me know in the comments below!