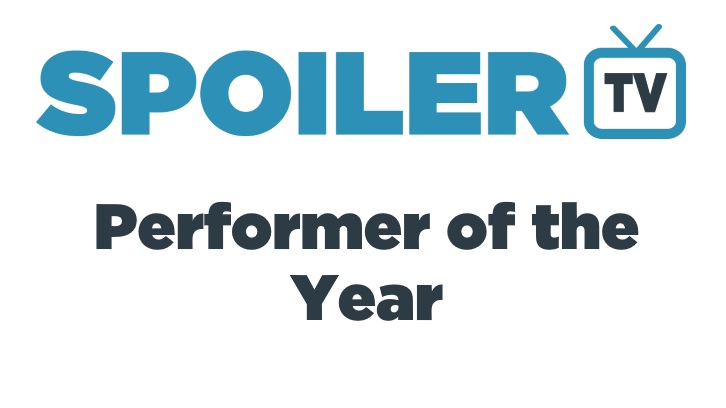 Results:

This round of POTY was easily the wildest we've ever had. It came right down to the wire with the top groups fighting it out right up until the poll closed on the reader side all leading up to an unprecedented tie. After some internal debate, we decided to let both winners stand instead of doing a run-off. Both are amazingly deserving and we look forward to having them both represent the feature as this year's Readers' Choice winners. The staff side wasn't quite as intense, but it was close with the lead spot changing hands many times. It was a true battle of the titans this year.


When a performance makes your body so spellbound with cold that no fire can warm you, then you know that it is poetry. Hailee Steinfeld's performance as Emily Dickinson first hits you as unusual, unique; then you realize the word you are looking for is genius. There is nothing and no one to properly compare Steinfeld's work to, so incredibly new her performance feels, yet you know in your gut that you are watching something fresh and wonderful. The best way to describe it is that it's a "different kind of love poem," a tribute not only to the spirit of Dickinson herself but to everything she represents. Creativity and imagination that couldn't be diminished by any constraints of time or medium. Steinfeld brings thrills to everything that Emily does and experiences, making even death itself a thing of beauty. It's hard to believe that one artist could pull off a role that encompasses all that this one does, but Steinfeld has established she's no ordinary artist. Our readers agree, and hence they voted her as one of SpoilerTV's 2019 Readers' Choice Performers of the Year.
One of the rare performers to win Performer of the Month simultaneously from our readers and our staff, Oliver Stark is just one of those special artists that we can all agree we adore. His character Buck on the smash hit
9-1-1
is equally beloved, thanks to Stark's apparent refusal to turn in anything but his one-hundred percent best work in every episode. In 2019, Stark took Buck through a number of wringers, challenges physically and emotionally harrowing. His character experienced and overcame traumatic hurdles frequently but did so in a manner that didn't lessen their importance on his character's development. Again and again our readers share how much they love Buck's heart and attitude, as well as how much they appreciate Stark's depiction of Buck's journey. It comes as little surprise that ultimately our readers voted Oliver Stark as one of SpoilerTV's 2019 Readers' Choice Performers of the Year.
After the stunning conclusion of the premiere season of
Killing Eve
, the big question was how will they top that? And the answer came quickly in the opening episode of Season Two. While the first season showcased the talents of series star Sandra Oh, Season Two firmly belonged to the other half of the dynamic team that dominate the show, series co-star, Jodie Comer. She takes Villanelle on quite the journey this season. The enigmatic assassin that fans love went from recovering from being stabbed by Eve, to being a victim, a free-lance contractor, reluctant ally and then adversary. Comer became as chameleon-like as her character transitioning from mood to action in an instant in a masterful season-long turn. Her tremendous work has garnered her such accolades as a BAFTA, an Emmy, Golden Globe and Critic's Choice nominations. For her incredible body of work in the rising excellence of Season Two of Killing Eve, particularly for her work in
Desperate Times
(2x4), Comer has now also been selected as Spoiler TV Staff Choice Performer of the Year.
Look for the winner articles for Hailee Steinfeld, Oliver Stark, and Jodie Comer by mid-February. In the meantime, please use the comments section to discuss these two very worthy winners and their incredible fellow nominees.
Original Post:
The 2019 round of POTM was one of the most interesting yet. We had several firsts and many surprises. In the end, we were left with a strong list of winners.
Now it is time to determine who will be the 2019 SpoilerTV Readers' Choice Performer of the Year. The results will remain hidden for the duration of voting. The results of this poll and the Staff voting will be revealed after the poll closes.
2018 Staff's Choice Performer of the Year: Sandra Oh
2018 Reader's Choice Performer of the Year: Alycia Debnam-Carey
January Winners:
Readers' Choice: Jared Padalecki (Sam Winchester) - Supernatural
Staff Choice: Andre Braugher (Captain Raymond Holt) - Brooklyn Nine-Nine
February Winners:
Readers' Choice: Jensen Ackles (Dean Winchester) - Supernatural
Staff Choice: Hale Appleman (Eliot/The Monster) - The Magicians
March Winner:
Readers' and Staff Choice: Camilla Luddington (Dr. Jo Karev) - Grey's Anatomy
April Winners:
Readers' Choice: Matthew Daddario (Alec Lightwood) - Shadowhunters
Staff Choice: Jodie Comer (Villanelle) - Killing Eve
May Winners:
Readers' Choice: Tom Ellis (Lucifer Morningstar) - Lucifer
Staff Choice: Chyler Leigh (Alex Danvers) - Supergirl
June Winners:
Readers' Choice: Suranne Jones (Anne Lister) - Gentleman Jack
Staff Choice: Jared Harris (Valery Legasov) - Chernobyl
July Winners:
Readers' Choice: Alycia Debnam-Carey (Alicia Clark) - Fear The Walking Dead
Staff Choice: Nicole Kidman (Celeste Wright) - Big Little Lies
August Winners:
Readers' Choice: Hannah John-Kamen (Dutch/Aneela) - Killjoys
Staff Choice: Cara Delevingne (Vignette Stonemoss) - Carnival Row
September Winner:
Readers' and Staff Choice: Oliver Stark (Evan "Buck" Buckley) - 9-1-1
October Winners:
Readers' Choice: Stephen Amell (Oliver Queen/Arrow) - Arrow
Staff Choice: Cobie Smulders (Dex Parios) - Stumptown
November Winners:
Readers' Choice: Hailee Steinfeld (Emily Dickinson) - Dickinson
Staff Choice: Jean Smart (Laurie Blake) - Watchmen
December Winners:
Readers' Choice: Katherine McNamara (Mia Smoak Queen) - Arrow
Staff Choice: Molly Parker (Maureen Robinson) - Lost in Space
Now comes the hard part where you can
only vote for 1 performer
. The poll will be live until
Tuesday, January 14th at 6 pm ET
. After you vote be sure to make a pitch in the comments section for what the performer you voted for most deserves to win.