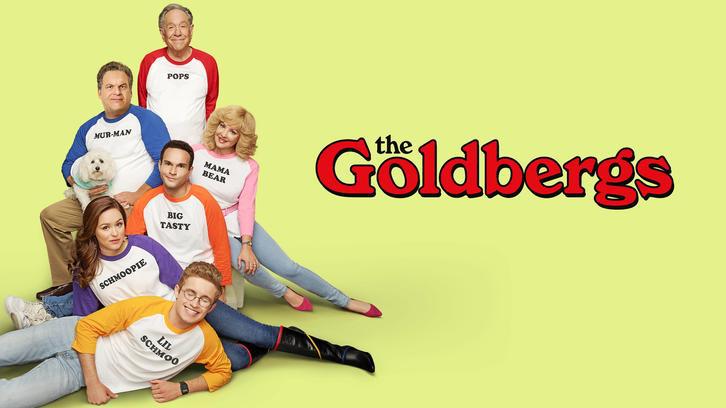 Beverly Goldberg is known for her unique cooking and recipes, including a burger with lasagna for buns and a salad made entirely of cold cuts, cheeses, and ranch. Now, she wants to get her recipes published in a cookbook. Unfortunately, she keeps receiving rejection after rejection until one publisher decides to give her a chance. The only caveat is that she needs to add a few personal stories of the origins of the recipes and she only has 48 hours to do it.

Meanwhile, Erica and Barry keep getting on each other's nerves now that they are sharing a dorm for the semester. They've both been able to keep it together so far until Erica's had enough and kicks JTP out for the night. Feeling frustrated, Barry puts Geoff (a neutral third party) right in the middle and asks him to create a set of rules and boundaries for both siblings to live by.

With her rewrites done, Beverly shows the final draft to Adam, who discovers the cookbook to be far too detailed, with gory details of family tragedy. It's a 400-page nightmare of deep family history (mostly non-food related). She asks him to read the whole thing before she sends it in, as this is the only publisher that's shown any interest. He reluctantly agrees.

Geoff has created a detailed binder of guidelines for Barry and Erica to help improve their living situations. The two can't agree on the terms and decide to make Geoff their full-time referee (a Geoff-eree as they call it). After resolving their first dispute, they both agree that having Geoff be their mediator is what's best.

Adam looks to Dave Kim for advice on how to proceed with his mother's cookbook. They both agree it cannot be submitted for publication but Adam must now find a way to break it to Beverly. Luckily, a teacher gives him advice on the "compliment sandwich," meaning he should stick his criticism in-between two compliments. Adam fails at delivering said sandwich and essentially tells Beverly to rewrite the entire book. She's devastated.

Geoff's mediating starts to falter when a JTP night results in Erica being very unhappy with Barry and Geoff. The siblings keep finding loopholes in Geoff's guidelines and exploiting them to the fullest, like Barry taking the computer from Erica just to vindictively cuddle when she needs it for school work.

Seeking validation from other sources, Beverly gives the book to Murray and Pops to read. They both read the book in horror, pointing out the same flaws that Adam noticed. She comes to the realization that maybe Adam wasn't simply being a moody teenager. She tries to make it up to Adam with a special dessert and acknowledges that her book was a little overbearing on gore and death. Adam points out that the apology dessert she made for him has a happy backstory from their own family and that she should use those stories in her book. She agrees but makes him write it for her and act as her ghostwriter.

Barry and Erica decide to take matters into their own hands and split their room down the middle after Geoff fails to find real solutions to their issues. The two start acting like children and Geoff snaps. He's tired of being their referee and says the only thing worse than how they treat each other is how they treat him.

The publisher hates Adam's draft of the book and says it's too sappy seems like it was written by a simpleton. He gives her another 48 hours to rewrite the book. She tells Adam it's over and that she won't make the changes. She feels disappointed and essentially declares it another failure in her life.

Barry and Erica apologize to Geoff and agree that they were treating him poorly. He insists that he won't be resolving any more living disputes but it won't be necessary because Barry reveals he has moved out of his dorm to a new, sketchy apartment with JTP. Erica asks Geoff to move in with her and he happily accepts.

Adam encourages Beverly to finish the book and to pursue her dream. They agree to use the best of both of their earlier edits to create a better final draft, which the publisher accepts.


What did you think? Leave a comment below!