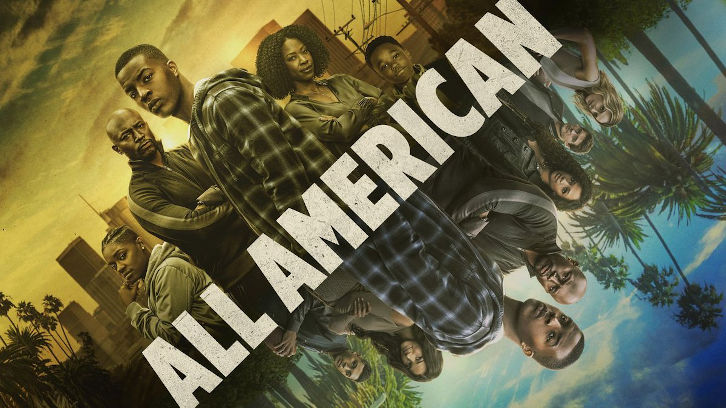 "Life Goes On" was a really beautiful episode with characters learning truths, hard lessons, and generally figuring things out. Spencer deals with his grief over losing his father, Asher demands the truth from his parents, Jordan is in for a surprise, and Layla makes an important decision regarding her health.

Grace, Spencer, Dillon, and Darnell are still reeling from Corey's death when this episode begins. I loved the scene with Spencer, Dillon, and Darnell at his grave site. I'm glad these three are there for each other during this incredibly difficult time. The national football rankings are also coming out this week, and Spencer is #57. This is incredible. He's the 57th best player in the country. He tries to be happy about this and uses football to replace his feelings of grief which ends up not working.

Darnell also makes the list of the top football players in the country, and Grace and Spencer host a party to celebrate. He is #164, and while it's not #57, as Spencer points out, it's still pretty good. I can't believe how much I like Darnell now especially after I couldn't stand him earlier in the season. I just love his relationship with Spencer. I'm so happy that he's going to live with Grace, Spencer, and Dillon, and I look forward to Spencer and Darnell bonding more and developing their brotherly relationship.
Moving on to Jordan. He is finally the guy I've wanted him to be all season long! I get that he was upset that Simone lied to him about being the father of her baby, but I'm glad that he realized Simone is just scared. And props to Olivia for telling him that there's only one side in this: the baby's. I was so proud of Jordan for telling Simone that she could have the crib he put together, and he's still going to be there for her. I like this Jordan; this is the guy from season one that I liked. And I think that having a friendship with Simone will be good for him.
Later, Olivia takes Asher to the place that always makes her feel better: the fountain. He tells her he doesn't know what he would do without her as she's the one person who has stood by him. She says that's what friends are for, but he makes her realize they're more than friends. After this week he doesn't want to be dishonest: he doesn't want to be just friends. She's still scared because his friendship is the best thing in her life, and she doesn't want to risk that. But they have a chance for something even better.
"What if I told you I'm in love with you?"
And finally, we have Coop and Patience's story this week. I'm glad that Coop publicly admitted she was wrong about not being honest with Patience. Patience has a beautiful voice, and I absolutely love that song! Patience and Coop are just better together. However, Coop's happiness is short lived as the episode ends with Tyrone making an appearance. Ugh. I hate that Tyrone is back. This makes me so scared for Coop and her safety!
Other Thoughts:
- While I am excited Darnell is staying, I hope he doesn't convince Spencer to transfer back to Crenshaw. Spencer belongs at Beverly.
- I'm sad that Laura gave Billy separation papers especially since I thought they were making progress in the last episode. I do understand it though. She needs to move forward, and she doesn't know if she can completely forgive Billy. I'm still rooting for them, but at this point I don't know what will happen. And I wonder how this will affect Jordan and Olivia.
I'm sad we have to wait until over a month for a new episode, but I know it'll be worth the wait. The first part of this season has been amazing, and I expect nothing less for the second part. I liked the first season of
All American
, but these past eight episodes have been incredible in developing stories, characters, and relationships. These writers know what they're doing.
What did you think of the mid season finale? Don't forget to tune in January 20 for an all new episode!