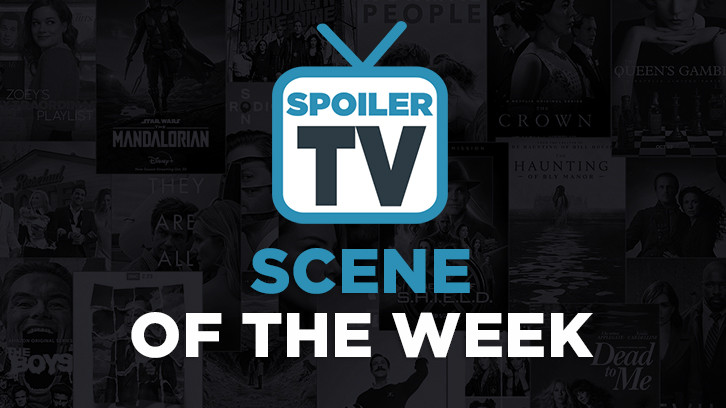 A weekly feature in which we're trying to find the most compelling, best acted, written, directed and just generally great, memorable scenes that we've seen in past seven days on TV.

BATWOMAN, "Crisis on Infinite Earths: Part Two", December 9, 2019, Actors: Tom Welling, Jon Cryer, The Scene: Lex Luthor meets Clark Kent of Earth-167
Prpleight: Clark decks Lex. Lex has roamed universes killing Supermen. He's arrogantly prepped to take out Smallville's incarnation of Clark Kent (Earth-167) when he discovers that this Clark gave up his powers to be a farmer and family man, and it blows Lex's mind. (What blew my mind was Lois giving up her reporting career to live on the farm.) Lex throws the first punch but Clark ends it without breaking a sweat. Ha!
Jamie: Smalville!Clark Kent punches Lex Luthor. I laughed so hard during this moment. It was great to see both Clark and Lois from Smallville again. But here we have Lex Luthor who does nothing but complain about Superman and his superior strenght, that he could totally take him if Superman didn't have powers. And a powerless Clark just decks him. Absolutely brilliant.

CASTLE ROCK, "Clean", December 11, 2019, Actors: Lizzy Caplan and more, The Scene: The book signing
Laura B: The final scene - The book signing. This season did a wonderful job at not only combining elements from Sun Dog, Needful Things, Salem's Lot, and of course, Misery, but it gave Misery in particular one hell of an origin story, which includes the heartbreaking truth of its final scenes and how Annie ends up alone, coming to obsess over Paul Sheldon and his Victorian heroine, Misery. Of course this was the only real resolution we got from the season two story. Everything else, including the state of [Prime] Castle Rock has been left up in the air! I hope HULU renews it asap!

EVIL, "7 Swans a Singin'", December 12, 2019, Actors: Mike Colter and more
The Scene: The final scene
Laura B: Final Scene - David is stabbed. The past couple of episodes have been packed full with King references, tropes, and riffs, and this episode, including its Gareth-Braindead or Cary-TGW dramatic-episode-enders was no exception, but I have to admit this scene was a much darker portrayal and one of the King's most brutally filmed scenes to date. Am I watching Darkness at Noon?

HIS DARK MATERIALS, "The Daemon-Cages", December 8, 2019, Actors: Dafne Keen, Ruth Wilson and more, The Scenes: Mrs Coulter saves Lyra & Mrs Coulter and Lyra talk
Justyna: This might have been the best episode of the series yet. It was certainly the most intense, memorable and haunting experience. The cast did a fantastic job in all their scenes but the highlight of the hour for me has to be the conversation between Lyra and her mother where Mrs. Coulter tries to explain her motivation and decisions and Lyra plays along until she makes a clear choice of her own. Both Dafne Keen and Ruth Wilson are fantastic in this moment. Mrs. Coulter does her best to try to comfort her daughter, she promises that she won't allow anyone to cause her any harm. She also offers to keep her friends safe, but she continues to believe in the work she's doing and attempts to justify her actions to Lyra. Marisa appears to be almost kind during this conversation, understanding, even motherly in a way. But then it becomes clear that she's unshaken in her convictions, she truly believes in the cause and the fact that her work is essential and she is willing to sacrifice "a few" to save the future of all. Lyra stays strong throughout the entire scene, she asks questions, demands answers but she understands how she needs to act, what she has to say in order to achieve the result she needs. She manages to manipulate Mrs. Coulter to briefly believe they are on the same side. She acts as if she's grateful for the rescue and glad to hand over the alethiometer. She causes a distraction which lasts long enough to allow Lyra to get out of the room and lock her mother inside. It's a powerful image, to see the two of them on the other side of the door, screaming at each other with everything they got. These two are somehow very similar but also so different at the same time. I'm very excited to see where this story goes next. Kudos!
Milo: Mrs. Coulter rescues Lyra before she can have Pan taken away from her. This was such a good scene, with both Wilson and Keen displaying sheer looks of terror upon learning Lyra's fate - it was the most nerve-wracking it's been for Lyra yet this season and even with knowledge of what happens in the books, there was a real danger that Pan could be lost.

LEGACIES, "This Christmas Was Surprisingly Violent", December 12, 2019, Actors: Danielle Rose Russell, Jeff Pillars and more, The Scene: Santa Claus fights Krampus
Jennifer: Santa Claus fights Krampus and rips out his heart with his bare hands. I was not pro-Legacies when it was first announced, but I have been proven so happily wrong. I love this weird little show. I love that after building this complex and interesting world for two very dark shows, these writers have finally decided to have some fun in it. I love the unicorns and the musical numbers and I love, love, love that Santa Claus fought Krampus. It's awesome.
Prpleight: Santa got some skills! It even ended with a classic Klaus move....pulling the heart out of Krampus' body. So much fun.
Marko: Santa vs Krampus. I just died from laughter. That scene was so sweet and hilarious. Perfect Xmas time scene.

NANCY DREW, "The Hidden Staircase", December 11, 2019, Actors: Kennedy McMann, Scott Wolf, The Scene: Carson and Nancy rebond in the warehouse
Dahne: Carson and Nancy rebond in the warehouse where Nancy solved her first case. To be honest, Nancy is one of the most irritating new characters for me and I am this close to dropping the show. However, this episode helped alleviate one of the key flaws of the show for me - the father-daughter relationship - at least for one episode. I love how they could finally talk and Nancy dropped her walls to let her father in, accepting the comfort and support he was offering. It was one tiny step towards the Nancy Drew I loved as a kid. While the ending could ruin it in the next few episodes, it was a heartwarming scene and one of my favorites of the series so far. (Finding Ted was a great scene too.)

SEAL TEAM, "Unbecoming an Officer", December 11, 2019, Actors: Toni Trucks, David Boreanaz and more, The Scene: Bravo Team stands up for Lisa Davis
Prpleight: Last week Lisa was forced to physically fight a couple of jerks (possible rapists?) who refused to take "No" for an answer. A cop stepped into an elbow shot (she thought it was one of the jerks) and arrested her. She didn't mention the situation to anyone at command and ended up in a disciplinary hearing with her career on the line. Bravo Team rushed back from a mission, in order to stand up for her at the hearing. Lt. Commander Blackburn once told Lisa she had a group of the most egotistical men in the world eating out of the palm of her hand. In this moment they proved that they would always have her back. It was really nice to see.

SINGLE PARENTS, "Good Holidays to You", December 11, 2019, Actors: Brad Garrett, Kimrie Lewis
The Scene: Douglas and Poppy say "I love you" to each other
Klutzy girl: It was a sweet, adorable moment between my favorite ship on the show, and I'm still down. They're so great together!

SUPERNATURAL, "Our Father, Who Aren't in Heaven", December 12, 2019, Actors: Ruth Connell and more, The Scene: The reveal about Rowena
Klutzy girl: Rowena is Queen of Hell. It's what she deserves, and I'm so happy for her! I'm excited to see what she does with the job after already witnessing her in action.

THE FLASH, "Crisis on Infinite Earths: Part Three", December 10, 2019, Actors: John Wesley Shipp, Grant Gustin, Melissa Benoist, Ruby Rose and more, The Scenes: Earth-90 Barry Allen's sacrifice & The last Earth disappears & Batwoman faces down Supergirl
Justyna: I spent quite a long time trying to decide which moment to highlight from the episode. I loved everything about Black Lightning's appearance and his interactions with the rest of the characters. I felt like Kingdom Come Superman's speech about hope was such a brief, but perfect Superman moment. He was exactly what I would hope Superman to be, the one who talks about hope being the light that lifts us out of darkness. Then there's also the entire final sequence which took me completely by surprise, especially with that end twist. So many great moments worth highlighting, but ultimately I decided to go with Earth-90 Barry Allen's sacrifice. We've seen John Wesley Shipp portray multiple characters on this show and this one is actually the one we technically know the least, well, those of us who have never seen "The Flash" from 90s anyway. But still, his performance was wonderful, his dynamics with Grant Gustin are always heartfelt and his presence made a much bigger impression on me than I had predicted. In fact, it feels like I should be used to that by now, but even though it wasn't hard to guess that Earth-90 Barry Allen would take our Flash's place I definitely didn't expect it to hit me like it did. Seeing that brief clip from an old show that I've never watched proved to be such an important, emotional moment for me. A true hero has fallen. Beautifully done. Kudos!
Marko: Earth-90 Flash sacrifices himself for Barry. It was a twist fans saw from a mile away but the way it played out was an emotional wrecking ball. JWS delivered a brilliant, emotion-driven performance, breaking all the hearts on infinite Earths.
Klutzy girl: The multiverse falls and only seven people are left alive. It was a horrifying moment but an amazing set-up to the conclusion of the Crisis arc next month. I'm excited to see how they fix it!
DJRiter: Batwoman faces down Supergirl. When Supergirl, desperate to restore her world, considers using the Book of Destiny despite the Monitor's warnings it's up to Batwoman to stop her from making a mistake. It was a standout moment showing Batwoman deserved to be called Paragon of Courage. We need more of these two teaming up! Kudos to Ruby Rose and Melissa Benoist who killed it in this scene, especially Rose who went toe-to-toe with Benoist! It was perhaps her finest moment as Batwoman.

THE MANDALORIAN, "Chapter 6: The Prisoner", December 13, 2019, Actors: Pedro Pascal, Bill Burr, Clancy Brown and more, The Scene: The Mandalorian takes down the crew
Justyna: This is such a great show. I continue to enjoy the story and all the characters we meet along the way. This time the Mandalorian took a job to free a prisoner from a New Republic ship. Even though he didn't want to go against the New Republic he wasn't left with many other options to consider. He joined a small crew and did his part in their mission. It seems like a simple prison break story right until it turns out that part of the plan was always to leave Mando behind and have him take the prisoner's place on the ship. Of course he manages to find a way out of his cell and goes after those who have betrayed him. The entire sequence where he takes them down, one by one, is wonderfully done. At first I thought that he's killing his opponents but the truth ended up being much more satisfying than that. He's able to contain Burg, a large Devaronian and the muscle of the crew, and trap him between the doors. He stops Xi'an from using her knives against him and then he does the most Batman thing I can think of - uses the blinking lights and the darkness to go after Mayfeld, scaring him from behind and leaving him out of options. The Mandalorian's past is still quite a mystery to the viewers but I like learning a bit more about him with each episode. He's certainly growing on me and I continue to love all his interactions with Baby Yoda. I can't wait to see next hour already. Kudos!
Laura B: The Mandalorian breaks free and contains the others. In a lot of ways, this episode felt a little bit more like a filler compared to the other five episodes, but it still offered a look at some interesting things from a New Republic ship & droids, to some super seedy villains, a glimpse at the Mando's more recent past, but most of all it had cool spaceship centric battle sequences like in this scene where the Mando escapes, takes on the others, and leaves most of them behind!

V WARS, "It's Not Enough to Have Lived", December 5, 2019, Actors: Ian Somerhalder, Kyle Breitkopf
The Scene: Luther finds out Dez has the mutation
Marko: Marvelous performance from Ian as he is confronted with the fact that his son has the mutation that would eventually turn him into a Blood. The way he weeped and covered his face was heartbreaking and full of emotions.