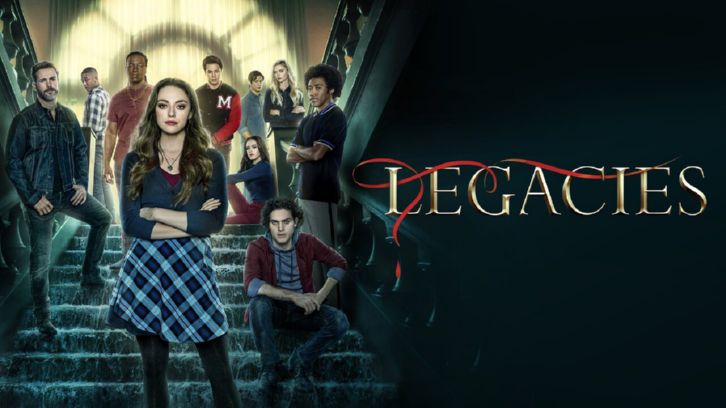 This week on Legacies, Josie took a trip to New Orleans to find out more about Hope. Freya helped her with a spell and then Josie attacked her. Despite being hesitant, Josie performed a spell that reversed everyone's memory loss of Hope. A creepy monster that looked like a scarecrow showed that could liquify people who kept secrets. So, of course, it had a blast chasing after Lizzie and Hope. They managed to destroy it after the memories were restored. Landon was pretty pissed off that Hope didn't say anything to him. Rafael told Hope he'd keep his distance for Landon's sake once again. Landon is now torn between Josie and Hope. Freya and Hope were reunited. Meanwhile, MG and Kaleb (and Kaleb's sister) chased after Sebastian who turned out to be not that evil. MG fessed up to Lizzie about Sebastian. When Ethan goes jogging in the cemetery (WHY?!) the cloaked figure we've seen the past few weeks grabs the zombie that was chasing (slowly of course) Ethan and used his blood to spy on MG. I swear I'll dedicate a segment to this soon but I'm still so confused.

Finally! It only took 22 episodes but we finally got an appearance by another Mikaelson. It was so good to see Freya again. And to learn little tidbits from her life, like that she named her son after Klaus. I'm glad she noticed something was missing, despite not remembering who it was. And let's face it, there were probably a bunch of Hope pictures everywhere. The entire Mikaelson clan basically adored her. I was a bit worried that her scenes with Josie would be all we'd get since she didn't seem to appear anymore after that. But thank god for that final scene between her and Hope. It was 100% necessary. Despite that everyone suddenly remembers her again, Hope still somehow ended up alone at the feast. And then Freya shows up at the exact moment that she needed it. That scene nearly made me ugly cry in front of my family. Calling it now, it'll probably be my favorite scene of the season. And let's hope that this isn't Freya's last appearance.

Let this be the end of it: Josie has slowly been working her way towards becoming my least favorite character this season, which is odd because she was one of my favorites last season. It all seemed to come to a head this week with a crucial decision. One that should've taken her less than a second to make. I can't believe she actually considered erasing everyone's memories of Hope permanently. Or just to leave things like they were. No boy is worth putting another girl through that. Thank god for Caroline. You know, I kind of wish we could've seen Josie and Penelope together in a relationship. I want to know if she's this jealous in every relationship or if Landon just brought that out in her. And I guess there's also something to be said of how the absence of a specific person in your life can change your personality. What if the reason Josie and Lizzie are so different this season is because of the absence of Hope?
Everybody loves Hope: I don't think I've ever seen a girl with this many love interests. Let's recap, there's Landon, Rafael, Ethan who she was suddenly flirting with this week, Josie who she confirmed to have had a crush on (yay, bisexual Hope. I knew it!) (and unofficially Lizzie). Did I forget anyone? This is turning into a very messy situation. I'm gonna make a prediction here on how this is all gonna unfold in the near future. I think Hope and Landon are going to stay apart, for now, the writers seem to be hinting at that and I think it'll still be Landon and Josie for the next few episodes (though I doubt that will go very smoothly). And my guess is that something will happen between Hope and Ethan now that Rafael has taken himself off the board (was I the only one who was reminded of Delena in 2x08 during his speech?). But I doubt that'll last long. Ethan doesn't strike me as a character that will stick around for long. Though I do think the idea of him and Lizzie is interesting.
From villain to hero in 2 seconds: As for Lizzie's love interest(s), things with Sebastian went very quickly this week. Turns out he didn't actually kill Wade (btw, what is Wade, anyway?), just wounded him. And he doesn't seem to be the villain we initially thought, just a bit dramatic. By the end of the episode, he had already gained MG's trust, enough to apparently walk around without chains. And MG sure made a mess of things. I can't believe he let Lizzie think she was imagining Sebastian for that long. I know he was scared of her reaction but that's really no excuse. Still, though, now that he's not a villain, I wonder what the writers are planning for him. I still assume it's a bit more than merely being Lizzie's love interest.
Question: So, everyone who was affected by the memory spell was knocked unconscious (sure hope no one was driving at the time) but it was more than just the people who had forgotten Hope. Sebastian was also affected which leads me to believe that it wasn't just the memories of Hope that were erased, but the memories of every creature in Malivore. Now, this won't be that much of an issue. Most of those creatures are ancient and most of the people who have forgotten them are no longer alive. But still, I wonder if any of the older characters from this franchise suddenly regained the memory of a dragon or something. Can you imagine if Damon is sipping his coffee and reading the paper and suddenly he remembers that dragons are real? And does Landon remember everything relating to his mother now? Also, does this mean we can shelve memory loss storylines forever now? Because after all of this I'm really sick of those.
Best quotes: Freya: "And how old are you claiming to be?" Josie: "21-ish."
Ethan: "Ruined by an old, white guy politician, though? Totally plausible. How did that guy win an election? " Hope: "Democracy… isn't what it used to be."
Lizzie: "Maybe you were too busy flirting with the muggle."
Landon: "Wait, wait. There was a Minotaur?" Lizzie: "Yeah, not everything's about you."
Landon: "Why does everyone assume I have super strength?" Lizzie: "Trust me, no one thinks that."
That's it for this week. Check in again next week for an all-new review and let me know in the comments what you thought of this week's episode.
Please be respectful in the comments, any unnecessary rudeness isn't welcome.