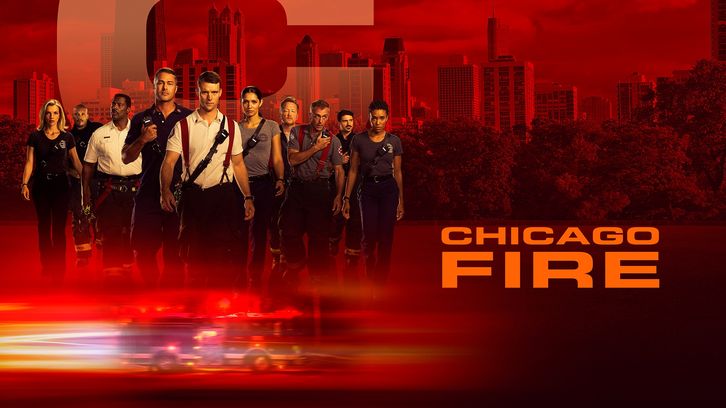 Before I get into BEST FRIEND MAGIC, I will do a quick recap of the episode before, Seeing Is Believing. Hermann was able to convince the CEO of the company responsible for the mattress fire that killed Otis to quit using polyurethane as the main product in his discount furniture after another one of his products caused a fire. The storyline showcased that Cruz's hope that Otis won't be forgotten is working because the CEO for ARNOW visited his memorial back at the house and vowed to make his products safer.

Chief once again set Stella on the leadership track by having her land a gig as an instructor at the academy. Stella is running herself ragged and gets in hot water at a call when Casey notices her head isn't in the game. Finally, Severide got a win at OFI by proving something WASN'T arson thus saving a woman's business. Does this mean, his detail isn't just him proving to Grissom he will always end up back at 51? I am starting to get scared that is the case. And now we discuss the very polarizing (I think we all know what I am talking about) episode BEST FRIEND MAGIC.

Can't Let People Down:

Severide is doing well at his temporary post, we knew he would, but it doesn't mean I have to like it. His usefulness to OFI just becomes more evident with each case he solves and it also doesn't help that LT. Seager is clearly interested in him outside of being arson gumshoes. He is now 2/2 in solving a case that is not what it seems. His intuition and ability to see where an initial investigation failed makes him a valuable asset to OFI. In this episode he exonerated a man framed for the strip mall fires and exposed the shady contractor who did cause the fires to collect insurance money. Of course said contractor now has him trapped in basement with a lit flare, but when Sev inevitably gets himself out of that scrape, will he decide he does good work at OFI and want to try that on for size for a longer period of time? I sure hope not because I just want him back at 51 and on squad. Speaking of squad, temporary leader Cruz got to have moment with Otis he didn't see coming.
Crotis Forever
Gabby?
Dawsey
. There she stands somewhat out of focus, while he looks on with loaded feelings. There was a lot of anticipation about what would happen when it was announced Monica Raymund would be returning as Gabby Dawson. Perhaps the dubious expectations I had that this would be a catalyst for closure are why I was unsettled by what transpired with her appearance. Let me explain....
I was a HUGE Dawsey shipper once upon a time; I cheered when Casey showed up at her door the first time they fully gave into their feelings, I cried buckets when they lost their baby and my heart swelled when he dipped her for a kiss after they got married. They owned my ChiHard heart, but her leaving meant that I had to put those memories in a vault and realize that love stories can come in all shapes in sizes. They let each other go physically and it was time for the party we still see every week, Casey, to move on and begin anew. That is why I hoped this episode would be a chance for proper closure, but instead they went down the rabbit hole once again.
The conflict of emotions that ran through me as Casey showed up at the benefit after a nudge from Brett were overwhelming. We found out Dawson requested to come to Chicago because of someone (Casey) and soon they were slowly dancing as the peripheral noise faded and the Dawsey score grew louder and more prominent and just like that, Dawson and Casey were falling into bed. All this moment did was make me feel sadness for both parties, because we know she isn't staying and that is where I begin to question, what was it all for? Is the show telling us to put them on indefinite pause and in the interim we will see Casey have occasional dalliances with Kombucha-loving IT girls and do good lawyers while his remains emotionally attached to Gabby? If that is the case, I am not sure I like that narrative. Once upon a time the show thickly laid on the idea that Casey desperately wanted to become a father, and I always assumed that was his endgame. How can that happen when he is holding out hope that he and Dawson will find each other again?
It has been a few days and the only word that continually springs to mind when I think about what went down here is
why
? Were the writers just too tempted by the low hanging fruit of the insane chemistry Monica and Jesse ooze when together on screen that they subverted the opportunity to close this door so Casey can move forward? Or are they telegraphing that if they can, Dawsey is and always will be the endgame they have in mind? I am not sure, but I feel like the needle on what will happen to Casey didn't move, but rather went in circles and returned back to dead center. I guess we will just have to continue to speculate about all things Dawsey until the writers give a clear indication of where this will end up.
Odds And Ends:
* I am happy that Seager's heart eyes are lost on Severide and it took Casey pointing it out to him to make him realize it was happening. He is completely devoted to Stella and I hope it stays that way.
* It was good to hear Antonio is doing well down in the Bahamas. The character deserves it.
* Brett's pained look when Casey said he went to the fundraiser and had a good time, jealously or just coincidence?
* I have never worn eyeliner and after this episode, I know I never will!
* Was I the only one a little disappointed that when Casey went to OFI to see Severide, he didn't talk about the rollercoaster of emotions he was on because Dawson was in town?
That is it for me, drop your comments below with you take about all things Dawsey. See you in January when Chicago Fire returns!