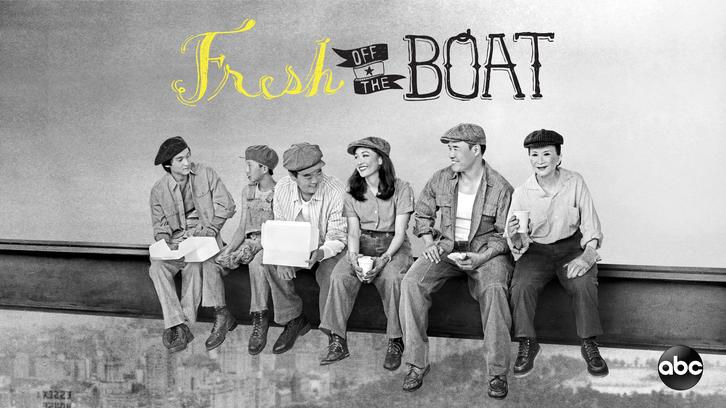 Today is a wonderful day in the neighborhood because the neighborhood ladies are back on this week's Fresh Off the Boat. I've missed them.


I said once that it must sometimes be stressful for Honey to be Jessica's friend. Really though, just living in the Huang's neighborhood seems to be an interesting experience. This week, Jessica's BFF didn't realize that taking up Louis's suggestion to make a blog was going to come with shouldering all of his new business anxiety herself. I mean, Louis clearly wasn't wrong about the potential of a mommy blog given how that industry has grown, but he didn't ask for her opinion on anything as he pushes her to make her blog into a serious business. As someone with anxiety (the clinical kind) myself, I felt for both of them this episode. On the one hand, starting a new venture, not knowing if you'll be good at it, especially later in life - it's terrifying. On the other, taking someone's fun release from stress and making it something that creates more stress is the worst. Randall Park and Chelsey Crisp play off each other wonderfully as two different types of chipper (intense and motivated, and chill and confused), making for an enjoyable A-story.

A quick aside - did anyone else have intense nostalgia over the look of Honey's blog? I suddenly missed the internet where I'd scroll through updates of what my favorite indie bands or actors were up to on their update blogs and hear music turn on as soon as I clicked into someone's MySpace page. Fandom was on fan sites instead of social media for the most part, and we didn't have as many big clashes since so many of us were sectioned off from each other. Is this hitting a nerve for anyone else? Cool, cool, I'm gonna go blast my old Paramore CD and try to open my Neopets account or something. Anyway.


The boys bonding from earlier in the season seems to have stuck, which is adorable. But it just reminds Jessica that she's missing out on time with her family now that she's spending so much time at school and studying, so she goes about trying to fix it in typical Jessica fashion. All of that is fairly typical of the show; the fun part is that that neighborhood ladies are back (yay!) and are trying to be more Italian with their mid-cul-de-sac median. Of course Jessica got it bulldozed, running over my dreams of a weekly bocce tournament that gets steadily more competitive over the coming weeks, with Martin eventually becoming a full time bookie to keep up, and then an epic finals with Jessica and one of her sons competing for the crown. It could've been their version of
Community
's paintball. Ah, well. As Emery said, "It was good while it lasted.
A solid if slightly disappointing episode - I want that bocce tournament! Did anyone else get serious old internet nostalgia? Do you wish they had gone full paintball with bocce? Let me know in the comments below!
90s Stuff:
Baby blogs (with view counts at the bottom of the page), "Are you not entertained?"
Best Quote:
"No wonder they prefer the median. It's smells like grass, not desperation."