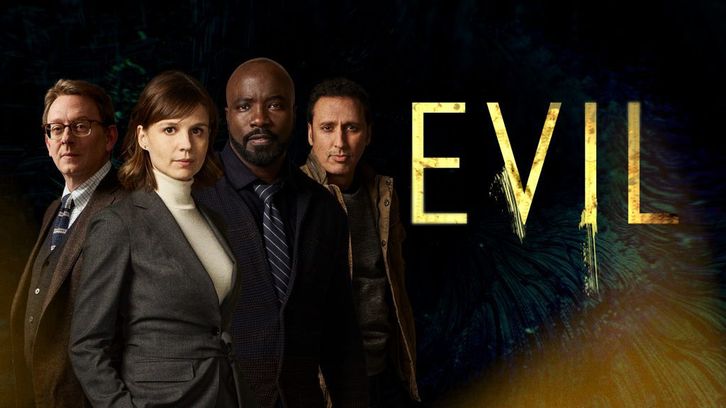 1.8 -"2 Fathers"
Written by Davita Scarlett and Nialla LeBouef
Directed by James Whitmore
Reviewed by KathM

Hello, and welcome to the magic carpet ride that was episode eight. Can you believe we're more than halfway through the season?
This episode gives us two reunions: David with his father and the Bouchard girls with their mountain-climbing dad. But not Kristen, at least for most of this episode. And why not Kristen? Because Kristen has gone off with David to find out why his father's paintings feature a sigil. In all fairness, Daddy B's arrival was a surprise. And Ben? He's busy dubbing scenes for the show he did on Halloween at the strip club for the faux ghost show.

David's papa Leon is a happy guy, living in an commune-like farm with a group of like-minded people and part of a throuple, one of who is expecting his child.
Note: Leon says that he began letting "the spirit" paint through him three years ago; Leland told Sheryl that something happened to him three years ago that made Leland realized that he was "too worried about offending anyone or anything." I wonder whether we'll learn about what happened three years ago, and who else might have had sigil-related experiences that we have yet to meet.
Kristen gets to know Esther and Cori, the other sides of Leon's throuple. Surprisingly, they're looking for a third to add to their own duo, and Kristen appeals to them both. Sadly she is already dealing with her flirtations with David and her feelings for Andy, her spouse, so her heart is pretty busy right now.
The Root Ceremony begins, with music and sangria flowing and people calling to their ancestors to appear. It's joyous and a little chaotic and despite the fact that one of them is supposed to be driving home, David drinks two cups while Kristen stops at one. She says she hasn't been this stoned in 15 years; David says it's been 15 days for him. The two of them dance closer and closer and nearly kiss when Kristen slips away to get some fresh air outside. David goes to follow her when a stunning woman approaches him and they begin to dance.
Kristen has forgotten another time-honored horror movie trope: cornfields. Stay away from cornfields! Do not go into the cornfields!!! Maybe it's a midwestern thing, I don't know. But I have seen "Children of the Corn" and I'll never set foot in one again. But Kristen was high and getting reacquainted with lightning bugs, so when she heard screaming I guess I can see her reason for meandering over. She either does or does not (sangria) come upon Esther giving birth to something that is not Leon's (we hope) and is most certainly not human. Esther is thrilled by the new addition but Kristen runs away, so freaked out that she doesn't tell anyone. This was the creepiest part of the episode, aside from the fact that we never see Esther again and have no idea whether or not she actually gave birth to a ghoul/devil/alien being or not. Sangria aside, you can't always believe your eyes on this show. And this is definitely a point to ponder.
David follows the woman he was dancing with into the barn to find his father there. The woman he followed was an ancestor, Leon tells him. Then he shows David the family history that he has found, including the origin of the sigil. It was used by the man who bought slaves, including some of David's relatives. By using the sigil in his own art, Leon feels that he's taken it back and given it a better use.
It was touching, yet tricky. Can you really just take a sigil and change its purpose? I don't think so. But it was still a beautiful tale, and I'm glad David and his father spent some time exploring their history.
At first Lynn is angry at her father for being away for so long, which I think it logical and appreciate her individual show of emotion. But once Andy starts sliding on mattresses on the stairs with some of the girls and playing the scary VR game, he's won them all over again.

And Ben? Ben has his own weird thing going on. Vanessa, the hot, intelligent woman he felt a rapport with during the filming of the "ghost" tv show is back, and there is still interest on both sides. They argue back and forth about how he'd called her and she never called back, then she looks at the number and tells him that her sister gave him the wrong number. She's protective. I'm sorry, her sister? Yes. You see, when Vanessa was younger, her sister died and has grafted herself onto Vanessa's right side. Spiritually. Okay.
I loved this episode so much! It had silly and serious with the scale tipped more toward silly and the players deserve that. Even though I think Leon lives somewhere that will ultimately turn out to be evil the next time David and Co. go there, it was still worth it.

PS - The next time we're in Leland's office, take a look at the walls. I think he may have one of Leon's pictures.