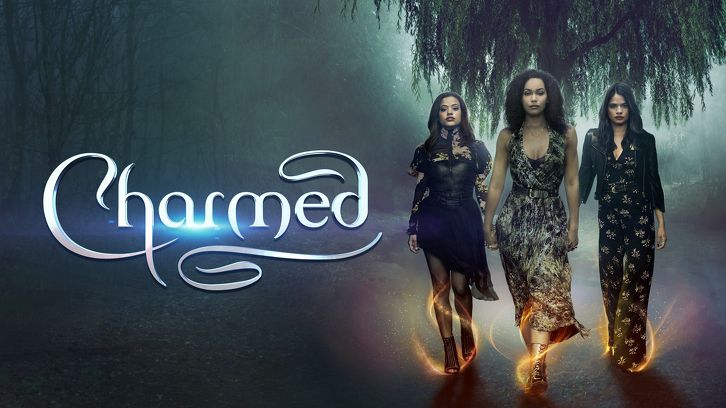 The 5th episode of season 2 was all about finding Macy and while the search wasn`t fruitful the episode provided some answers and revelations but also rose a couple of intriguing questions. While not the best hour of the season so far the episode it had some strong visual moments and some good sisterly moments. Tessa Blake directed the episode written by Johanna Lee.
Finding Macy was the main goal of this episode and while Mel and Maggie tried their luck with a forbidden spell, Harry let himself aid by Abigael. My opinion on Abigael wasn`t quite clear and it still isn`t she has her moments but then again at moments is really getting on my nerves. Abigael is a complex character and her slippery slop between good and bad is interesting to watch. Abigael is a product of circumstances, neglected and almost getting killed by her father, not accepted by the witch world, she is a reject. Where will her character go from here? No clue, but I certainly would like to meet her mother down the line.
Abigael used a special Caine demon skill (very convenient reveal btw) to enter the hidden spaces of Harry`s mind and boy what a mess did we find there. "Complete" Harry wasn`t the best human being, a cheater who abandoned his family and the information hit Harry quite hard. We definitely need more context the former life of Harry and I wonder if Darklighter Harry (better known in the fandom as Darry) has those memories and can shed some light on their previous life. Abigael`s and Harry`s run through his mind lead them to a special castle where the Dark- and Whitelighter`s were created and the later ones stored. It was an impressive scene, the visuals were top-notch and the story falls pretty well into place. The Sentinel back in episode 3 revealed that all magic comes with a consequence and the Elders creating the Whitelighter had one major consequence. It felt fitting to the tone of the story and where the writers are coming from. The big question though, who let Darry out? Ang gave him all these powers and weapons? And why do they want all those magical leaders caught? Many questions and I want all the answers.
Meanwhile, the powerless sister duo tried their best to get their older sister back. Mel and Maggie sharing scenes together is always a good thing. I wish the writers to dedicate this much of attention to Mel and Mac. Yes, we`ve got them together last week but there was Abigael as well and the bonding wasn`t on the required level. The spell the sisters used required something Macy dreads, denies herself and desires and while Mel and Maggie thought they needed three different items it turned out it was just one devilishly handsome Brit. Macy is one powerful witch and accomplished scientist, she doesn`t need much in her life to be "complete". Yeah, complete may be a poor choice of words but in the context, I think it works well. She is like 30-ty and has done so much stuff in her life and even as a witchy demon she found a way to accept herself and live freely with who she is, the way she is. And I don`t say a woman needs love in her life to be "complete" but having someone she loves only for her might fill out the possibly tiny whole in Macy`s life.
The Dog torment Mel and Maggie had to go through was just hilarious and the CGI was quite on point. The moment the sisters took to talk about their emotions and desires, was quite sweet. Mel confessing she has indeed feelings for Kat was sweet. The girls went through so much, having someone to just be there for them out of their whirlwind witchy life is much needed. Kat surprisingly turned into the savior when she texted the location of Macy`s diary to Mel. That was weird, considering Marisol gave her the information. Marisol looking out for her girls, WE STAN. So I wonder if Kat got these "powers"/ability from the astral plane experience or was she gifted beforehand.
The episode concluded with Harry finding out Darry "likes" Macy as well, revealing to the sisters he likes Macy and that Macy doesn`t seem in danger at all, and yeah Abigael escaped. And while I am a big Hacy shipper, in my opinion, we don`t need them to take over the season. Keeping the LI storylines on a down low rather and evolving subtly is something I prefer. The sisters and their dynamics should be at the forefront most of the time.
Other Tidbits:
- The Elders are the worst. Full Stop. Thx for coming to my Ted Talk.
- The Macy-Harry-Darry scene was so well done. Macy looked fantastic with that hair.
- If all the Whitelighters died, why is Helen still alive? And is her Alpha status just a disguise for a Big Bad grand scheme?
- Abigael`s kinky side is something I won`t ever get over. So hilariously misplaced through the episode.
- Funny is Sarah Jeffery is Nick Hargrove`s real-life girlfriend, so she probably does visit his Insta every day.
- Can the girls keep the Hellhound tracker dog? Just too precious.
- Kat`s last name is Chandra, which translates to Moon or to shine. Let`s overthink about that for a bit.
Next week the hunt for Macy continues and we get treated with a Mel-Harry team up, while Maggie goes on a deep dive to explore her new powers. Sources tell a well known Big Bad from the Original series may drop by. In the meantime, sound off in the comment section and tell me your thoughts on the episode. Thanks for reading and till next week. . .