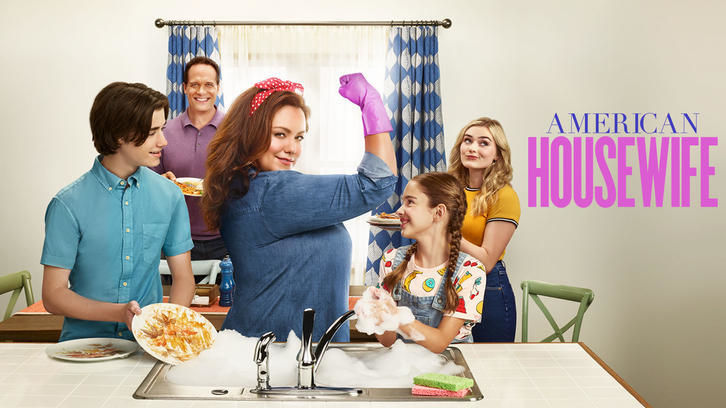 Holy moly Katie's about to 40!

Katie's starting to feel her age, but Greg's getting ready to celebrate it! He recruits the kids, plus Trip and Cooper, to secretly remake a photo taken of them all trying to make a cake for Katie's 30th birthday.

While Katie's dealing with the big 4-0, Angela and Doris have another situation on their hands. Doris' husband Richard stops by Angela's office, and declares he's divorcing Doris! He then asks Angela to represent him! Of course, Angela's answer is "Hell no," but it doesn't matter. Richard's got what he wanted. Since he technically talked to Angela about his legal affairs, she cannot legally represent Doris against him when the time comes. Angela tells Katie what's happening and the two realize they've got to figure out how to react when Doris tells them, so as not to let on that they already knew. Unfortunately, they're both terrible liars and Doris figures out something's up in a hot minute. The two go back in forth about what to do, but they end up breaking the news to Doris (in the onsie bathroom of all places!) Understandably, she's shocked and furious.

Doris decides that Richard must be leaving her for someone else. Then she decides to get even, by taking the words to heart of that age-old adage "the best way to get over someone is to get under someone!" She demands Katie and Angela accompany her for a night out on the town to act as her wing-women. Greg's having trouble finding a time that Katie's gone for them to recreate the picture. So when Doris insists that Katie and Angela go out with her, Greg leaps into action, evening encouraging Katie to take her ring off to prove that guys will still hit on her.

Unfortunately for Greg, both Oliver and Taylor have plans for the night and attempt to bail on him. So he decides to take a play out of Katie's playbook and ground them for bogus reasons. First, he grounds Taylor for leaving the refrigerator door open. Oliver catches on to what he's doing though and goes out of the way to avoid any kind of interaction with him.


At the bar, Katie, Angela and Doris let loose in an attempt to score Doris a hookup. But Doris isn't the one to get hit one first! Katie is - by a famous basketball player, nonetheless! He even gives her his number. Katie's thrilled that she can still get hit on. But the girls aren't there for Katie. They're there to help Doris find a rebound. And they find a guy for her! Just as Doris is about to make her move, she has a change of heart and the anger she's been showing turns to sadness. Apparently, Richard didn't cheat on her, he just doesn't like her. When Doris asks Angela and Katie if she's really that bad, they're at loss for words - because she kind of can be! They just like her that way!

The three again end up in the bathroom, where Katie and Angela convince Doris that she certainly has her redeeming qualities. And if Richard can't love all of her - the good and the bad, then he doesn't deserve her. Doris admits that she's been with Richard for so long she doesn't remember how to be by herself. Angela (who's a SERIOUS pro at being a divorcee) assures her it's actually pretty fun. Besides, now she only has to have her kids have the time!

Back at home, Greg finally finds a way to ground Oliver. He plants a baggie of "marijuana" (aka oregano) on him. Oliver protests, but Cooper actually convinces him to stay. With Trip and Cooper manning the camera, Greg and kids recreate the photo. Greg says he knows both Trip and Cooper are going to be around for the long run, and pulls them into the photo as well!

Katie arrives home and she excitedly tells Greg about her exploits out on the town and being hit on by a famous basketball player. While Doris may be getting a divorce, it's pretty obvious that Katie and Greg are definitely still perfect for each other!

Later on, Katie and Angela teach Doris how to use Tinder. And they accidentally swipe right on Principal Ablin!



Random Thoughts:
-I just about rolled at Trip not understanding that Oliver hadn't actually been given pot. He was ready to beat someone up for him!

-The best line goes to Katie when she and Angela are comforting Doris - "To hell with Richard. Let's throw all the suits in his Aston Martin and set it on fire!"

Were you surprised to see the end of Doris and Richard? Is there a very uncomfortable Doris/Principal Ablin date on the horizon? Let me know below!