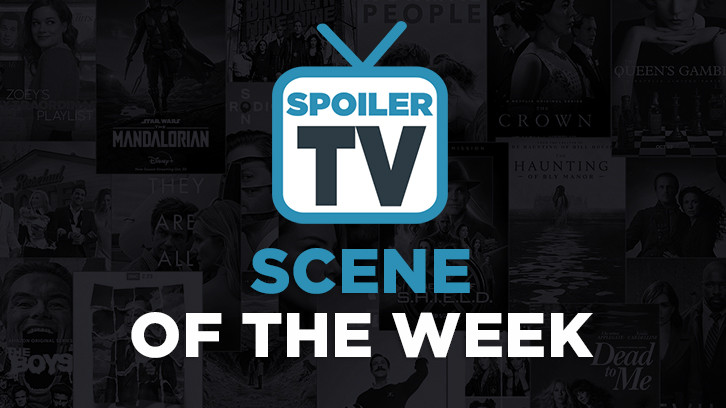 A weekly feature in which we're trying to find the most compelling, best acted, written, directed and just generally great, memorable scenes that we've seen in past seven days on TV.

AMERICAN HORROR STORY, "Episode 100", October 23, 2019, Actors: Leslie Grossman and more, The Scene: Margaret's fate is revealed
WK: In the campiest of retrospectives, viewers learn of Margaret Booth's fate post Redwood through "The Lifestyles of the Rich and Famous". Channeling Alexis Colby in looks and poise, we learn that Margaret accumulated wealth by reforming properties entrenched in murder. "I know people look at Spahn Ranch and think that's a bad place. But today little children frolic and eat funnel cake on the same grounds where Manson plotted the murders..." I could not contain my laughter! From Leslie's facial and verbal expressions, it was like I was reliving her days as Mary Cherry on Popular. She continues to shine through her comedic yet villainous performance, making Grossman the absolute standout of a rather uneven season. The fact that she's clearly revelling in the fun of this character makes her portrayal all the more fulfilling to see.

ARROW, "Welcome to Hong Kong", October 22, 2019, Actors: Katie Cassidy Rodgers, Stephen Amell, Audrey Marie Anderson and more, The Scenes: The heart-to-heart talk between Lyla and Laurel & Laurel calls out Oliver
Justyna: Laurel's grief proved to be one of the most powerful parts of the hour for me. It takes a lot to process any loss in your life. But losing an entire universe? That's something I can't even start to imagine. Earth-2 was so much more than just a different version of reality we know from shows like Arrow and The Flash. A whole other universe has just been erased (with all of its heroes and villains, men, women and children) and it's only a beginning of the fast-approaching crisis. The emotional impact of this tragedy was beautifully portrayed by Katie Cassidy Rodgers in all of her scenes throughout the hour. I could have included here any of these moments, but her conversation with Lyla proved to be important for a number of unexpected reasons. These two don't exactly know each other very well, but it's Lyla who ultimately helps Laurel find her strength and keep fighting. "We honor the dead by fighting for the living." Truly inspiring words for the most difficult of times. We also learn about a significant event from Lyla's past - very likely a setup for the reveal at the end of the episode. I also appreciate that the show took into consideration just how powerful survivor's guilt can be, never truly going away. It was an all-around good scene, wonderfully portrayed by both actresses. Kudos to cast & crew for the strong start of the show's final season.
DJRiter: Laurel-Lyla heart to heart - Forced to team up in Hong Kong Earth-2 Laurel and Lyla try to get information on rescuing a scientist for Oliver's mission. During their time together they have a powerful and effective heart-to-heart played brilliantly by Katie Cassidy Rodgers and Audrey Anderson.
Marko: Laurel calls out Oliver.

BATWOMAN, "Down Down Down", October 20, 2019, Actors: Ruby Rose, Meagan Tandy, Nicole Kang and more, The Scenes: Batwoman's entrance & Kate, Sophie and Mary in the elevator
DJRiter: There's a new Bat in Gotham - The highlight of another solid hour of the CW's latest superhero show is in the moment when Kate Kane has finally decided to take up the mantle of the bat and in a rooftop battle emerges from the shadows in our new suit and from head to toe is every inch Batwoman. From her fourth supposed to ride and just the way she held her so this was the moment Ruby Rose took this role and made it hers.
Jamie: Kate, Sophie and Mary in the elevator. I know this was a relatively unimportant scene in the episode but I just loved the looks between Kate and Mary. I hope we get to see more of these two in scenes like this.

BOB HEARTS ABISHOLA, "Whacking the Mole", October 21, 2019, Actors: Billy Gardell, Christine Ebersole and more, The Scene: The commercial
Prpleight: The White Guilt induced commercial that Bob's brother, sister and mother made was just hysterical. My chin was on the floor and I was feeling every emotion Bob felt as he watched that video. Well, except for the fact that I was able to laugh at the absurdity. Poor Bob had to find a way to destroy it without hurting their feelings. The whole runner was a nice way to bring to Bob's attention that his father was racist and only hired white people for management positions.

EVIL, "October 31", October 24, 2019, Actors: Aasif Mandvi, Nicole Shalhoub and more, The Scene: Ben proves that he and Vanessa were set up
Laura B: Ben proves he and Vanessa were set up when he finds the phantom projector technology in the wall. This episode by far was my favorite of the season so far! It finally feels like the Kings episodes I know and love from any previous series, being willing now to juggle so many balls in the air at once, while also beginning to push the characters' story forward with two rather disturbing plots and one fun romantic one, and have a lot of great recurring characters for the main characters to play off of. I chose this scene though because it was a part of the lighter part of the episode that allowed us to world build and give the easily likable Ben another sandbox to play in that wonderfully juxtaposed the darker and more uncertain things that were also going on. Vanessa too is also a great new character and potential love interest that I hope sticks around for a while, having something that reminds me of a mash-up of The Good Wife's Kalinda Sharma and Braindead's Claudia Monarch.

GREY'S ANATOMY, "Breathe Again", October 24, 2019, Actors: Camilla Luddington and more
The Scene: Jo has a breakthrough in therapy
Max: All of the flashbacks to Jo's time in treatment were great this week, but I particularly loved when she finally had a breakthrough, accepted her anger and found a simple way to channel it. The continued focus on her coming back from severe depression and dealing with trauma has been great to watch, and seeing her and Alex throw balls together at the end of the episode put the biggest smile on my face.

NEW AMSTERDAM, "The Karman Line", October 22, 2019, Actors: Tyler Labine, Emma Hong
The Scene: Iggy diagnoses young sociopath
DJRiter: In a chilling moment Iggy interviews a young girl whom they believe tried to injure or kill her brother, and comes to the disturbing conclusion the child is a preteen sociopath. Tyler Labine was masterful and showing Iggy's moment of shock and professionalism as he interviewed the young girl played chillingly by Emma Hong. She was downright scary.

SINGLE PARENTS, "Sport", October 23, 2019, Actors: Brad Garrett, Tyler Wladis, The Scene: Douglas teaches Graham how to tie a tie
Beth: The entire episode, I was annoyed at Douglas for not seeing why Graham was so obsessed with him. Yes, that is Douglas' personality but it was so glaringly obvious that Graham was excited to have another man around the house to talk to and possibly learn from. So when Douglas finally listened to Angie and taught Graham something, I melted. They are a family like Angie said and Graham may not be getting those moments with his father, but it is wonderful that he has Will, Douglas and Miggy to help Angie out.

SUPERGIRL, "Blurred Lines", October 20, 2019, Actors: Melissa Benoist, Katie McGrath
The Scene: Kara brings Lena the journals
Jamie: These two have been my favorite thing about this show since season 2 and they've been knocking it out of the park these past 3 episodes. They have so much chemistry. And this scene, with Kara flying up to Lena's balcony, those looks, telling her there are no boundries for her... I loved it!

THE AFFAIR, "509", October 20, 2019, Actors: Maura Tierney, Dominic West and more, The Scene: Helen shows up at Whitney's
Laura B: Helen shows up at Whitney's with Noah and takes some responsibility. Wow, what a loaded and perfectly complicated episode exploring the "#MeToo" movement! For me, despite that I think Noah has some problems, I feel like he is the less of the evils of a lot of the secondary characters the show includes and Helen is a character that I think hasn't taken any responsibility for her side of things, or hasn't given Noah some credit for what he did for her once, so it was refreshing to see Helen defend him after all this time, especially because Sasha Mann seems far more intentionally manipulative.

THIS IS US, "Storybook Love", October 22, 2019, Actors: Mandy Moore, Milo Ventimiglia and more, The Scenes: Rebecca tells the kids a story about her and Jack & Rebecca "screams" at her kids
WK: As Rebecca and her children sort through the hiccups surrounding family dinner, the matriarch recalls an instance where a similar event transpired with Jack while she was pregnant. As the two attempted to celebrate the first dinner in their new home, a bird enters the kitchen leaving Jack in complete disarray. The family's reaction to Rebecca's story symbolized camaraderie as they all rejoiced in a rather heartfelt memory. Moore's sympathetic portrayal was truly wonderful as she honed in on Rebecca's efforts to celebrate Jack beyond his passing. It's moments like this that demonstrate how authentic the series is.
Marko: Rebecca "screams" at her kids.

TITANS, "Jericho", October 25, 2019, Actors: Chella Man, Brenton Thwaites, Minka Kelly, The Scene: Jericho learns the truth
Justyna: It was a very interesting story, getting to know Slade Wilson and his son Jericho during this flashback episode. I've been wondering which scene to mention from the hour - we had a couple of great fights, a few light-hearted interactions but also a tragic sacrifice. In the end this one for me was all about Jericho so I decided to highlight a turning point in his story when he learns the hard truth about his father. First of all, I really appreciated the change from the usual TV approach with Dick and Dawn telling Jericho the whole truth. It was refreshing to see them admit their deception without being confronted about the lie first. They introduced this kid to their world, told him how he became a part of it, the good and the bad, and with all cards on the table they asked him to join the team. Jericho's reactions to everything said so much about his character. He was so genuinely happy and excited to meet his heroes, grateful for a chance to become one of them and finally confused and heartbroken about his other hero, his father being revealed as a villain of the story. I thought the actor, Chella Man, did a wonderful job in this moment and made it easy for the audience to feel for this kid whose whole world has just been torn apart. This is the part when Jericho chooses to trust the Titans, for better or worse...

WU-TANG: AN AMERICAN SAGA, "Assassination Day", October 23, 2019, Actors: Ashton Sanders, Shameik Moore and more, The Scene: Bobby and the crew come together to record Wu Tang: 7th Chamber
WK: In a series of flashbacks dispersed throughout the episode, we watch Bobby and the crew finally come together to record Wu Tang: 7th Chamber from the group's debut album. It was a moment that I've anticipated from the pilot as the series gradually acquainted viewers with the clan. What made the scene all the more magnetic was the chemistry. The dynamic among the men was so believable as they collectively embraced one another to convey a unified sound. As each member entered the cypher, it was evident that the actors carefully studied the flow of the personas they embodied, making the scene all the more invigorating to watch.