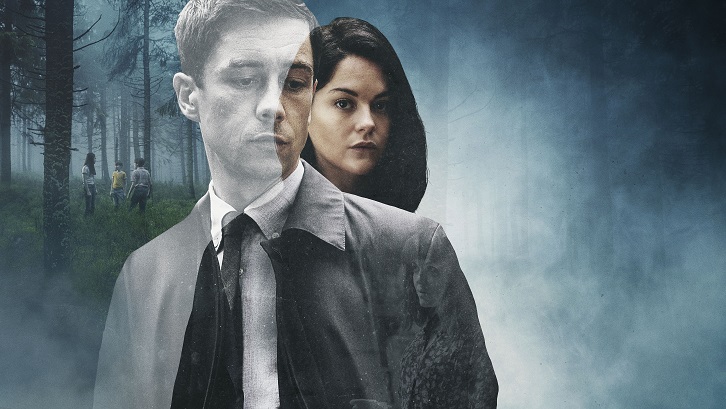 Halfway through Dublin Murders' first season and we aren't one inch closer to knowing who killed Katy Devlin, or why. Main suspects come and go, each more unlikely than the last, and the characters' past surges back to muddle the plot even more. This week's two episodes brought some more light on to what makes the show's leads tick, but it's probably going to get more confusing before it gets any clearer...and that's what makes it fun! All right, maybe "fun" is the wrong term, but "entertaining" at the very least.

The suspect of the week is none other than archeologist Mark Hanley. My excuses! DOCTOR Mark Hanley, as he insists on being called. As Rob points out, "Dancing stark b*****k naked, covered in cut-price Merlot, around an altar where a murdered 13-year-old girl was found is not a good look.". He's quickly alibied out, however, by his married work-partner who apparently also enjoys sexual pagan rituals on that particular rock, and would like the detectives to keep this extra-conjugal affair quiet, thank you very much. Understandable. Her attraction to disagreeable Dr. Hanley, decidedly less so.

Meanwhile, Rob's past keeps trying to push through, without ever completely succeeding. Old testimonies, his childhood watch making a reappearance right around the murder scene, everything seems to point to the cases being linked, but no substantive elements really help the detectives make any kind progress. With Katy's funeral bringing Knocknaree's population together to honor her, but with no answers as to who hurt her, tempers are running high wherever you turn.


The mother, especially, seemed fragile at best but is now completely unraveling when faced with logistical details such as the casket lining, that she wasn't consulted on. The only new lead comes from Katy's twin sister revealing she's seen someone sketchy hanging around. Rob consequently harasses Cathal Mills at his place of work, only to try to get one of the witnesses to place him at the archeological site, but to no avail.
All in all, things are looking pretty dire on that side of the investigation, but when Cassie's undercover alias turned real life person: Lexie is found dead, the show swerves to examine this new aspect of the story.
As Sandi astutely pointed out in
her preview
of the episodes, the intrigue contains a multitude of characters whose past and present selves almost make them seem like different versions of the same person. In Cassie's case, her double turns out to be real, if not alive (anymore). The mysterious Lexie, whom we've glimpsed at over the first few episodes, is found in quite the gruesome setting. Cassie is immediately called to the scene by a very cynical Frank, who insists (probably breaking quite a few laws and ethical dilemmas over the course of his decision-making) that they delay revealing the woman is dead, and have Cassie pretend she's Lexie in order to find out who the murderer is. As far as plans go... there have definitely been better ones. Cassie would have to infiltrate herself into Lexie's life, i.e. move into Whitehorne house, with Lexie's four best friends whom we learn she considers her only family. Amnesia might cover some of the discrepancies, but Cassie is going to have to play a damn-near Oscar-level performance to convince Lexie's entourage without raising suspicion.
You would think she'd be able to lean on boyfriend Sam, but instead the distance between them grows as flashbacks to her past show that after her parents' untimely and violent deaths, she used an imaginary twin as a coping mecanisme, and she rebukes Sam's attempts at tender support. And the name of that imaginary little girl? Lexie. The truth behind Lexie's existence is anyone's guess. Who is this girl that ends up with this same identity and who looks identical to Cassie? Why did she need to hide? How did she hear about the alias and/or know about Cassie?
After rebuking Sam's attempts at supporting her, the thing that pushes Cassie to accept Frank's crazy plan, is the consequence of what has threatened to happen ever since we first were introduced to Cassie and Rob's peculiar dynamic. After a particularly gruelling evening, they finally give in to the tension that had been building, and sleep together. The next morning, however, is not filled with whispered reveals of reciprocal feelings, but rather with a cold and distant Rob letting Cassie know it was a one-time thing and that it meant nothing to him.
Based on what we've seen of Rob, it's hard to say if he's actually someone who can't connect with anyone else and doesn't want to, or if he's scared of being emotionally close to anyone so he keeps everyone at bay despite wanting to give in. Regardless, a crushed Cassie finally gives in and takes on her new role as Not-Dead-Lexie.
All in all, quite a lot happened during these episodes, even if the main case is no closer to being solved. Are you guys enjoying the deep dive into Cassie's equally messed-up past? Did you expect Rob to treat her like that after they finally hooked up? Is Frank completely crazy or a genuine genius? Sound out below in the comments, and come back for more next week!