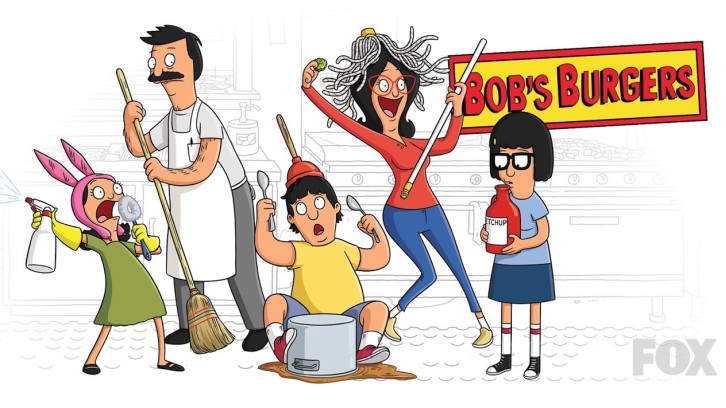 It's that time of the year again, the annual Thundergirl Cardboard Boat Race! This is a father and daughter event, so Bob is pumped to get started on taping up some cardboard, while Tina is less pumped since Bob is not actually good at taping up some cardboard. If this episode only focused on Tina's journey to acceptance of Bob's limitations as a cardboard boat builder it would have been pretty solid, but a side mystery about a vast Thundergirl conspiracy elevates it to pretty gosh darn good category.

We open with the Belcher family trying to eat their frozen waffles before they refreeze. We also get our first inkling that all is not well on Tina's end - Bob's taping leaves a lot to be desired, as shown in a montage of Bob taping random things and all of them falling apart right after. At the Thundergirl's meeting to launch the boat event, Bob's crappy construction work isn't the only obstacle Tina has to contend with: troop 257, full of scary mean girls, might have been banned from the jamboree but they are allowed to enter the race. The girls say they're not bad anymore, but the middle finger one flashes at Tina says otherwise.

In the meantime, the remaining Belchers, including MomGenes (they fit great!), are on their way to the local fire station's open house. Or rather, Linda is on her way to the open house while Louise and Gene think they're going to the farmers' market, where they have never actually seen a farmer sold. The kids think that they're too old for the open house, while Linda can't wait to photograph them in their junior firefighter hats and sitting in the cab of the engine. Linda has to learn to let her kids grow up: they don't want to pose for her pictures, they want to pose for the annual fire station calendar.

Tina and Bob are trying to build their Dumpster Boat (copyright Louise) but Tina finally snaps when their boat, thanks to Bob's shoddy taping skills, falls apart. Bob is banished to the Picnic Table of Dads, where the dads of the mean girls were sent to be out of their way. When Tina wanders into the woods to cool down after yelling at Bob she stumbles upon the mean girls engaging in some unsavory business - they have two boats, one with a motor and one without. They're going to race with the one with the motor, those cheaters! After deciding not to kill Tina, they make no effort to stop her from reporting them. What the heck is going on?

It turns out that Karen, the supposed adult in charge, is in cahoots with the mean girls. She's being blackmailed by them for her misappropriation of a missing pug, but she's also planning to double cross them by reprimanding them in front of her superior so she can show she's firm enough for a promotion. Honestly everyone's motivations for cheating are unclear, but that's the best I could figure things out.

Needing her dad's help, Tina apologizes for yelling at Bob and together they thwart the mean girls' and Karen's plans for all the cheating. Tina even comes in second place at the race! At the end of the episode all is well with the Belcher family, until they realize that no one was running the restaurant all day. Who needs money anyway?


Odds and ends:

Favorite quote: "You're teaching us to lie!"

I'm not an engineer, but... : I'm doubting the seaworthiness of these cardboard boats.
Favorite blink and you'll miss it scene: Karen dyed the ill-gotten pug blonde to hide her tracks.
Who else is a little afraid of the mean girls of troop 257? All comments welcomed below!