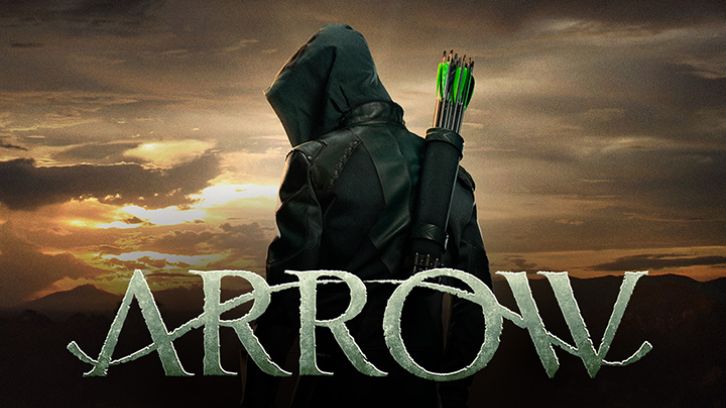 With the beginning of the final season of
Arrow
, it's time to take a quick look back at where we left off last season. Frankly, I'm probably one of the few people relieved that there are only 10 more episodes of the series after this. I'm disappointed that the show has gone so far off the rails when it started with so much promise. That said, Stephen Amell (Oliver) gives one of his finest performances in the final episode of the season. It was clear last year that there would be a spinoff, and while I've made no secret of my love for Katie Cassidy (Laurel), I've also made no secret of my utter contempt for both Diana Harkavy (Dinah) and Katherine McNamara (Mia). Yeah more girl power – but not these two. I won't be watching past Crisis on Infinite Earths. But that's still a ways away, so let's take a quick look at those last 3 episodes…
"Confessions" was written by the team of Onalee Hunter Hughes and Emilio Ortega Aldrich and was directed by Tara Miele. I actually really liked this episode up until about the last 15 minutes. I loved the use of the Roshomon effect as we circle back again and again to the same event from different perspectives. It was nice to finally see Colton Haynes as Roy without all the terrible aging make up. I also liked how they eventually revealed that he'd been through the Lazarus Pit but couldn't control the bloodlust because of the mirakuru – nice tie in to previous storylines. I also liked how they excused Thea's (Willa Hollan) absence by the fact that they were chasing Oliver's new long-lost sister…
As always there were some really good fight scenes in the episode, and one really nice hero shot of the team. I also really, really liked that we didn't have to sit through the hideous future storyline in this episode. However, the episode degenerated into predictability by the end as Emiko (Sea Shimooka) reveals that her ultimate plot is to destroy Oliver's legacy and make him a criminal – isn't that where the season began? She manages to blow up the building and the episode ends with a rather silly Ollie-oreo-sandwich.
"Living Proof" was written by the team of Oscar Balderrama and Sarah Tarkoff and was directed by Gordon Verheul. The best thing about this episode was having Colin Donnell back as Tommy – even if he was only an hallucination. Of course, this also begs the question of how Donnell is returning to the show for the final season…. Unfortunately, Tommy gets dragged into the same old storyline of repeating the cycle of violence and not being able to break free. It's just so ironic that the show itself has imploded due to its own inability to break free from this storyline.
In his vision, Oliver thinks he gets out. After a terrific fight scene, Oliver manages to kill Emiko, but the rest of the team dies in the process – clearly a metaphor for killing Oliver's legacy by giving in to vengeance. Tommy tells Oliver to show Emiko his best qualities so that she realizes that people can change.
Of course none of the other team members are hurt in the blast and finally come to rescue Oliver. There is a terrific scene with Roy using parkour to stop a gas leak. I did feel a bit bad for Harkavy in one scene with Roy when the lines she's given to say are so bad that no one could actually say them with conviction. It's the problem with relying on platitudes and the same old storylines.
In the future storyline – because we had to return to it in this episode – Dale (Raj Paul) is using his robo-cops to destroy the vigilantes, and Felicity (Emily Bett Rickards) is determined to finally destroy Archer. William (Ben Lewis – still the absolute BEST thing about the future storyline) is determined to help her. William is rightly furious and hurt at Felicity and Oliver cutting him out of their lives and the two finally have it out. Felicity says she regrets it – really doesn't make up for abandoning the kid, does it?
In the two climactic scenes of the episode, setting us up for the finale, in the future, William has a meeting with Dale. Rene (Rick Gonzalez) is there and then Alena (Kacey Rohl) shows up. It turns out she's not a bad guy – though misguided in stealing Archer in the present – she had a hostile takeover and is now Dale's puppet. Dale takes Rene and William into custody. In the present, Emiko slaughters the police at SCPD using Oliver's arrows. Oliver, lamely, tries to convince her to end their family's cycle of violence on the roof, and she gets away – again…. Lame.
The season finale, "You Have Saved This City," was written by Beth Schwartz and Rebecca Bellotto and was directed by James Bamford. As expected the finale was fast-paced and packed with good fights in both present and future storylines. In the future, Connor (Joseph David-Jones) shows up and saves Mia – and when did Alena learn how to fight? – and Roy – who is pathetic in this scene. Zoe (Andrea Sixtos – also a highlight of the future storyline) saves her father and William.
In the present, Oliver is still holding on to saving Emiko. Emiko, meanwhile attacks a shopping mall – and there are some great special effects of melting victims. Turner (Michael Jai White) shows up to help – because Connor has to get to where he is remember…. Lyla takes JJ, Zoe, and Connor to a safe house. Meanwhile, Emiko's single-minded focus on revenge isn't making the Ninth Circle happy. Emiko's main target is Queen Consolidated, and we end up with Oliver and Emiko in the Penthouse.
In the future, Mia and William are the only ones who can upload a virus to stop Archer. Emily Bett Rickards' gets a good scene in which she worries that she's failed Oliver by not keeping the kids safe and giving them happy, normal lives. Mia and William manage to upload the virus and kill Dale, but Archer just reboots itself. Naturally, in the end, only Mia – whose DNA was erased from Archer, can destroy the wall in order to destroy the program. Zoe and Connor show up with portable canary cries – which look ridiculous. Mia is about to sacrifice herself, and William saves her.
In the present, there are more good fight scenes with Roy, Diggle (David Ramsey), Turner, Dinah, Laural, and Rene, and even though it was predictable, I did like it when Sergeant Bingsley (Danny Wattley) shows up. There's some really great camera work in the fight between Oliver and Emiko. I can't discuss the scenes between Oliver and Emiko without pointing out how truly awful Sea Shimooka is when she has to act. Oliver ends up saving her when the Ninth Circle finally have enough of her – but how ridiculous is it that she is able to pull a knife out of her belly and keep fighting? However, she is dying, and tells Oliver that she made sure that his family wasn't safe and that he will have to hide Felicity and the Baby. There is a nice parallel of both Oliver and Mia arrowing out of blowing up structures.
In the present, the team split up back to their own lives. Oliver tells the team that he and Felicity are stepping back and leaving Star City. Oliver tells them that he didn't save the city – the team did, and Felicity says they feel they can leave because the city is safe. Diggle points out the four pillars of heroism as courage, compassion, selflessness, and loyalty. Dinah suggests a symbol and Oliver names it the mark of four. Oliver hopes it's not the last time that they are all together in the bunker and Diggle points out that it does feel like the end of an era – irony drips off this scene.
Diggle takes Felicity and Oliver to their new home, and they tell him about Mia. Then there's a montage with Oliver and Felicity – we get those birth scenes again. Felicity enjoys their new life and Oliver contemplates contacting William's grandparents to get shared custody, but of course, Oliver's deal comes due and The Monitor (LaMonica Garrett) shows up are ruins all of it. Oliver is going to die in the Crisis. Oliver has to die so that the others may live.
The farewell scene between Oliver and Felicity was a tour de force by both Amell and Rickards. Kudos to both for always bringing their A-game despite how lame the stories became. Felicity promises to keep the kids safe – and to find him again.
In the future story, they set up for the spinoff. Dinah, Roy, and Felicity will take the blame and go off the grid. Felicity, however, sees her job as done, and at Oliver's grave – dated 2019 – she tells them that it's time for her to go on a journey of her own. She's ready to go with The Monitor, even if there is no returning, and walks through a blue tunnel.
I will watch the show until the end, and review it until the end – the end of Stephen Amell's run as Green Arrow. I do promise to try to keep my reviews positive. However, for a show that started out with such promise, I'm sad to see where it's ended up. Given the success of the Joker movie, it seems that DC – or maybe just the CW – really missed the mark in thinking that the television shows had to be "lighter." I will applaud both the CW and DC for putting women front and center in their shows, but it would be great if they could make them a bit edgier – and choose better actors. What did you think of the end of the season, and what are your hopes for the end of the series? Let me know your thoughts in the comments below!