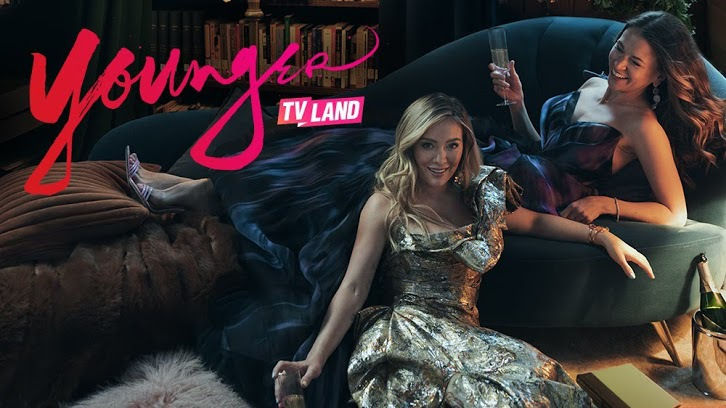 Tonight brings season six to a close, so let's look back at the last two episodes shall we?

All About The Money Honey:


Is navigating a relationship ever easy while you try to maintain a friendship with you ex? No, the answer is no and Liza finally realized she can't have it all this episode. The
Infinity 21
ad campaign with Josh was a glaring reminder of the intense chemistry they shared and it made her so uneasy about what Charles would think, that she hopped on a plane to intercept him finding out about the ads that quickly went national. These events were confusing because I couldn't place if it put the lens on Liza's insecurities or the very basis of the Charles/Liza relationship. This may be met with some differing opinions, but Liza seems to be handling her relationship with Charles like a delicate Faberge egg that can shatter at any moment. So when she finally spills the beans about her real reason for flying to Chicago, it put a crack in the foundation that she decided to fill by promising not to talk to Josh anymore. This is unsettling that she even felt the need to do this because if those feelings were truly in the rearview, she would've laughed it off and her attitude would probably have put Charles at ease. Instead she flew to Chicago to make sure Charles knew the ad campaign means nothing and that makes me think her feelings are still very much unresolved.
Kelsey faultered this episode right when she had a big win and it was very unpleasant to watch. Her impassioned pitch to the potential investors was applause worthy, but the very thing she championed became her undoing when a video she meant to DM Zane went viral. Though the investors like her ideas, they weren't ready to embrace Kelsey using her dual purpose social media account to slip up in the way she did. Seeing Kelsey step away for the good of
Millennial
very much mirrored what happened last year when Charles stepped down, but these last few episodes made me a frosty towards tying Charles' return to the top in a nice bow. Yes this is his family's company, but it feels like the show never truly let Millenial have some wins, it was always going to fail and Charles would swoop in. Now I am not saying he planned this, I truly believe him when he says he backed Kelsey, but I wonder if the show didn't bail on Kelsey running things too easily.
Random Thoughts:
* Josh continued his journey of growth by being proactive and it is wonderful to watch him continue to put Gemma above all else. His idea to buoy the popularity of the ad campaign to finally franchise Inkburg was an inspired idea, and it means his little girl can stay put.
* Lauren is just the best. I love who she is to all these characters and her support while sometimes outlandish always comes from a place of love.
* Diana and Liza sharing a moment as peers was nice. Now that they can finally speak as equals in age, the dynamic is even more fun.
Holding Out For a SHero
Millennial
as the end alludes to is something she needs to recharge her once promising future.
Random Thoughts:
* Diana sheepishly admitting she wanted a bachelorette party was pretty endearing. Diana Trout would never outwardly admit she'd want such things, so I am glad the women in her life knew better and they had a night on the town, even if it ended in a nightmare for Liza.
* I cannot decide if the woman from Infinity 21 truly digs the Inkburg franchise or is trying to get with Josh. Either way he seems somewhat oblivious to this and that is quite the change from the man who would get a whiff of attraction and end up in bed with the woman that very night.... Character Growth is a beautiful thing.
* Charles being the head of the table is very conflicting, it is his family's legacy but it would have been fun to watch him carve his own unique publishing signature outside that. The Mercury idea was dropped too early for my taste.
That is it for now. We are less than an hour from the finale and I am sure it will be a big one. Drop your thoughts on the episode below!