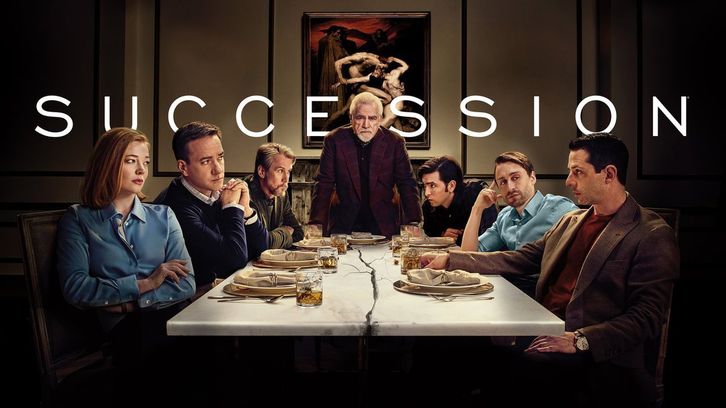 Oh Shiv, how I feel for you. For the entirety of season one, I kept feeling bad for Kendall, and now I feel bad for my favorite character. But I'm also wondering... did she actually think her father would be so keen to let her take his keys to the kingdom so easily?
I agree with what Jesse Armstrong says at the end of the episode: she is so used to seeing her brothers compete and be put in a negative light by her father and by public opinion, that she doesn't know how to handle being in the spotlight for real. I love you Shiv, but I do think that something massive is coming.


The Roys all gather for a weekend retreat to woo the Pierce family into selling to WayStarCo. Rich families do love their country houses and their retreat where they can talk business and mess up the order of things. And on top of that, make it entertaining: what's not to like?
Nan Pierce, played beautifully by legend Cherry Jones, runs the show, but every member of the Roy is tasked with one of the Pierce to eventually get them to be all on board with Logan's idea to buy PGM.
And that dinner scene... I don't even know where to start. "
Succession
" is changing the game in terms of dinner scenes; they give it all, when it comes to writing and acting. They never just talk about one thing, you always end up hearing about econimics, astronomy, PHDs, the state of journalism in America and in the world. And, you also get to hear Shakespeare. Not every show does that, to be honest. Plus, how can you not relate to Roman during that whole scene? He is such a mood. He came up with the idea for an entire book. Someone needs to publish "
The Electric Circus
".
So many things happen in this episode: Kendall meets Naomi, who's a recovering addict as well. They have a very strong and important conversation while drunk. Their situation as heirs to a fortune puts them in a different position as other people and that is just a fact; she could easily get the deal done and create her own escape, as he puts. She could take the money and leave and be free. I loved how Jeremy Strong delivered those lines, because that's something we don't very often with shows that deal with wealthy families. I am loving Kendall this season. I don't know if his behavior is genuine, but I'm liking the fact that the writers are not shying away from showing him as weak and powerful at the same time. He's actually a pretty good businessman.
At the end of the retreat, Nan Pierce accepts Logan's offer, but with a little bump. 25 billion is the last number. Nan makes it very clear that she doesn't like Logan and his politics, and she wants to make sure that the Pierce brand, editorial protection and their mission in journalism do not change once they are part of WayStarCo. There are obviously some conditions: the Pierces do not want Tom to oversee their news, they want Logan to publicly announce a successor and they want that person to be Shiv. Her politics fit better with the Pierces' family business.
And that's when we see the real Logan: he doesn't want to announce Shiv as his successor. Why? I think he owes her an explanation. That helicopter scene is very telling. Shiv asks him what happened and he barely gives an answer. Is this guy serious? He is the embodiment of the capitalist agenda: he just wants more, and when he can't get it, he complains like a child. Even Marcia (who spent season 1 always on his side) seems to be getting tired of him.
In the end, the Pierces reach out to Logan and tell him that they are accepting his conditions and his offer. "
Money wins
". It's dreadful to hear, but it's sadly true. Also, Greg goes by Gregory now.
Favorite line:
Logan: "
Would like to hear my favorite passage from Shakespeare? Take the f*cking money!
".
What did you guys think about the episode? What do you think Shiv should do next? Let me know in the comments below!