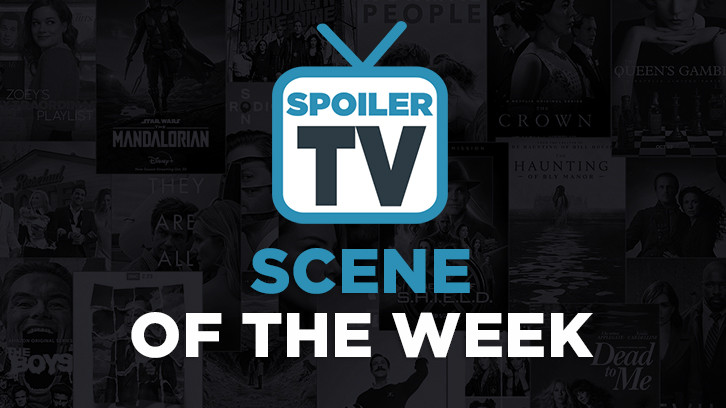 A weekly feature in which we're trying to find the most compelling, best acted, written, directed and just generally great, memorable scenes that we've seen in past seven days on TV.

BH90210, "The Long Wait", September 11, 2019, Actors: Shannen Doherty and more
The Scene: Shannen saves a possum
Zandarl: Shannen Doherty saves a possum. After her dramatic entrance, covered in blood after a hit and run, it takes her fellow cast members a while to realise she isn't actually the victim. Shannen is amazing as a heightened version of herself.

ELITE, "0 horas desaparecido", September 6, 2019, Actors: Itzan Escamilla, Ester Expósito
The Scene: Carla and Samu face each other in the police station
Marko: After a rollercoaster of emotions they went through this season, their personal drama peaked when Samu tricked her so she would confess about Polo killing Marina. With teary eyes Carla walked away from Samu leaving hearts all over the Netflix fandom broken.

KILLJOYS, "Terraformance Anxiety", September 13, 2019, Actors: Hannah John-Kamen, Rob Stewart and more, The Scene: The aftermath of the bombing
Justyna: We're almost at the end of the show so it's no surprise that there were quite a few memorable moments in this episode. Between the speeches and the fight, the reunions and the betrayals, the part that I decided to highlight is a rather quiet sequence - a memory of home. I always think that the right music can make any scene feel more special and powerful than expected and this one works beautifully with the moment. We start with Aneela, back in her childhood home, a place she hasn't seen in a very long time. She remembers herself and her father shortly before they go to Arkyn, before everything that's happened. From Aneela the scene transitions to the people of Old Town who are finally waking up from false memories that the Lady trapped them in. Zeph is there to keep everyone calm, but it's not hard to notice just how painful this experience was for everyone. A mother is reunited with her child and now they're not even able to go home. It's not there anymore. Finally the sequence ends with Dutch visiting Khlyen where he tries to make her realize that the fight is far from over and the danger has only just begun. Overall, it's a quiet, meaningful scene focused on the consequences of the war and losing one's home. Both the aftermath and the calm before the storm. "Now comes the end."

PEAKY BLINDERS, "The Loop", September 8, 2019, Actors: Helen McCrory, Kate Phillips, The Scene: Polly shoots Linda
Milo: Linda's return was always going to bring chaos but I hadn't expected it to be this unpredictable and this brilliant. Tragic to the last, helped with a use of Max Richter's score from The Leftovers to add to the nervousness of the situation, Peaky Blinders saw Polly claim the life of another major character in the series that will have a dramatic effect on not just the Shelbys; but Arthur in particular.

PREACHER, "Messiahs", September 8, 2019, Actors: Aleks Mikic, Julie Ann Emery and more, The Scene: The reveal about Hoover Two
Milo: Hoover Two is revealed to be working undercover. This was one of the best surprise reveals that the show has done and pulling off a twist, no matter how short lived, was a highlight of an excellent hour of Preacher that saw Hoover 2 out himself as an undercover agent inside the Grail trying to thwart their plans only to be in turn, exposed by Lara Featherstone, who herself, was in disguise. Even though this wasn't the biggest shock of the episode it was the one that stuck with me the most.

SANDITON, "Episode 1.3", September 8, 2019, Actors: Lily Sacofsky, Anne Reid
The Scene: Clara intentionally burns herself
Laura B: Clara intentionally burns herself on the bathtub with shower head contraption to Lady Denham concerned for her well being.

THE AFFAIR, "503", September 8, 2019, Actors: Maura Tierney, Kathleen Chalfant
The Scene: Helen tells her mother no
Laura B: Helen tells her mother no, that she isn't moving back to the east coast.

TITANS, "Rose", September 13, 2019, Actors: Alan Ritchson, Minka Kelly, The Scene: Hank confronts Dawn
Justyna: As much as I normally don't like these arguments I found this scene to be really well acted and overall interesting. It's a fight where both sides are at least partially right and wrong at the same time. When Hank discovers Dawn's secret he openly confronts her about the promise they made to each other and the decision to leave Hawk and Dove behind. Their new life together suddenly feels like a lie when he realizes that Dawn has been hiding things from him for over a month. That's when Dawn admits that she believes their other life to be dangerous for Hank, not her. He's the one who was struggling with injuries and addiction, and had to stop. No matter the truth, it's still a hurtful statement, something she clearly never planned to say out loud. Then it's Hank's turn to admit how he truly feels. How much he remembers about the most recent source of his pain, the fight that ended with Dawn in a coma, close to death. It's hard to imagine what it must have been like for him, to sit by her side, day by day, knowing that at any moment she could die. He wants Dawn to realize that being Hawk and Dove was dangerous for both of them. The fight ends with an ultimatum. I'm definitely not a fan of those. But before any decision is made the argument is stopped by an attack. The two lose their home and a friend, it's certainly not a good moment to fight each other. Sadly this conversation is far from over, I'm expecting it to be brought back soon. Hopefully these two can work things out and end up stronger than before, but let's see where this goes next.