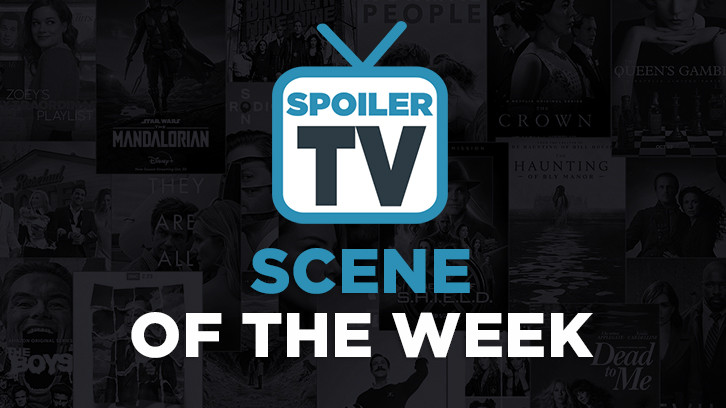 A weekly feature in which we're trying to find the most compelling, best acted, written, directed and just generally great, memorable scenes that we've seen in past seven days on TV.

BH90210, "Picture's Up", September 4, 2019, Actors: Shannen Doherty, Gabrielle Carteris and more, The Scene: The gang makes a list of their enemies
Popcultureguy: To try and figure out who's been stalking them, the Gang makes a list of their enemies. It's a rapid-fire and very funny scene that pokes fun at feuds both based on fact (all the nods to the actors' many stints on reality shows) and fiction ("Shannen" unabashedly admitting that she stalked Jerry Seinfeld and still does sometimes). Honorable mention to "Shannen" being agog that there was a sixth season of the original show.

KILLJOYS, "Don't Stop Beweaving", September 6, 2019, Actors: Kelly McCormack, Hannah John-Kamen, Aaron Ashmore and more, The Scenes: Dutch comforts Zeph in the pit & The opening scene
Justyna: I've been wondering about which scene to choose from the episode. I found the interactions between Khlyen and the Lady to be surprisingly interesting, she does seem to be far more attached to him than I expected. I also really love the clever editing that fits the music and/or a monologue well, so I very much enjoyed the part where Khlyen tells his story about "a star". But ultimately I wanted to give a shoutout to all the great work done by Kelly McCormack who plays Zeph, so I decided to highlight the moment when Dutch comforts Zeph after the two of them are thrown in the pit. After all this time we haven't truly learned much about Zeph and her story, so it was certainly enlightening to visit her family in this week's episode. While being unconscious Zeph gets to see a vision of a life with Pip, someone she misses every day, but even that dream turns to a nightmare when her home becomes a part of it. The genuine fear and panic that she displays as soon as she realizes what has happened is quite painful to see. It doesn't take long for Dutch to realize what this punishment means to Zeph. The story about her family keeping her trapped in the pit (for months) when she was only a little girl tells us exactly what we need to know about these people. It's a heartbreaking experience but thanks to Dutch who comforts her in her time of need Zeph gets much stronger and determined to get out. "You brawn, I brain." No wonder they end up with these t-shirts at the end. I'm glad we got to see this lovely friendship develop between this unlikely duo. Always a joy to see these two in action. Kudos!
Prpleight: Johnny's happy to be back on Lucy. Johnny wakes up, deliriously happy to be back on Lucy. Delirious being the operative word. It was one of the creepiest things I've seen this week. LOL.

PEAKY BLINDERS, "Strategy", September 1, 2019, Actors: Cillian Murphy, Helen McCrory, Kate Dickie
The Scene: Tommy and Polly confront Mother Superior
Milo: This was a chilling scene that served as a reminder as to that Tommy isn't the scariest of the main characters, it's actually Polly, and Helen McCrory was terrifying here. To be this scary even when they're being merciful is a reminder as to how the Peaky Blinders could be so feared, and "There is God, and there are the Peaky Blinders" is a quote for the ages.

PREACHER, "The Lost Apostle", September 1, 2019, Actors: Dominic Cooper, Joseph Gilgun, Ruth Negga, The Scene: Jesse falls to his death
Milo: Jesse falls to his death after being caught in God's trap. It probably won't stick (it would be a bold move to kill off the main character permanently even before the final episode of the final season), but seeing the series catch up with its brief opening flashforward brought the series full circle, and saw Cassidy and Tulip watch their friend die seconds after arriving to rescue him from The Saint of Killers. It'll no doubt have an impact on Cassidy, and if it does stick, then we could be in for a very different kind of Preacher...

SANDITON, "Episode 1.2", September 1, 2019, Actors: Anne Reid, Crystal Clarke and more, The Scene: The Dinner Scene
Laura B: Andrew Davies did a wonderful job in showcasing all of the characters' unique sense of impropriety in this delicious scene whether it be Lady Denham offending Miss Lambe with this "Pineapple" unavailing, Miss Lambe barking back, Charlotte standing up for her, Sidney being contradictory, or Arthur's obsession with food leading to expose an utterly rotten pineapple is right in line with Austen's sense of satire that sometimes is lost in many of the film or tv adaptations.

THE TERROR, "The Weak Are Meat", September 2, 2019, Actors: Kiki Sukezane and more
The Scene: Yurei takes over the doctor's body
DarkUFO: The Yurei takes over the doctor's body and makes him kill himself.

TITANS, "Trigon", September 6, 2019, Actors: Esai Morales, Demore Barnes, The Scene: The introduction of Slade Wilson
Justyna: This was certainly an interesting season premiere. As most of the viewers already know, it's both an ending to S1 story and the new beginning. There were several moments that I really enjoyed, like Dawn and Hank meeting Jason or the HQ sequence at the end. On the emotional side I think that Donna's nightmare where we learn what happened to her father hit me the most. But ultimately I decided to highlight the part where we are introduced to Slade Wilson. A character that is both a familiar threat and a start of a whole new and exciting story. The debut of Deathstroke - known to comic book readers and those who have seen his previous portrayals on screen - certainly hasn't gone unnoticed. Everything about the scene when Slade enters his house - the music, the location, the dialogue and finally the suit - it all builds up the threat around his character, leaving no doubts about his intentions. He hasn't taken any action yet but you already get an impression that he's a danger to all of our heroes, something they do not see coming. Certainly a memorable introduction for any iconic villain. Can't wait to see more of him. Kudos!

WHY WOMEN KILL, "You Had Me at Homicide", September 5, 2019, Actors: Ginnifer Goodwin and more
The Scene: The high dinner party
Luana: Ginnifer Goodwin is such a blast as Beth Anne when she lets loose, and the difference with her previous tightness is astounding. I can't wait to see her grow more and more confident in her own skin and probably get rid of her husband.

YOUNGER, "Forever", September 4, 2019, Actors: Sutton Foster, Peter Hermann, The Scene: Charles asks Liza to marry him
Luana: Charles asks Liza to marry him. I'm quite over the love triangle and though I do love Josh and think Nico and Sutton have great chemistry, I really hope Liza and Charles end up together, I'm not a fan of this latest theory that she's lying to herself by staying with Charles especially because there's a reason she and Josh never really worked, and I believe at some point you just have to give up on things that never work and try to be happy with your real life.